We read the labels so you don't have to.  Now you can save time when you need to purchase American made baby toys, toddler toys or preschool toys! We have put together this ultimate list of American made toys for this age group. 
This list is constantly being added to, so check back often! If we missed a source you love, add it to the comments so we can include it with our next update.
Also, don't miss our Ultimate Source List for Children's Clothing Made in the USA, our list of 10 Best Baby Gifts, and our
Made In USA Pretend Play Toys:  Noshkins Felt Play Food
Inspire your little ones imagination while he/she learns colors, shapes, and food names while practicing fine motor skills.  Noshkins unique felt play food is handmade from EcoFi Felt which is manufactured from 100% recycled water bottles.  This felt play food is soft, so it doesn't hurt when stepped on or thrown. It even retains shape and color when washed and dried. Noshkins felt play food makes a fabulous gift for any toddler or preschooler on your gift list.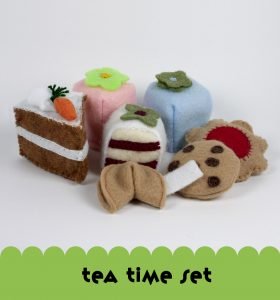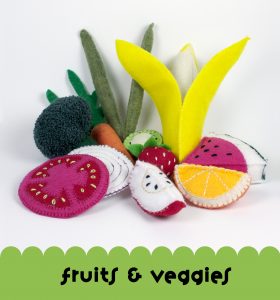 American Made Baby Toys, Toddler Toys & Preschool Toys: The Ultimate Source List
American Plastic Toys

 

has been manufacturing pretend play toys and toy sets in Michigan & Mississippi since 1962.
Bears for Humanity plush teddy bears are assembled in the USA by Welfare to Work participants. For every bear sold, a bear is donated to a child in need. For ages 3+.
Begin Again Green Keys and Green Ring are made in the USA teething and clutching toys.
BEKA natural wood blocks, art easels, puppet theaters, art tables, train tables, and toys are all made in Minnesota.
Camden Rose wooden rattles, teethers, and stacking toys, made in Michigan.
Dado Squares from Fat Brain Toy Co. are 2 dimensional plastic squares that fit together to create 3 dimensional objects. For ages 3 and up.
Dirt King tricycles, wagons, and carts are manufactured in Kansas.
Elves and Angels handcrafted, heirloom quality wooden toys made in Maine– dollhouses, pretend play furniture, train sets, and more! 
Green Toys  pretend play and developmental toys are 100% made in the USA from recycled milk jugs.
Heirloom Wooden Toys is an online retailer of play kitchens, toys, and more. Not all products are American made, but there is a 'Made in USA' section.
Holgate Toys has been making wooden stacking and pull toys in the USA since 1789
Lapps Toys & Furniture manufactures wooden toys, play sets and more in Pennsylvania.
Lifefactory teethers are BPA free and made in the USA from medical grade silicone.
Little Barefoot Princess soft toys are made from organic/sustainable materials
Little Tikes manufactures a majority of it's popular toddler toys in the USA, such as the play kitchens,  play houses, and of course, the Cozy Coupe.
Luke's Toy Factory  Eco friendly building/stacking toys for ages 3+ are made in Connecticut.
Magic Cabin is a catalog with an imaginative  selection of toys, many of which are Made in the USA. Click our link to see just their collection of American Made toys.
Manny and Simon wooden animal and vehicle push toys are made in Southern California.
Manzanita Kids  handmade wooden toys, stackers, teethers and more, made in are Montessori inspired.
Maple Landmark  makes educational wooden baby toys, toddler toys, games, and even rocking horses, in Vermont. Brand names include Montgomery Schoolhouse,  Schoolhouse Naturals, and NameTrains.
Mary's Softdough by Tarripin Toys is a natural, play dough made with food grade ingredients.
Nawgum by Mello & Co is an all in one silicone teether for ages 0-24 months.
North Star Toys hand crafted wooden pretend play toys, stacking toys, pull toys and more
Noshkins handmade felt pretend play food Top pick Made in USA pretend play toys 
Oliver & Adelaide offers heirloom quality, luxury American made toys for baby.
Opposite of Far pretend play felt masks are for ages 3+.
Pappa Don's Toys wooden rattles, blocks, and pull toys are made in Oregon.
Play Clay organic play dough is for ages 3+.
Poof- Slinky foam football, soccer and assorted colored balls  are made in Plymouth, MI and Hollidaysburg, PA. For ages 3 and up.
Pure Play Kids wooden fire truck sets, push toys, fishing sets and more
Roy Toy log cabin building sets made in Maine are for ages 3+
Smart Monkey Toys ImagiBRICKS are giant lightweight cardboard building blocks, made from 50% recycled material.
The Spooner Board is a balance toy for kiddos ages 3 and up.
Step2 manufactures a variety of toys in the USA, like slides, play kitchens, wagons, water play tables, climbers, and more!
Superfly Kids superhero necessities- custom capes,  masks and cuffs, and utility belts for ages 2 and up.
Trouble the Dog super soft, plush, stuffed animal that is happy to take away your little ones troubles!
Uncle Goose wooden blocks are handcrafted in Michigan from materials sourced in the US.
Wee Can Too  chalks, paints, and crayons are made from 100% natural and non-toxic ingredients that are safe enough to eat!
Wikki Stix creative craft sticks made from non toxic wax and yarn, for ages 3 and up. Make a great stocking stuffer!
Disclosure: This is a sponsored post which USA Love List is proud to share with you because, sponsored or not, we only share stuff we love.
Follow USA Love List's board Baby & Toddler Items/Gifts: Made in USA on Pinterest.
Follow USA Love List's board Toys: Made in USA on Pinterest.