You can put a great custom basket together with some choice American made bath gifts.  Valentine's Day is a celebration of love so what better time to love yourself (or someone else) with the very best of bath and body care.  Put a package together or choose a favorite, but a gift of pampering is always ideal in my book.
HANDMADE, COLD PRESSED SOAP
Just Like Jane soap is a ready made gift.  The soap itself is a wonderful product with no toxins and produced in small batches in the USA.  The intoxicating scents come from two ways to please the masses.  They have scented soaps with only essential oil blends while they also create batches that include some high quality, man made fragrance.
The packaging is the soul of this brand.  Each soap comes in vintage style, biodegradable, corrugated pillow boxes with twill tape accents.  Just Like Jane values all the rich family history and encourages you to do the same by being inspired to think of your own hero's with their "who's on the label" stories on each vintage photo label.  It's a beautiful concept with a product to ensure happy recipients.
I tried two, the Milk and Honey from the fragrance blend soap and the Snappy Black Licorice from the essential oil soap.   I love them both, Snappy Black Licorice being my favorite because it is so unique.  The Milk and Honey smells light, clean and basically edible (it's not).  They both were nourishing and cleansing to my skin.
3 MORE NATURAL BATH PRODUCTS
Bubble Bath
Archipelago Botanicals Coconut Bubble Bath is a simple blend that cleanses, soothes and restores rough skin while you soak and relax.  Archipelago is known for creating ambiance with their exquisite scents and soothing body blends.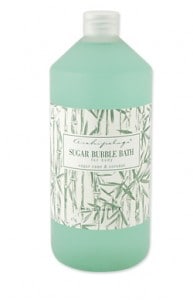 Conditioner
Alterna Caviar Anti- Aging Moisture Conditioner with seasilk.  Alterna is known for bringing life back into your hair.  This formula protects as well as it is a treatment.  Alterna has packed this conditioner with ingredients to ward off stress from sun, environment and aging.  It soothes dull, brittle and dry hair back to its luster.
Body Lotion
Badger Everyday Moisturizer – Coconut & Vanilla.  This is an intensive moisturizer ideal for these winter months.  The organic coconut oil is easily absorbed and leaves your skin with supple glow.  This moisturizer is also packed with anti oxidants to restore and heal your skin to a more youthful feel and appearance.  A little goes a very long way.
Delight the senses with aroma, texture and visual beauty with these bath and beauty products.
Is self-care and pampering part of your Valentine's plan? Do you have favorite Made in USA body products to share? Do tell.
Disclosure: USA Love List received some products in this post unconditionally for review purposes. Our opinions are always our own, and we aim to write fair and balanced reviews to promote only the very best of American-made.