Men! They are undoubtedly the most challenging to buy for at gift-giving time. Here is our curated list of some of the year's best American-made gifts for him and it includes many memorable choices.
American Made Gifts for Him, All Under $100
Streamlined, straightforward wallets built with the serious minimalist in mind from Trayvax start at under $20. The Summit Wallet is made from cold-rolled steel and mil-spec nylon webbing, which means it's going to give you the RFID-resistance you want and the no nonsense carry you need. The Summit is proudly made in the USA and backed with a lifetime warranty.
Men are into equipment, and having a sharp, well functioning knife is no exception. Alfi High Performance Kitchen Knives are strong, razor-sharp and cut very well. They are great for everyday use in the kitchen. These knives are made in the company's family owned, lean facility in California.
High performance, made  in USA, Alfi all purpose 12 piece knife set.  $30 (originally $45) with code "USALOVE" at checkout. Or 25% off all knives with code USALOVE.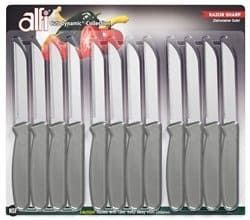 Shuron has been producing American made designer eyewear in the US since 1865 in South Carolina, and sells the same sunglass frames that were supplied to the US Army and US Air Force during WWII. It doesn't get more patriotic than that! Get your man in style this season with frames that are worn by celebrities and metrosexuals, alike.
Use code USALOVE for 10% off on Shuron frames. Order must be placed via phone (800.242.3636)or email.
J Wingfield
is the only American made men's woven shirting company making garments in the US, using USA made fabrics. They proudly manufacture their shirts with one of the oldest and most trusted families in
Texas
. Their fabric cutters and sewers have over 75 years of shirt sewing expertise. Their fabrics are woven in both North and
South Carolina
. Remarkably, these shirts are less than $100.
J Wingfield is featured in our Men's Fashion Dress Shirts & Polo Shirts Ultimate Source List.
A man can really never have enough 
socks
. I love 
Swiftwick
 performance
socks
because they come with compression benefits. The sock's thin profile reduces the effects of fatigue to maintain performance longer. They're available in five different heights and come in 11 color options. The socks are
made in Tennessee
and support 20 employees at the company headquarters. 
On demand massage, within an hour. It sounds pretty nice, right? The worst thing about getting a massage is having to drive home afterwards.
Soothe
 eliminates that by bringing the massage to you. Select from Swedish, Deep Tissue, or Sports massages for individuals or couples in 60-, 90- and 120-minute sessions. Appointments are offered between 
8 am until midnight
every day of the week. A 60 minute massage is $99, regardless of the type of massage selected. Download the
Soothe
app to book your massage now. Sign up with code KRBXI and we'll both get a $30 credit.
When it comes to leather goods,
Allen Edmonds
knows quality. Investing in a well made leather belt is worth it, especially if your guy is wearing one everyday. I love the
Allen Edmonds Basic Belt
because it offers a classic, sophisticated look. It's available in seven colors.
Don't miss our source list of American made belts.
Do you have an ice cream loving man in your life? I know I do, and
Grater's Signature Select Handmade Ice Cream Bundle
makes a perfect gift anytime of year. My personal favorite, 
Graeter's Black Raspberry Chocolate Chip
, is included in this bundle. Oh, my, goodness. You'll say the same when you try it. I already love black raspberry ice cream, and this is the
best
I've ever tried. The berry flavor is so true, and the chocolate is shaved just the right way so that it melts in your mouth. Graeter's ice cream is so rich and creamy, and it's no wonder because the first ingredient is cream. The company sources its cream and milk from
Ohio
dairies, which certify that they are free of artificial growth hormones. The ice cream is made in Cincinnati, 
Ohio
.
Graeter's is featured in American Made Ice Cream We Love By Region
Flint and Tinder
 offers premium Supima USA-grown cotton underwear. For every 1,000 pairs of underwear they sell, another job is added to their supply chain. That's feel-good underwear in more ways than one.
Kangol LiteFelt 504 Cap
is on point. I love this style hat because you can dress it up or down, but you'll always look dapper with it on.
Cocktail Gifts He'll Surely Love
Bittermens' Boston Bittahs
 is
made in a small factory in Brooklyn's Dumbo neighborhood.  I'd suggest pairing it with
Bully Boy's White Whiskey
 from Boston's first craft distillery.
Don't miss our unique gift suggestions for beer lovers and craft cocktail enthusiasts!
Balanced with a light oaky flavor, and vanilla undertones, Jim Beam Signature Craft Triticale, is perfect for sipping, and to pour of those whiskey stones. Produced in small quantities in September 2015, this is the third and final product of the Jim Beam Signature Craft Bourbon Line.
Jack Rudy Cocktail Co. Small Batch Tonic:
 I love Gin & Tonic, but don't prefer carbonated drinks. Jack Rudy's tonic is perfect because it's not carbonated! Its ingredients – Quinine, Sugar, Lemongrass, and Orange Peel – are simple and it tastes delicious!
We have found so many great American made gift ideas for him, that we have curated many lists!
Need more inspiration? Check out these lists too!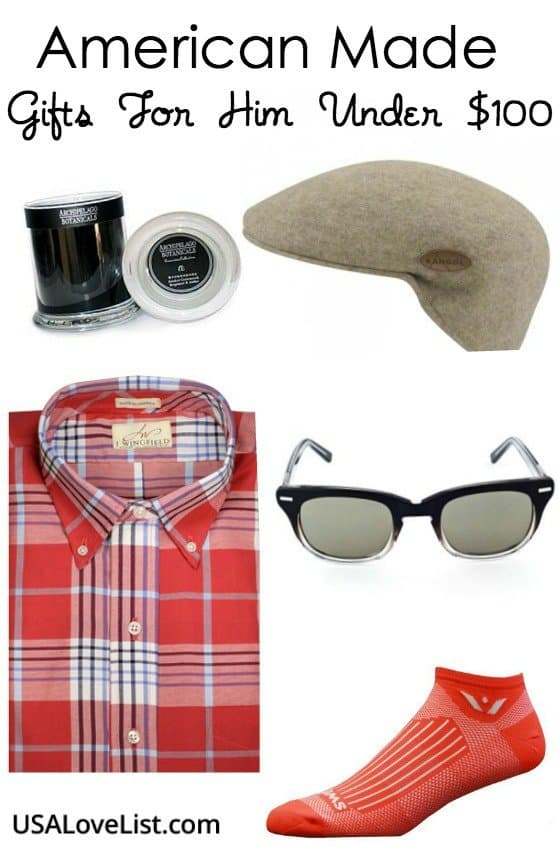 Disclosure: This is a sponsored post which USA Love List is proud to share with you because, sponsored or not, we only share stuff we love.