Family gifts make a great option when shopping  for relatives and friends this holiday season. Instead of spending time trying to find the best present for each member of a family, consider purchasing one gift that the whole family can enjoy! A specially selected family gift has meaning and they encourage family fun and interaction.  Here are some family gift ideas to keep in mind when making that holiday shopping list.
Made in the USA Family Gift Ideas that we love
THE CREATIVITY KIT FROM  ARTTERRO ART.
The Creativity Kit from Artterro Art is full of crafting supplies for hours of family fun! Supplied in this kit is enough materials to make 7 projects. All that is needed extra is glue, like made in the USA Aleene's Tacky Glue,and scissors.  All Artterro Art kits are Eco friendly too! The box is made in Wisconsin from 100% post consumer recycled paper and is designed to turn into a frame.
TAILGATE 500 INDY RACE GAME
Tailgate 500 is an exciting racing game for 2-6 people, ages 6 and up. What a fun way to practice adding and counting, than by racing cars around a track! Kids can even use their own favorite Match Box or Hotwheels car as they will fit on the track.
LARSEN TOY LAB BLOCK PARTY
Larsen Toy Lab Block Party is 3 games in one. We love playing all of them! This is a great game for a family that include kids with a range of ages. We have played Block Party games with 6 kids ranging in age from 4-14 and they all had fun! It's hard to find a game that is simple enough for the young ones, yet still challenging and fun for the older kids as well.  Larsen Toy Lab Block Party is made to last and will keep a family entertained for generations. The Block Party game set can even be personalize with a family or child's name.
MURBLES
Murbles is an outdoor sports game that is played with giant marble like balls, or Murbles.  Murbles quickly became my family's favorite game of the summer! Murbles is loosly based off of Bocce, in which there is a point ball and team balls. We love Murbles because it is easy enough for everyone to play, old and young alike. We kept Murbles in our car all summer so that the kiddos always had something to do no matter where we where- cookouts, grandma's house, the park.  It's even fun to play at the beach and the balls float!  We can't wait to play it in the snow!! You can even personalize a set and pick out the color Murbles you want.
GEOMATE.JR
The geomate.jr is a geocaching GPS unit. Geocaching is a treasure hunt where GPS co-ordinates are followed to find hidden items.  Geocaches are hidden, usually in containers, and their GPS location is recorded. The geomate.jr comes preloaded with over 250,000 geocache locations in all 50 states. This is the perfect gift for a family who loves to spend time outdoors!
COOP SONIC SLED
Sledding is my family's favorite winter activity. The COOP Sonic Sled makes a great family gift because, really, one can never have too many sleds! The COOP Sonic Sled has 4 handles and is perfect for 2 people to ride. Parent and kids alike will have fun with this sled that's made in the USA.
GROWTH CHART ART
A growth chart is a fun way to keep  track of the growth spurts of every family member. Growth Chart Art offers a vast selection of handcrafted charts made from soy based inks and formaldehyde free plywood. They can even be personalized with a family or child's name.
MODERN MOOSE CLOCKS
Modern Moose clocks are handcrafted in Massachusetts and make a fun addition to any room in a family's home! Many different styles are available to choose from,  from animals to robots.  I am partial to the fox clock and can hear my kids singing, "What Does The Fox Say?' as we practice telling time.
GLASS DHARMA GLASS STRAWS
Plastic straws are popular with kids of all ages, yet they are bad for the environment. I have found you can only re-use them a few times before the kiddos chew them up, and there are only so many craft project you can do with them until your have straw crafts taking over the house. Glass straws are the perfect solution, and they are sturdy and safe too! A set of Glass Dharma glass straws make the perfect gift for the Eco-conscious family.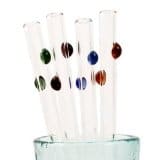 Disclosure: This is a sponsored post which USA Love List is proud to share with you because, sponsored or not, we only share stuff we love.
We're making it easy to buy American-made gifts this year. Follow and share our 2014 Holiday Gift Guides and check our previous years' archives from 2013, 2012 and 2011 for even more ideas.
Have you visited our Made in USA Shopping District? It is the place to start your shopping when you want to find the best of American-made.