This week's USA Love List American made giveaway prize is something that every steak loving household needs. Read on to learn more!
Made by Sherrill Manufacturing in New York state, Liberty Tabletop is the ONLY flatware available that is still manufactured in the USA. Liberty Tabletop stainless steel flatware is made from domestically sourced steel that is 8 to 10 percent nickel and 16 to 18 percent chromium. Unlike stainless steel used in foreign flatware manufacturing, Liberty Tabletop guarantees that the metal mix in their stainless steel does NOT contain lead, mercury, or any other toxic metals that we don't want in our mouths.
Here is what we love about Liberty Tabletop Flatware:
Entire collection is manufactured in the USA
Made in New York under safe conditions and fair wages
Made with tested lead free, mercury free domestically sourced stainless steel
A variety of patterns are available to suit every taste
Pieces are designed and built to last for generations
Tweet your thanks to this company for keeping their products made in the USA:
Liberty Tabletop steak knives
The Liberty Tabletop Deluxe Steak Knife Set is a beautiful presentation of 12 Limited Edition Steak Knives in a Solid wood Sycamore Chest. The Knives feature the best blade with the special steak knife serration and 18-10 hollow handle construction. The Sycamore Chest serves as both as handy storage box as well as handsome presentation for the knives when serving buffet style. Both Knives and Chest are 100% Made in the USA!
THE GIVEAWAY
Enter now to win Liberty Tabletop's Deluxe Steak Knife Set with Sycamore Chest (12pc), valued at $199.95. One lucky reader will receive 12 Deluxe Steak Knives and one solid wood Sycamore Chest, all made in USA.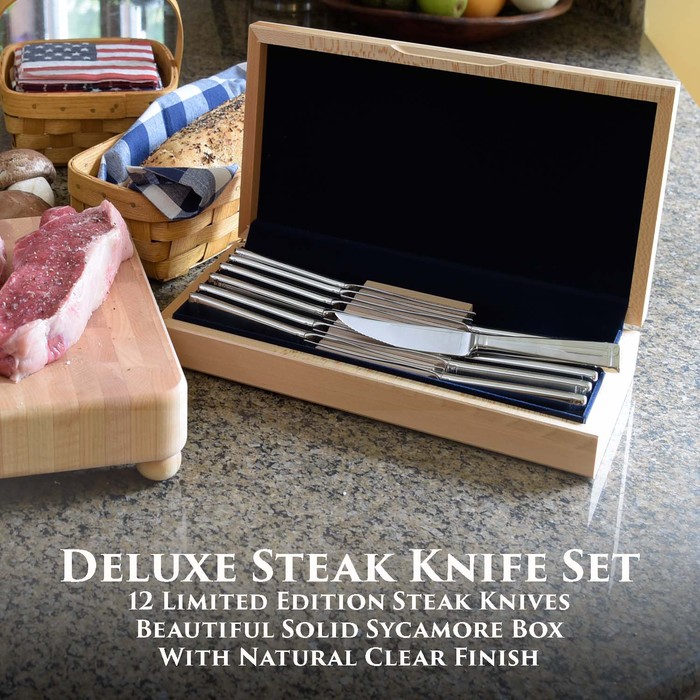 There are a variety of ways to enter this giveaway including opportunities for multiple daily entries. Good luck!
Click the arrow buttons below for further instructions on each entry. This giveaway will close at midnight on Thursday, September 21, 2017. The winner will be randomly selected, verified for correct entry participation, and notified by email.
If you've already entered one contest on USA Love List, entering another will be even easier. Visit our Giveaways Page to find out about other active offers to join.
Disclosure: This is a sponsored post which USA Love List is proud to share with you because, sponsored or not, we only share stuff we love.