We've had many inquires about American made boots for women. I admit, they are difficult to find, but I've done the searching for you, so you can easily shop for made in USA boots.  Also check out our list of American made boots for men and our Ultimate Source List for American made shoes.
ChiefSupply.com sells some serious made in usa boots: men's and women's work boots, military boots, combat boots, steel toe boots, fire boots, etc.
Chippewa 17″ Vipercloth™ Snake Boot are designed to guard against snake bites, but they also withstand various weather conditions. While they are sold in men's sizes, they are made as small as a men's size 6, so any female with a size 7 and up, could wear them too. Note: Most Chippewa boots are made in USA, but not all. Double check country of origin before buying.
Danner boots are styled for hiking, and also happen to keep your feet dry, depending on the style you select. A waterproof-yet-breathable Gore-Tex® liner helps to keep your foot dry and comfortable in a rugged, lumberjack-style made in usa boot handcrafted in Portland, Oregon.
Kamik, a Canadian company, makes some of its children's and women's snow boots in the USA. You can find a curent selection of them at Nordstrom.
Keen has a large selection of its made in USA low- and high-profile snow and hiking boots for men and women available at Zappos. KEEN Durand Polar WP boots are made with a Thermal Heat Shield footbed and faux fur collar keep things toasty. This boot's membrane is waterproof and breathable, and the dual compound snow and ice grip rubber sole keeps you on your feet. Check country of origin labels carefully with this brand, as only certain lines are made in the USA.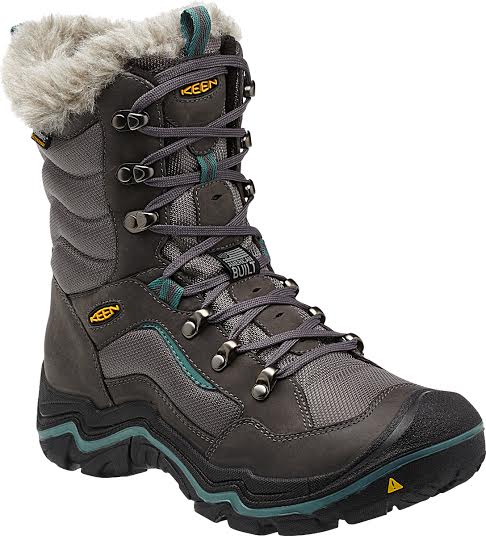 L.L. Bean makes its iconic Bean boots for men, women, and kids in Maine.
Soft Star makes all of its products to order in the company's workshop located in Corvallis, Oregon. They offer made in USA boot options for men, women and children.
Steger Mukluks makes its boots in Ely, Minnesota. I have a pair of the Terra Muklus. You can buy them in regular or wide, depending on the width of your foot. I have a large calf and typically cannot wear boots that go over my calf; I can wear these though. They are really warm and comfortable.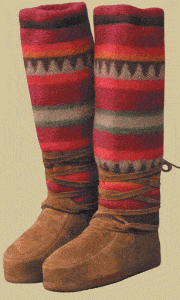 Schnee's has been handcrafting boots in Bozeman, Montana for over 25 years. There is a wide selection of boot heights, sizes and styles.
UGG has started to make some of its boots in the USA. You can find a current selection of those at Nordstrom. Check labels VERY carefully.
Vintage Shoe Company has been hand-crafting shoes since 1833. Not all of this brand's shoes are lined.
American made Accessories for Boots
If you're looking for boot liners to make your shoes extra warm for the coldest months, Golden Touch Naturals offers Alpaca Felted shoe inserts. While other brands offer liners, I particularly like Golden Touch Natural shoe liners because alpaca is moisture-wicking, oder resistant, and durable. To make your American made shoes even more comfy, try American-made soft gel foot cushions from Body and Sole Comfort!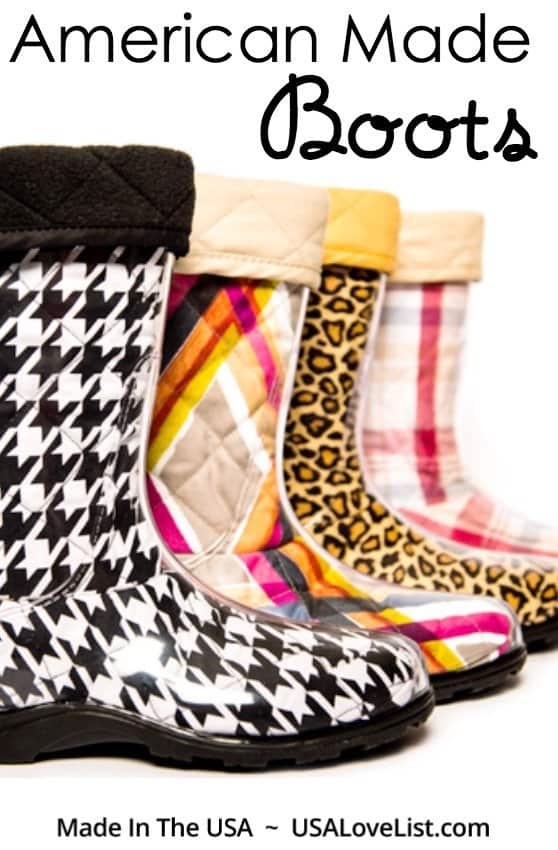 Follow USA Love List's board Shoes: Made in USA on Pinterest.Follow USA Love List's board Outerwear: Made in USA on Pinterest.
Disclosure: This is a sponsored post which USA Love List is proud to share with you because, sponsored or not, we only share stuff we love.