Looking for last minute gifts for men?  We have a little something just for the special guys in your life.  Six American-made grooming products.

Grooming Products for Men
Men's lines provide their customers with simple packages and easy to follow routines. I selected three sets from Jack Black because it's just that fabulous.  They have something for everyone and something for every need. The men's gift sets are packaged perfectly for easy gift giving.
Clean & Cool Body Basics skin care set.  It has everything your man needs to stay fresh.  This gift includes all over wash, body lotion, hand cream and deodorant.  This is how to look, smell and feel good.
The Skin Charmer Set is a moisturizer duo. It includes a daytime lotion and nighttime cream. Included with this set is one of their lip balms.
The Skin Essentials Kit is an entire line of products designed for a smooth face. All four products ensure a smooth shave and a healthy, hydrated complexion.  The kit includes a cleanser, exfoliant, shave gel and moisturizer.
It is worth your time to find these American-made Jack Black gift sets
 and browse other options from the line.
The Balmshot is a unique gift, a little different concept in a sea of lip products.  This lip balm was designed to be toted in your pocket without all the mess.  The beeswax formula is no muss, no fuss and comes secure in a tightly controlled twist up tube with well fitted cap.  Their newest product, Natural Organic Pomegranate, is the perfect add on gift or small token of affection.
This line is a personal favorite in my household: Beardition.  Their smell, the look, and the vibe is one of a kind.  Their shaving products answer the calls of men plagued with razor burn, ingrown hairs and rough post shave skin.  You will not find alcohols or chemicals in these total package products.  They cater to the bearded man as well with beard shampoo, conditioner and the holy grail – beard oil.  Side note ladies, to date I have never found a more effective way to get bump free legs than their legitimately cool after shave.  Do yourself a favor buy one for you too.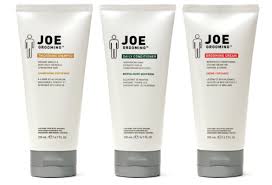 Joe Grooming
is a very affordable and basic line. Their hair care is a choice selection for males of all ages.
The list of quality grooming for men goes on but these Made in USA grooming sets made the short list because they make it easy to give and for the recipient to use. Now they have their own goods and you keep yours all to yourself. Everybody is happy!