If you find yourself asking, "why use sunscreen", let me start by saying it is one of the leading causes of premature aging, causing things like:
dark spots (hyperpigmentation)
dehydration
sagging skin
dullness
deep wrinkles
In addition to these cosmetic woes, we have the more serious concern of skin cancer. For years now, doctors and research scientists have warned us of the increased risk of skin cancer from too much unprotected sun exposure. So stay pretty AND healthy by protecting your skin. These following recommendations are my picks for the best sunscreen for the face.
Don't miss our Made in USA sunscreen source guide, our list of American made non toxic sunscreens, and our list of made in the USA organic sunscreens for more options.
Best Facial Sunscreen, Made in the USA
Maximum Sun Exposure
Vichy Ultra Light Fluid carries an SPF of 50. Vichy sun care is designed to complement any existing regimen. Adding things right into your skincare system make it easy. Many of us are afraid of disrupting a good thing by introducing new products to our faces. Rest assured Vichy makes little impact other than functioning as it is designed. The fluid is insanely light. It feels more like a serum than anything. This is a great product to have on hand for times when you plan to be outside all day such as the beach, sporting events and summer festivals. The packaging is easily totable for reapplication too.
Maximum Sun Exposure, with ultra-moisturizing properties
Biossance Squalane + Mineral SPF 45 is a plant-based, non-toxic mineral sunscreen and is Sephora's first EWG-verified SPF 45. It protects skin from UVA/UVB and infrared rays while defending skin against environmental stressors and pollution. It's clinically shown to decrease pollution on the surface of the skin. The zinc oxide formula is non-comedogenic transparent, non-greasy and fast-drying. It not only protects skin, but acts as a hydrating primer thanks to the presence of the ultra-moisturizing squalane.
Moderate Sun Exposure
Hydroxatone BB Cream SPF 40 is an anti-aging/repair and sunscreen all in one. Their cream contains vitamin C to lighten and brighten existing sun damage while blocking further damage from occurring. This product is tinted which gives light coverage as well. In addition to evening out skin tone both instantly with the tint and by working to correct it long term, the BB cream also stimulates collagen and cell turnover for a youthful glow.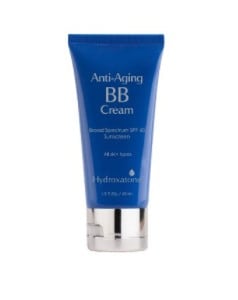 Coola Face SPF 30, is a natural and organic sunscreen. It is anti-aging with a sheer, matte finish. It is very lightweight and there is no tint in this product.
Limited Sun Exposure
Naked Skin Beauty Balm by Urban Decay has an SPF of 20. This is perfect to layer with makeup to give it a boost of sunscreen. Naked Skin also acts as a primer so it's a great multi-tasking product. You can also wear it alone as a complexion enhancer without any coverage such as that from a foundation.
Prevention is the best beauty tip available. There is a limit to how much damage modern products and treatments can fix. Good skincare and sun protection are the best things you can do to preserve your skin's health. So enjoy the summer sun, poolside parties and ball games, just do it with some SPF you can trust because it is American-made.
Everybody in the business of beauty and personal care is offering some kind of sun protection. We researched the options for sunscreen made in the USA.