Is a new mattress on your list of things to purchase in 2017? A good mattress is an investment in your comfort and health, but it is also a good opportunity to buy American from a company you can trust. There are a surprising number of options. Don't miss this list of American made mattresses to get you started on your search for the perfect one!

Buying a Mattress Made in USA: Top Picks
CRāVE: Luxury Foam and Spring Hybrid Mattresses
The CRāVE team knows that one mattress does NOT fit all which is why CRāVE offers 4 mattress styles to choose from. Two of CRāVE mattress styles are foam and spring hybrid mattresses- mattresses that provide comfort and support equal to traditional luxury spring mattresses, but at a lower price.CRāVE mattresses are Eco friendly. All foams used are CertiPur-US® certified. Made in North Carolina, all materials used in CRāVE mattresses are sourced with in a 200 mile radius, reducing their carbon footprint. Receive the good night's sleep you crave on an affordable, Eco-friendly, luxury mattress.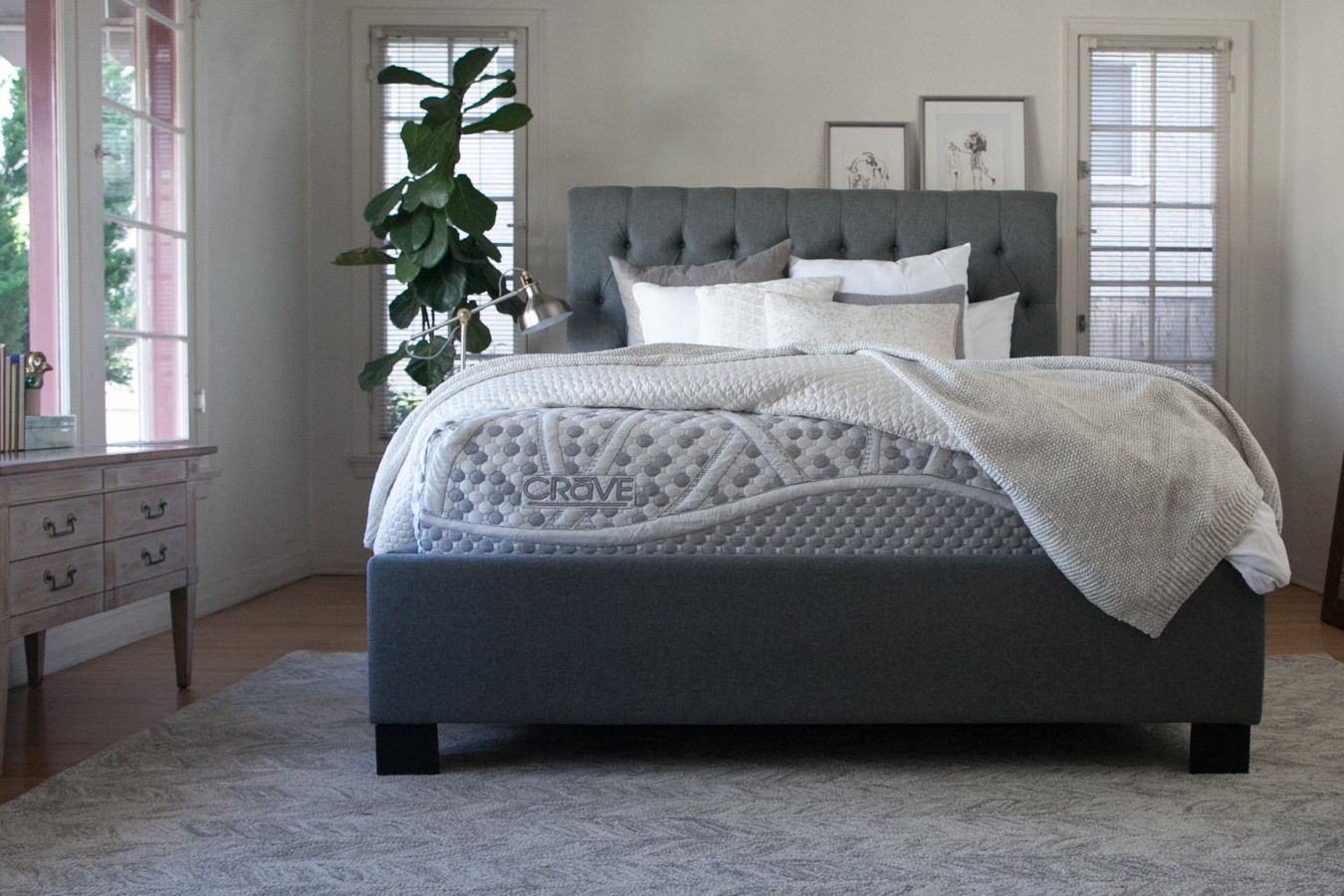 Saatva: Luxury Innerspring Mattresses
Saatva is based out of a small coastal New England town, Wesport, Connecticut. Founded in 2010, Saatva is the only online mattress brand that designs, manufactures, and delivers ultra premium innerspring mattresses directly to consumers for a third of the price of in store brands. Saatva has pioneered a superior customer experience while cutting through inefficient retail models and has become the top rated mattress company on Google.
Loom & Leaf: Luxury Foam Mattresses
Since there are no physical retail stores, Loom & Leaf  by Saatva ultra premium memory foam mattresses are priced up to 70% off comparable store brand mattresses. In addition to offering an amazing price, Loom & Leaf  has created an ultra-premium product that is handcrafted in America. These mattress are eco-friendly too. They do not use any harmful chemical sprays to make its mattresses with flame retardant, but instead utilizes natural thistle pulp woven into a mesh. There is also an easy to read mattress comparison chart available on the Loom & Leaf website so that you can directly compare the specs with other brands.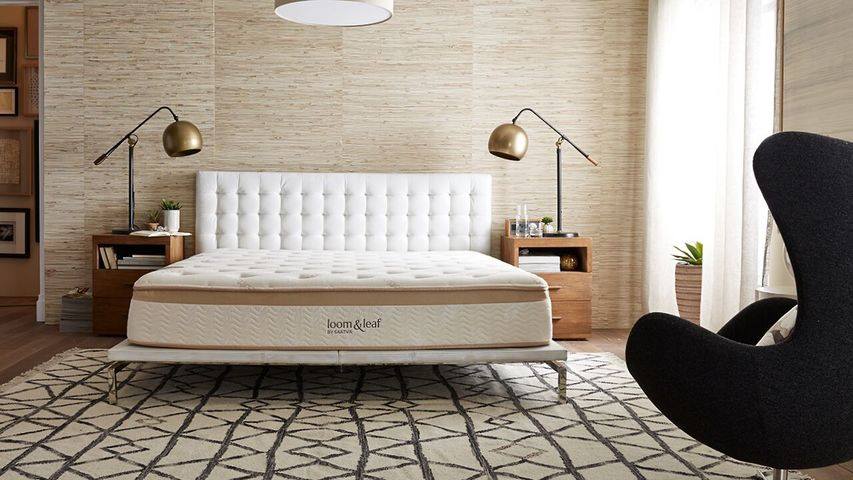 Zenhaven: Luxury Latex Mattresses
Zenhaven is an all natural latex mattress handcrafted in the USA with the highest quality materials and newest sleep technology. Zenhaven mattresses are made with 100% natural American Talalay latex, layered with breathable 100% organic New Zealand wool, and wrapped in lush, organic cotton. You can pay $4,000 or more for a top of the line latex mattress at a retail store, but because it's from Saatva, the online mattress company that's made luxury sleep affordable, Zenhaven's Queen mattess can be yours for as little as $1,899.
Baby Mattress Made in USA: The EverTrue Elite by Colgate
A mattress is probably the one product your infant will come into contact with most. Sleep soundly knowing your littlest one is resting on the American made EverTrue™ Elite by Colgate: a crib mattress made with open cell, pressure reduction, viscoelastic memory foam for your baby's comfort and safety. The unique pressure relief technology continuously adapts to each baby's position, providing natural air flow, instant pressure point relief, and continuous support where your child needs it most. This lightweight, 6″ thick, dual firmness Eco-friendlier foam crib mattress also features the Colgate exclusive SecureCore Technology™, which is engineered to enhance air circulation. The Elite utilizes a plant oil-infused Eco foam that is CertiPUR-US® certified safe. All of these features are wrapped into a Softtouch Caress medical grade cover, which is soft, hypoallergenic, waterproof and tear resistant.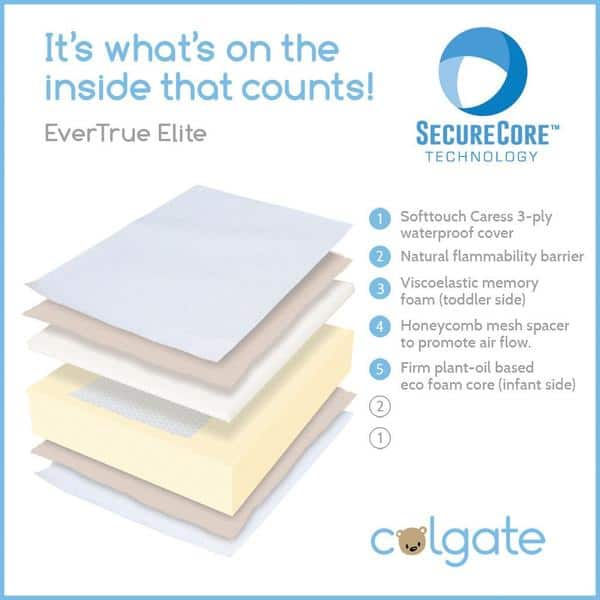 $30 off the Colgate EverTrue Elite crib mattress using discount code USALOVE
Factory Direct Mattresses
Did you know that you can get high quality mattresses sent right to your door? I honestly had no clue until I started doing research for this list! Purchasing a mattress from an online only retailer usually means that the mattress comes to you directly from the factory. This lowers the cost of the mattress by cutting out retail store costs. To make shipping easier, these mattresses come rolled up in an easy to handle box. I have to admit, I was a little weary about purchasing a mattress this way.
BearMattress sent me a twin size mattress to review. BearMattress gel memory foam mattresses are uniquely designed for optimal cooling, comfort, and healing. The mattress arrived right to my door via UPS. The box was easy for me to move without the need of another person and contained easy to follow direction on how to remove the mattress.  With the help of my kiddos, we removed the mattress from the box, followed the directions, and had the mattress ready to use in no time. There was no evidence on the mattress at all that it had previously been rolled up. BearMattress was specifically designed for those with an active lifestyle as it's engineered with 4 layers of foam to promote healing, cooling and to increase energy levels. Active, I am not, so this review is limited on that aspect. However, the day that the mattress arrived I had been on a hike with the hubby that included going up and down a large hill which normally would have resulted in sore muscles the next day. Coincidence or not, after sleeping on the BearMattress that night (and having a great night's sleep), I did not have a spot of soreness. My daughter is the one who has been sleeping on the mattress since. She is the person in the family who is always hot, and she would often wake up during the night from being too hot (even in the winter).  This has not been happening since she has had this mattress. For our first online mattress experience, BearMattress has set the bar high!
Buying a Mattress: Made in USA Ultimate Source List
Many of the companies on this list are online only stores. This list is always growing, so check back often. If you have a favorite American made mattress company that you don't see on our list, let us know in the comments and we will add it.
4Sleep offers luxury foam mattresses.
Agility hybrid mattress was designed with moms in mind.
Ameena Mattress are factory direct and manufactured in Georgia (the covers are made in North Carolina) from CertiPur-US certified memory foam.
Amerisleep is a maker of natural memory foam mattresses.
Amore Beds mattresses are available with  organic cotton fabric and split mattress firmness.
Avocado mattresses are made with natural and organic materials in California.
BearMattress memory gel foam mattresses are specifically designed for athletes and those with active lifestyles. See review above.
BedinABox.com is an online retailer and manufacturer of memory foam mattresses, located in Tennessee.
Brentwood Home memory foam, latex, spring, and foundation mattresses (quilts, pillows and pet beds too) are made in California.
Brooklyn Bedding factory direct mattresses, pillows and sheets are made in Arizona.
Casper mattresses, pillows and sheets are made in the USA and factory direct.
Colgate manufactures crib, changing table, and bassinet mattresses. Learn more about Colgate at the top of this post! Code USALOVE saves you $30 on the EverTrue Elite crib mattress. 
Cozy Pure manufactures organic pillows, sheets, blankets, and toppers in Norfolk, Virginia.
CRāVE Mattress foam and inner spring mattresses are Eco friendly and made in North Carolina. Learn more about Crave Mattress at the top of this post!
Create A Mattress manufactures made to order memory foam, latex, futon, and pillow top mattresses in the USA.
Dromma Bed  Eco friendly mattresses are made in the USA from natural materials.
Easy Rest adjustable mattresses are made in the USA.
Element factory direct memory foam mattresses are 100% American made.
eLuxurySupply is an online retailer of bedding products. Not all products are American made, but they have a selection of pillows, mattresses, and toppers that are.
Envi 3 layered mattresses are made in Portland.
Everlay mattresses, pillows, and even pet beds, are made in California.
Don't miss Buy Bedding Made in the USA: The Ultimate Source Guide
GhostBed Gel memory foam and latex mattresses by Nature's Sleep. Foundation/box spring also made in USA.
Helix personalized mattresses are made to order.
HIBR manufactures cooling memory foam mattress, made in America.
Hyphen mattress is designed for a cool, clean, supportive sleep.
Kiss Mattress memory foam and latex mattresses are made in USA.
Leesa foam mattresses for every body. For every 10 mattresses sold Leesa donates one mattress to a shelter.
Lilybed mattress is designed for women, made in Vermont
Loom & Leaf  by Saatva.These ultra–luxury mattresses are made from a plant based foam Learn more about Loom & Leaf at the top of this post!
Luxi is a luxury foam mattress that adapts to your body's needs
Memobed luxury hybrid copper infused mattress, made in California
MyPillow makes a mattress too- 10″ and 4 layers.
Nest Bedding sells American made organic mattresses, sheets, pillows, blankets, and comforters.
Newton breathable crib mattresses are made in Tennessee.
Novosbed  designer luxury memory foam mattresses are made in Pennsylvania.
Pacific Mattress Co. float foam mattresses are made in California.
<http://amzn.to/2BUTplx" target="_blank">PangeaBed manufactures copper infused talalay latex mattresses
Puffy foam mattresses are American made.
PuraSleep memory foam mattress and pillows are American made.
Purple offers no pressure mattresses, made in USA.
Quilbed manufactures gel memory mattresses.
Saatva is the only online mattress brand that manufactures and sells ultra premium innerspring mattresses. Learn more about Saatva at the top of this post!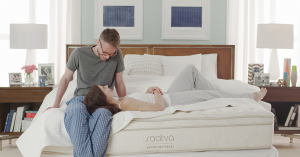 Zotto offers hybrid foam mattress and mattress topper.
Disclosure: This is a sponsored post which USA Love List is proud to share with you because, sponsored or not, we only share stuff we love.