Our guide to American made gifts for the yoga lover is a great place to find something for your stylish yogi friend, or those who just like to kick it in their yoga pants.
A lot of my friends are crazy about the yoga gear from Lululemon and Athleta, but people really got excited when I told them that my yoga gear is made in the USA. Save this list and share with your friends.
Gifts for the Yoga Lover, All American Made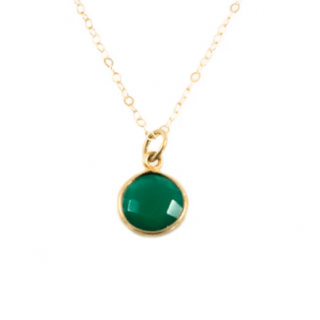 Photo Credit: noelanihawaii.com
Noelani Hawaii Jewelry offers crystal jewelry infused with love and aloha to help you shine your light. These pieces have been handmade in Hawaii since 2003. The brand makes jewelry that is not only beautiful but also incredibly healing. Noelani Hawaii is a platform that allows women to go out and spread their light within their own communities. Its pieces are a symbol of those embodied women that are empowered, and comfortable within themselves and all they are. The jewelry is created with the intention that the wearers of these designs are reminded to shine their inner beauty bright and that this feeling of love is radiated out to all beings everywhere. Take 10% off Noelani Hawaii jewelry with discount code USALOVE. No expiration. One use per customer.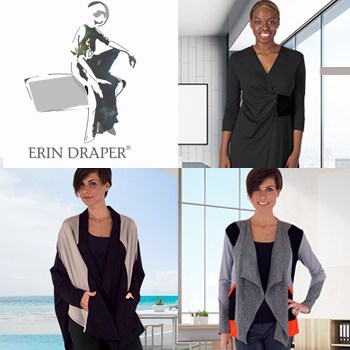 Photo Credit: anytownusa.com
Erin Draper yoga wear jackets, tunics and more are designed to look good, be comfortable and move with the body. Erin Draper yoga wear is handmade in Baltimore, Maryland. Erin Draper yoga wear is available at anytownusa.com. AnytownUSA is honored to offer a 10% discount to military members to recognize and thank you for your service. The discount is available to active duty service members, veterans, retirees, spouses, and immediate family members. 
Photo Credit: amazon.com
Prep for your workout with a good stretch. The made in USA Hugger Mugger Quick Release Yoga Strap is the perfect thing to use right before yoga to loosen your muscles.  I recently used a release strap for a 10-minute stretch session and it was divine. It was an amazing way to stand up and get my blood flowing after sitting for hours.
Photo Credit: www.kiragrace.com
Finally, well-fitting, comfortable, and well-made yoga pants that stay put when you move. I love these leggings for their fit, fabric, and feel. The fabric wears and washes well too. They feature an ultra high-rise waistband, a leg-lengthening silhouette, and anti-chafe flat-lock seaming. They are compressive with 4-way stretch, breathable, moisture-wicking, and most importantly, ultra-soft. It's no surprise that the pants have a 100% five-star rating. 
Photo Credit: amazon.com
Numi Organic Tea makes some of my favorite tea. I trust and love the brand because its teas are organic, non-GMO and use post-consumer, recyclable, & biodegradable sustainable packaging. Take a deep breath and allow your mood to inspire which type of Numi Organic Tea by Mood you should enjoy at any moment.
Photo Credit: www.amazon.com
The Hugger Mugger Tapas Yoga Mats have been made in the USA for almost 30 years. The Tapas mats have a nonslip surface and cushioning support. They are lightweight and easy to transport.
Photo Credit: amazon.com
I love all Aura Cacia products and in particular love these American made chakra roll-ons. Balance emotional and spiritual energy flow of one, or all, of your seven Chakra centers with Aura Cacia Organic Chakra Balancing Aromatherapy Roll-Ons. It's great to have one of each so you can use them according to your mood. The grounding root is my favorite scent since its heavy on frankincense.
Photo Credit: amazon.com
This handmade in the USA Hugger Mugger Standard Bolster combines the perfect amount of inner strength and stability with a comfy, soft surface that will give you years of unsurpassed service. The foam core and cotton filling combined with a soft surface make this bolster a yogi must-have.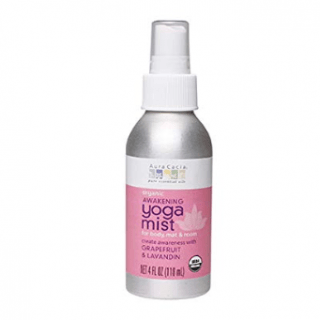 Photo Credit: amazon.com
Help clear your mind and create a meaningful yoga experience with Aura Cacia's organic yoga mists. Each mist is made with organic essential oils and they are paraben and petroleum free, so you can feel confident in spraying it on your body or yoga mat.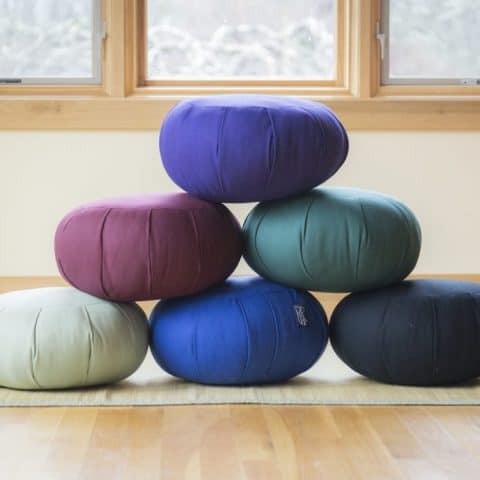 Photo Credit: zafu.net
Carolina Morning Zafu Meditation Cushion offers the option to select the type of cushion you'd like. They are made with organic cotton canvas or traditional 100% cotton. You get to choose your own filling. Select between eco-friendly Kapok Fiber (firm, smooth, and solid) or Buckuckwheat Hulls (malleable, and move around a bit to conform to your shape, but offer a solid sit) and select from 14 colors. Removable covers are sold separately in all colors. I love that the cover is removable so you can wash it, as necessary. If you live in a small space, it could double as a sitting pillow too.
LOVE THIS LIST?
Honestly, we know you will love these lists too!
Yoga Gear, All Made in the USA. Namaste.
Yoga Tips for Beginners
Made in USA Sneakers and Athletic Footwear: The Ultimate Source List
What's In Your Gym Bag? Made in USA Gym Bag Essentials
Made in USA Activewear: The Ultimate Source List
American Made Leggings: The Ultimate Source List
Fashion Fitness Wear: American Made Fitness Brands We Love
Hydration, Vitamins, Wellness- Made in USA Sources To Look & Feel the Best
Made in USA Options for a Detox Cleanse You can Trust