Teen beauty and personal care items should be easy on the budget and healthy on the body.  Here I have collected 10 American made teen beauty and personal care products.  Some are essential. I chose each one to save time, add a smile to the morning struggle face, and have schedules running smoothly.  
Teen Beauty & Personal Care Supplies We Love
Crystal Body Deodorant is a must have. It's a non-messy and chemical free version deodorant using mineral salts to be effective.  When you are shopping for growing kids you want to take extra care to keep harmful ingredients off their bodies. But let's be honest we also don't want them to stink and we know some of the non-toxic deodorants aren't user-friendly because they often come in glass and have an inconvenient application. Crystal Deodorant is the solution to convenient and safe deodorant with their easy roll-on bottle and deodorant wipes. Kids can totally handle this and it's a huge perk for us adults. Crystal Deodorant goes on without any residue and is hypoallergenic and vegan too.
Save 20% of your Crystal Deodorant order with promo code USALOVE
Good For You Girls natural, non-toxic, gluten-free, vegan skincare is created for the special needs of young skin. All Good For You Girls products, which include facial care and skin care products, are made with love, respect and good ingredients.
Save 20% on your Good For You Girls order with code USALOVE (code expires 12/31/18)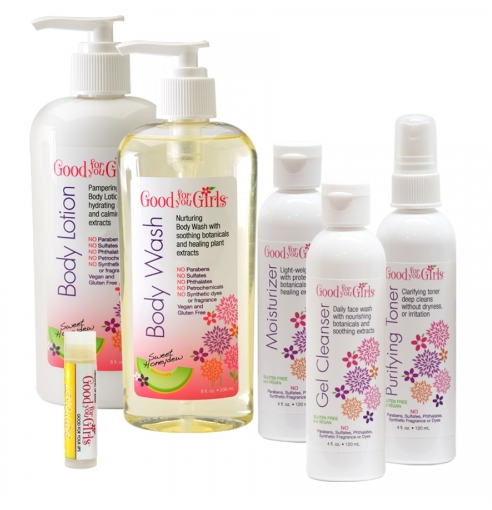 Burt's Bees Fabulously Fresh Peppermint & Rosemary Body Wash, 12 oz
 is the morning wake up for your body.  The peppermint stimulates your senses and gives you an energizing start to the day.  The formula is plant-based and a gentle cleanser.  The active ingredient, peppermint, cleanses, tones and purifies to keep your skin looking smooth and soft.
Tom's of Maine Children's Toothpaste
 is made in Sanford, Maine. It is the only all natural kids toothpaste approved by the American Dental Association to help prevent cavities.  I love that they made the packaging playful for kids, that is sometimes lacking in all natural brands.  Toms of Maine Children's Toothpaste is featured in American Made Natural Toothpaste: Four Top Picks. 
Bath and Body Works Pocket Bac hand sanitizer.
  Back to school means back to colds with the flu fast on its heels, making miniature sized, germ-killing gel very popular.  Bath and Body Works happily accommodates the obsession with countless special packages, scents and limited editions.  All this fun for just under $2 and easily toted in backpacks and lunch boxes for a quick fix.
Neutrogena Cleansing Towelettes
are a busy person's dream. No sink, no time, no problem.  A couple of shortcuts here and there come in handy.  A few quick swipes and you have washed off all the day's dirt and oil from your face.  Teens especially should stash these.
Badger Balm Organic Classic Lip Balm

The Balm a tube. Neutral packaging for the girls and guys alike.  Seven flavors made from essential oils.  No petroleum, artificial colors, flavors or sweeteners.  Extra virgin olive oil, beeswax and aloe moisturize, warding off chapped lips.  The familiar Badger logo and bright colors are so fun!
EOS, otherwise known as Evolution of Smooth
have been made popular by their egg-shaped lip balm.  They also make a flattened, oval-shaped hand lotion that fits perfectly in a pocket, purse or backpack.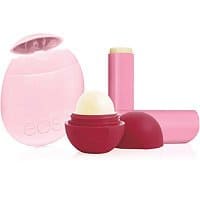 Piggy Paint
is an American made non-toxic nail polish for any young lady looking to sport a manicure as part of their back to school fashion.  They have a huge variety of colors and sell non-toxic nail polish remover as well.  The bottle and brush are perfect for little fingers and toes. Piggy Paint is featured in Six of the Best and Least Toxic Nail Polish Options Made in the USA.
Last but not least, a good night's rest is crucial.  Heads will rest easy on a new bedding set made in the USA from American Made Dorm.  They are designed for college students but they can deliver an affordable back to school room makeover for any student.  After all, you do start and end your day nestled in your bedding, so make sure it's something to love.
Do you have a favorite morning routine, product or ritual to get your day started off on the right foot? Do tell in the comments below.