I have to say, I am super excited about today's American made giveaway which is sponsored by Fracture.
I am a total slacker when it comes to turning my photos into prints. OK, "slacker" is an understatement. Honestly I can't even remember the last time I printed off any photos. Well, that's about to change….
Fracture: Turn your favorite photos into beautiful glass memories
Founded in 2009 in Gainesville, Florida, Fracture is the simple and affordable way to turn your most treasured images and memories into beautiful décor.
Instead of printing on paper, images are printed directly on glass and assembled into a frameless, ready-to-hang product that fits any décor theme. Each order is hand assembled in a carbon neutral factory at its Gainesville headquarters, and safely delivered in environmentally friendly packaging.
Here is what I love about Fracture
The glass prints (called fractures) can be hung on the wall, or displayed on a stand.
For the measurement challenged (like myself), there is a soup can used on the website to help give an idea of actual product size.
Fractures are available in Rectangle- Portrait or Landscape, and Square.
Have a lot of photos on Instagram? The Square 5″x 5″size is perfect- and it's only $15.
Ordering fractures on the website is simple….the hardest part is deciding what shape and size to get!
Fractures make beautiful, personal gift for wedding, anniversary, graduation, birthdays, holidays…OK, I am never going to have to wonder what to give as a gift again!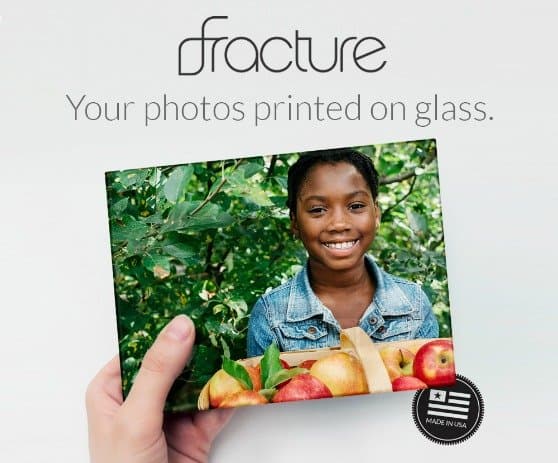 Tweet your thanks to this company for keeping their products made in the USA:
THE GIVEAWAY
Enter now to win a $250 gift card for Fracture glass prints.  Upload your favorite images and memories at fractureme.com, pick your sizes, and then use the gift card code at checkout!
There are a variety of ways to enter this giveaway including opportunities for multiple daily entries. Good luck!
Click the arrow buttons below for further instructions on each entry. This giveaway will close at midnight on Thursday March 2, 2016. The winner will be randomly selected, verified for correct entry participation, and notified by email.
If you've already entered one contest on USA Love List, entering another will be even easier. Visit our Giveaways Page to find out about other active offers to join.
Disclosure: This is a sponsored post which USA Love List is proud to share with you because, sponsored or not, we only share stuff we love.