American made designer purses and handbags are hard to find, so we've put together an ultimate source list for you. While some of these designer purses and handbags are a small investment, all of these brands offer quality products, and many of these brands offer lifetime warranties. Let us know which bag is your favorite in the comments section!
Our top picks for American Made Designer Purses and Handbags
Customized Leather and Canvas Bag Options from Jenny N. 
Attention is in the details with bags from Jenny N.  Jenny Nemlekar designs and sews each one of her bags. She uses premium full-grain leather, metal hardware, and water-resistant canvas to line her bags. Jenny N. bags are built to last for years to come. As a one-woman operation, Jenny focuses on quality over quantity and provides customer-centric service. Every Jenny N. bag can be customized from the leather color, thread color, monogram, and closure styles.  View the Custom Bags section to see all of the customizations options and view Jenny's Instagram for inspiration on custom bags she's done in the past. There are so many options; the possibilities are endless. All of Jenny's bags are made by hand in her Dallas, Texas studio.
Code USALOVE gets you free shipping on orders within the US from Jenny N.
Bohemian at Heart
Made from 100% leather,
Malibu American
offers bohemian style luxury bags that are made in the USA. The luxuriously soft leather, hand braided handles, and hand cut fringe reflect the laid back luxe lifestyle of living near the beaches and mountains of in Malibu, California. Malibu American handbag elements including the leather, hardware, and lining, are all entirely sourced and manufactured in downtown Los Angeles, California, USA. Even the dust bags are made in the USA in Kansas City, Missouri.
Code USALOVE saves you 15%
Blair Ritchey
 collection brings functional luxury to easily upgrade your wardrobe. Her namesake collection is designed and handcrafted by Blair in her Cleveland, Ohio studio. We love the
Lango Messenger
bag in this bright, neutral color (cement), perfect for all seasons. It offers adjustable straps, brass hardware, and a detachable wallet that can be used as a wristlet.
Blair's functional, timeless, and luxurious collection will last you for years to come.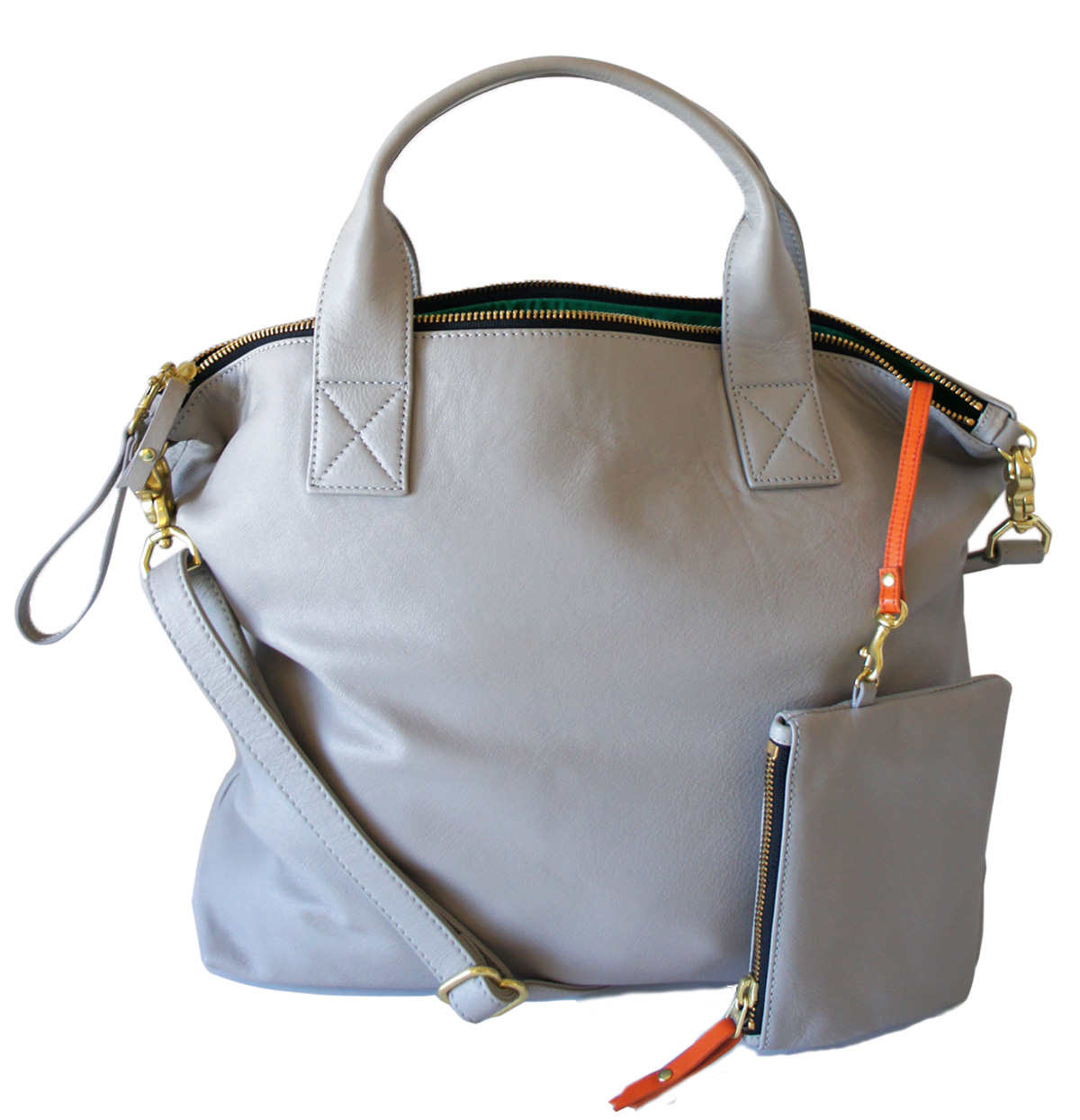 Engraved or Embossed Leather Bags Made in Tennessee
Colonel Littleton is an American fashion designer best known for his Col. Littleton brand of upscale leather goods and specialty products. All his products are handmade in his Lynnville, Tennessee workshop by local craftsmen. The leather from which most of its products are made is from full-grain, hand-tanned American hides. Get your initials engraved or embossed on your bag.
K. Slade: Classic and Straightfoward
Kelsea, K.Slade designer and owner, offers classic American heritage brand, born from her desire for quality and simplicity. Each handbag is designed in Evansville, Indiana, and crafted in Chicago, Illinois, using the finest and most durable leather, cloth, and hardware.

 Boho Chic From FOUNT Leather
Founded in 2014 by husband and wife team Phillip and Jackie Wachter,
FOUNT
's heirloom pieces are perfect for everyday wear. All their products are made from the finest full grain Italian leather and are crafted by hand in their Cleveland, Ohio studio.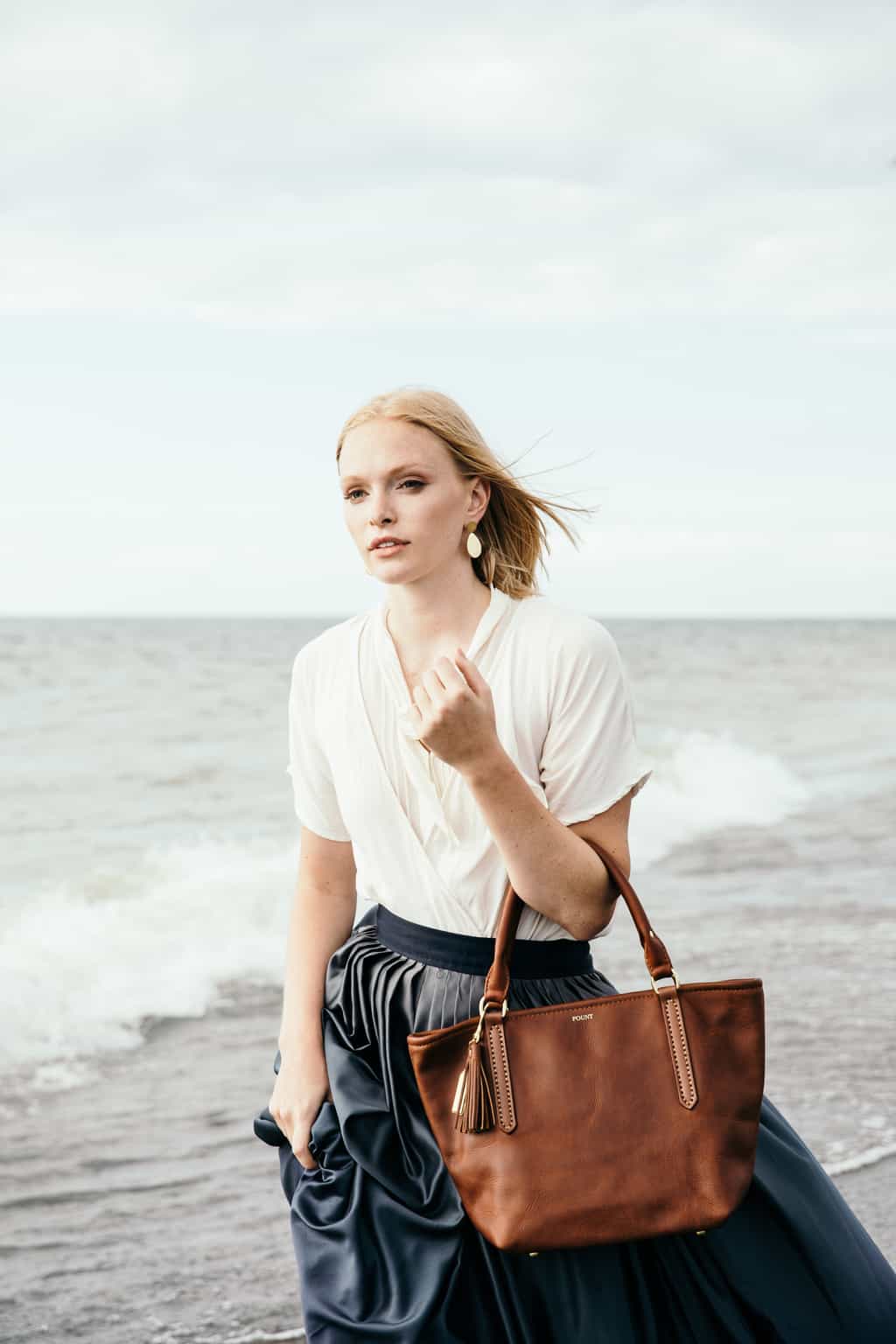 Kamen Road is a travel and work bag collection committed to natural material, ethics, purpose, and opportunity. Collection pieces are made in collaboration with artisans and craft masters in Pennsylvania, Oregon, and California. They use full grain leather and natural materials (GOTS certified) that last the longest and age the best. Carry What You Love is their motto.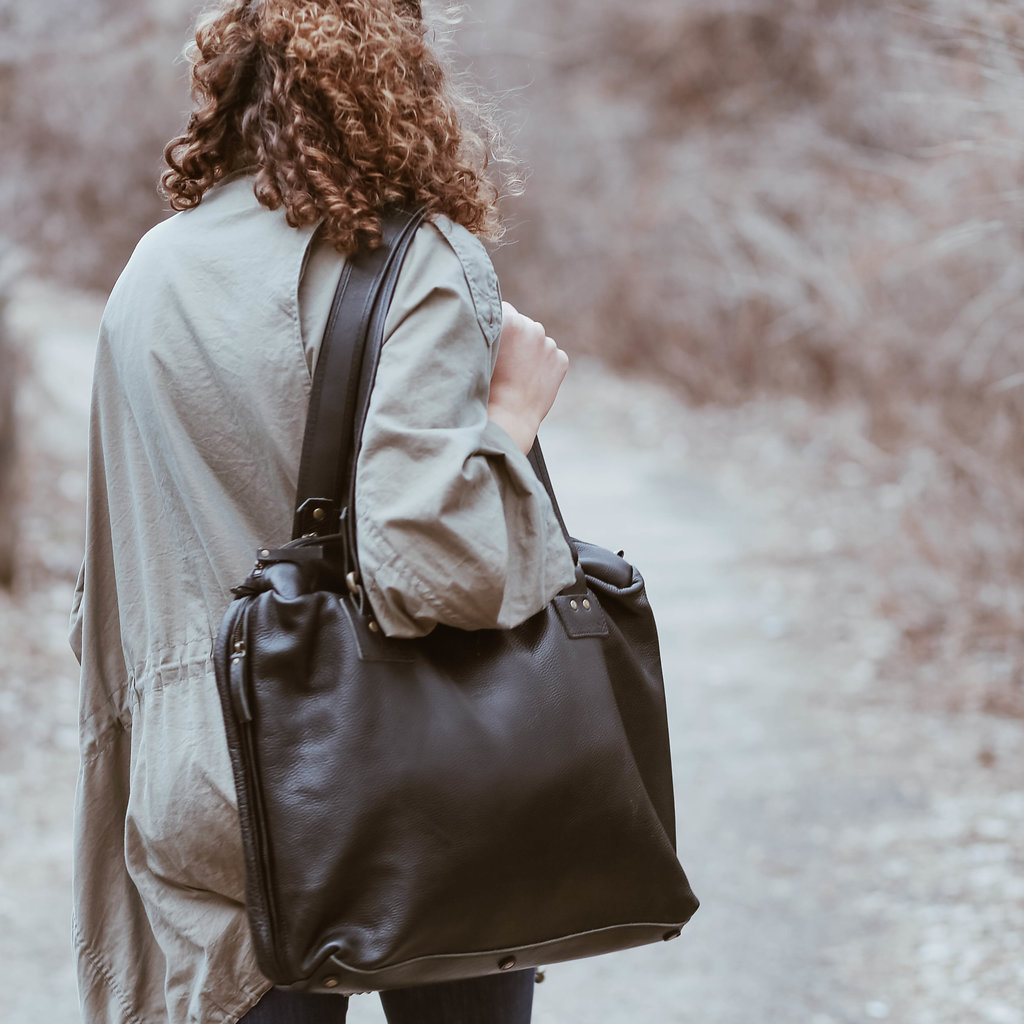 J.W. Hulme Co: The Heirloom Purchase
J.W. Hulme Co offers a lifetime guarantee on its goods made in their Minnesota factory. Shop the collection for their timeless leather handbags, briefcases and accessories for both men and women. See which ones I love best.

More American made designer handbags and purse favorites
Artifact, carry-all and garden totes. All Artifact products are handmade in Omaha, NE using the finest waxed canvas and leather and come with a lifetime guarantee.
Baggu makes its leather bags in New York. Baggu nylon bags are not American made.
Beau & Ro Bag Company stylish belt bags (a.k.a fanny packs) and backpacks made in New York City.
Blair Ritchey collection brings functional luxury to easily upgrade your wardrobe. Blair's namesake collection is designed and handcrafted by Blair in her Cleveland, Ohio studio.
Brynn Capella offers tons of handbag styles from cross body to shoulder bags, clutches and satchels.
Calleen Cordero's namesake line is known for her quality leather shoes, and also offers a handbag line.
Cinda b's collection has me completely in love. I'm crazy about the bright, eye catching patterns and the durable nylon fabric that makes these handbags perfect for everyday use. Once you buy a few pieces from the collection, you'll soon be wanting all the corresponding pieces! All of Cinda b's goods are made in USA at the company's factory in Fort Wayne, Indiana.
Clare Vivier offers leather bags of all styles and colors made in USA. I personally love the line!
Cuyana sells a lovely selection of leather goods made in the United States such as wallets, tote bags and small zipper pouches. Not everything on this site is made in the USA, but everything is clearly labeled.
Ella Vickers recycled sail bags are perfect for a day at the beach. We love when eco-friendly products are also made in the USA!
Frank Clegg has been making leather goods in Fall River, Massachusetts since 1970. The brand even offer exotic American alligator leather bags and accessories.
Graf & Lantz offers leather and wool felt bags and totes of all sizes.
Holly Aiken designs and makes vinyl handbags and a very mod diaper bag under $100 in North Carolina.
Jess Rizzuti is a luxury handbag line made in New York City. I love all of Jess' purses and featured one of them in our Eco-Fashion All American Made post.
Mei Vintage  handbags are made with care and thought, utilizing a mixture of new, organic and recycled materials. They offer vintage kimono fabric bags come in limited editions and each bag is unique.
Merci Fortune designer leather handbags are made in New York City.
Michelle Vale offers leather and non- leather handbags made in New York City.
Oak73 designs all their handbags in limited edition and small quantity.  They are manufactured in NYC of 100%.
Paige Hamiltonhandbags are made of waterproof nylon. I love the functionality and simplicity of Paige's namesake collection. I was lucky enough to get to meet Paige and see the production of her purses at a factory in Burbank, California.  After seeing the purses in person, you can see that there's great level of craftsmanship that goes into the making of these purses.
Pietro Alessandro offers well priced made in USA leather handbags in both trendy and classic styles.
Rebecca Ray Designs offers classic style leather totes. If you love Donney & Burke purses, you'll love Rebecca Ray. Rebecca Ray Designs is featured in our American Made, Kentucky Derby Style article. 
Sea Bags bags are made from recycled sail cloth in the heart of Portland, Maine's working waterfront.
Skipper Bags are beach totes made of repurposed sails made in Maryland. Skipper Bags made our list of "Nautical Fashion Must Haves".
Stephanie Dawn offers cotton bags. If you love Vera Bradley, shop  Stephanie Dawn for the made in USA option! Read why we love Stephanie Dawn in our review post.
Uptown Redesigns offer upcycled bags from outdated leather coats. All of the bags are handcrafted and made in New Orleans, Louisiana.
Have we missed anything on this list of American made designer purses and handbags?  Which is your favorite?  Share other American made handbag brands with us in the comment section!
Disclosure: This is a sponsored post which USA Love List is proud to share with you because, sponsored or not, we only share stuff we love.
Photo credit J.Sale Photography for Merci-Fortune 
Follow USA Love List's board Bag it up! on Pinterest.