American made designer purses and handbags are hard to find, so we've put together an ultimate source list for you. While some of these designer purses and handbags are a small investment, all of these brands offer high quality products, and many offer lifetime warranties. Let us know which bag is your favorite in the comments section below.
American Made Designer Handbags
Customized Leather and Canvas Bag Options from Jenny N.
Attention is in the details with bags from Jenny N. Jenny Nemlekar designs and sews each one of her bags. She uses premium full-grain leather, metal hardware, and water-resistant canvas to line her bags. J enny N. bags are built to last for years to come. As a one-woman operation, Jenny focuses on quality over quantity and provides customer-centric service. Every Jenny N. bag can be customized from the leather color, thread color, monogram, and closure styles. View the Custom Bags section to see all of the customizations options and view Jenny's Instagram for inspiration on custom bags she's done in the past. There are so many options and the design possibilities are endless. All of Jenny's bags are made by hand in her Dallas, Texas studio. $15 off order of $150+ on Jenny N. bags with discount code USALOVE. No expiration date.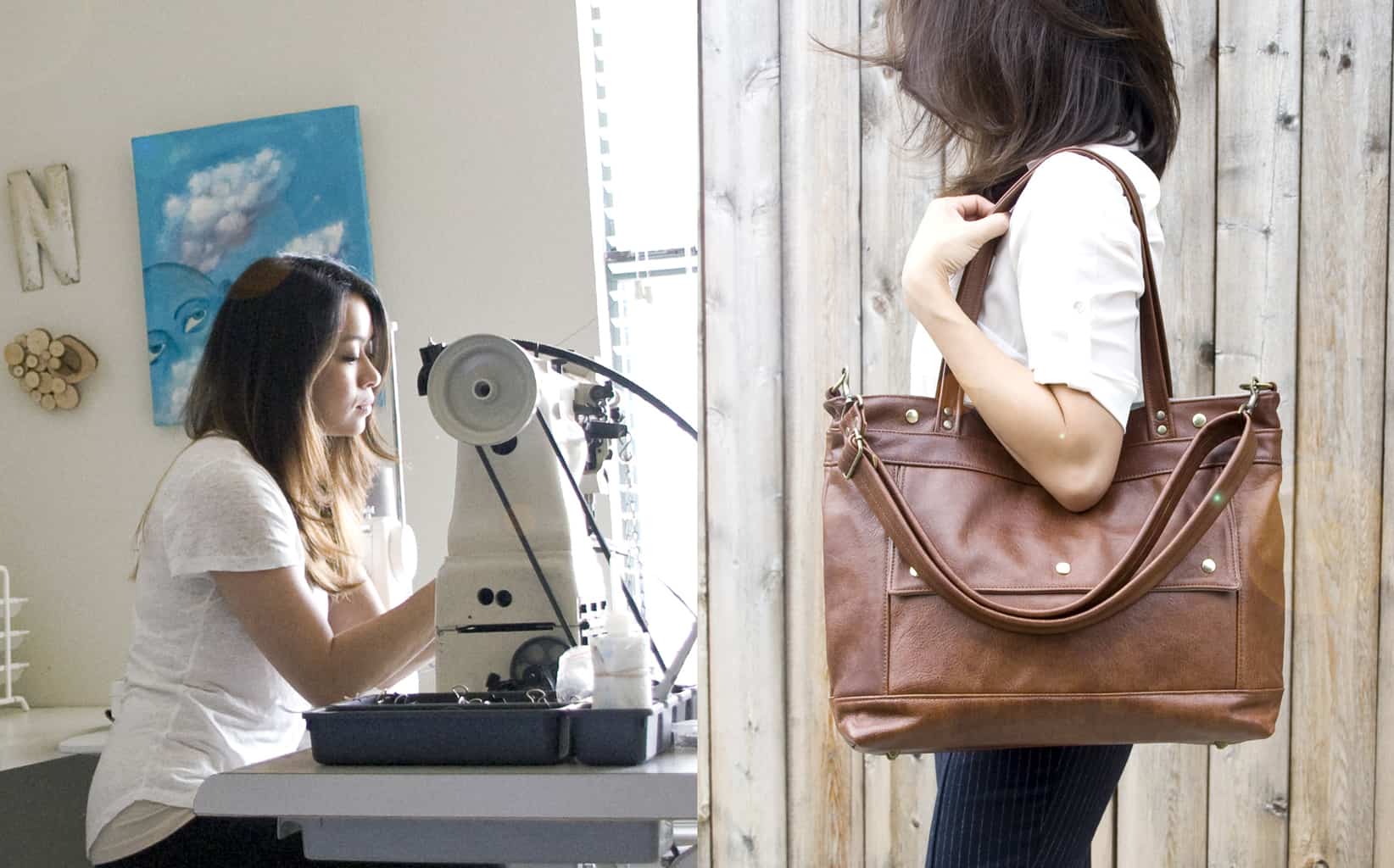 Kámen Road Handbags: Designs Crafted from Natural Materials
Kámen Road is committed to creating high-quality handbags from natural materials. Vegetable-tanned leather, natural textiles, and reclaimed and deadstock materials are chosen for bag longevity and beauty. No synthetic, plastic-based materials are used. Kámen Road is a proud participant of the Slow Fashion movement. Each Kámen Road handbag is individually made by skilled artisans in small batches because quality and craftsmanship are more important than quantity. The Kámen Road motto is "Carry What You Love", and you are sure to find a travel, crossbody, messenger, laptop bag (and accessories too) that you will love! Take15% off your Kámen Road handbag purchase with discount code USALOVE. No expiration.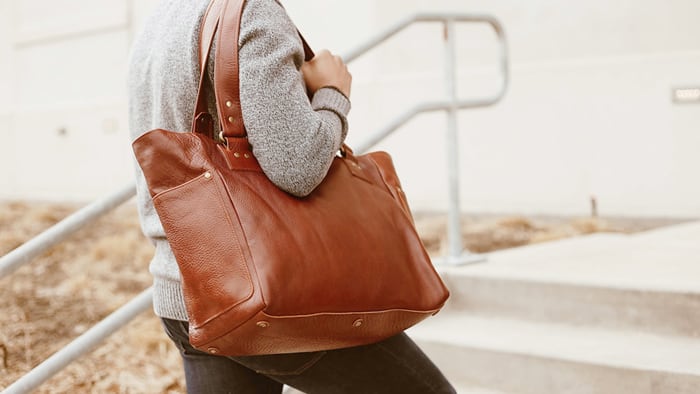 Beargrass Leather One of a Kind Leather Handbags
Beargrass Leather's motto is "Inspired by Montana, crafted by hand." Beargrass Leather designs are a mixture of all things quintessential to amazing style — from the new West to 1930's Paris, France. Visit beargrassleather.com for award-winning leather handbags and clothing designs. Beargrass Leather bags are an example of slow fashion meticulously handmade by a wife and husband team in a tiny Montana village on the shores of Flathead Lake. Free shipping on your Beargrass Leather order within the United States on orders over $50. Use promo code USALOVE.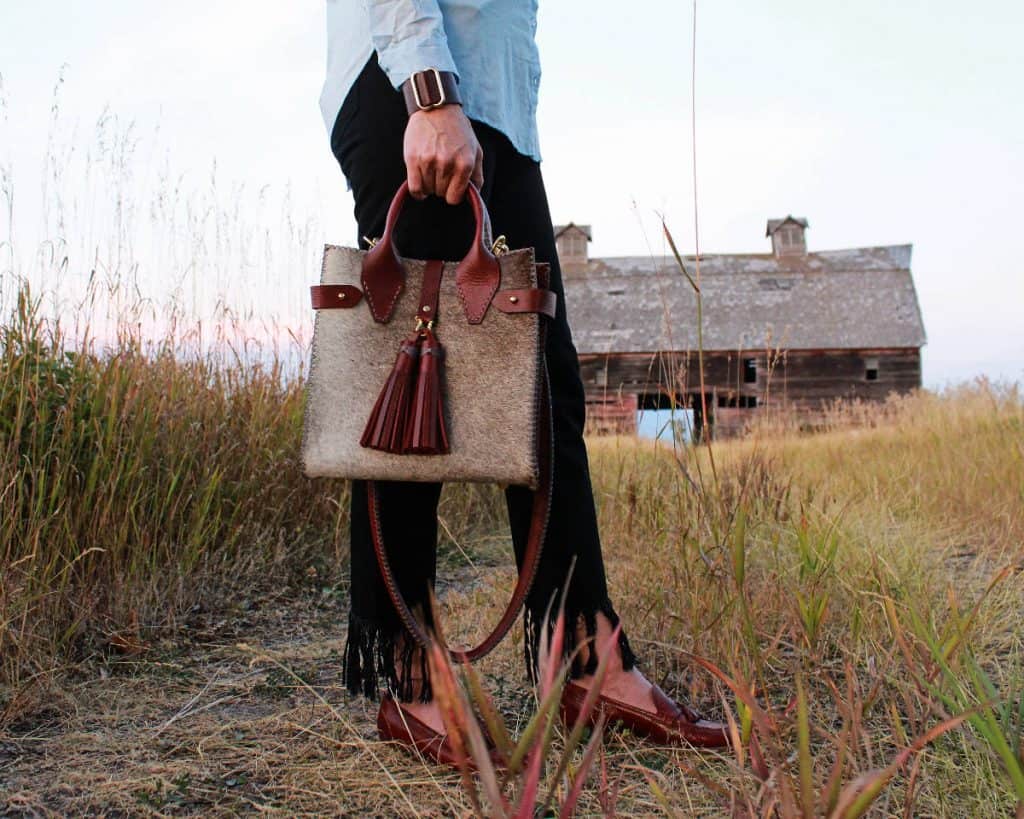 Functional Luxury from Blair Ritchey
Blair Ritchey collection of purses and handbags brings functional luxury that easily upgrades any outfit. Her namesake collection is designed and handcrafted by Blair in her Cleveland, Ohio studio. We love the Lango Messenger bag in this bright, neutral color (cement), perfect for all seasons. It offers adjustable straps, brass hardware, and a detachable wallet that can be used as a wristlet. Blair's functional, timeless, and luxurious collection will last you for years to come.
Brynn Capella Handbags: Beauty Meets Functionality
Brynn Capella is a handmade leather handbag company based in Chicago, Illinois. They use leather that gets better, softer, and more personal with age to create functional styles that fit into an active lifestyle. But it's their signature 6-in-1 convertible backpack crossbody bag that keeps customers coming back year after year. 15% off any full-priced item from Brynn Capella with discount code USALOVE. No expiration date.
I love the Lund Leather Small Drawstring Bag is the perfect size – not too big and not too small. It's made of full-grain leather and comes with an adjustable strap and interior pockets for your phone and wallet. It comes in a number of rich, saturated colors that are sure to make any outfit pop, day or night. Lund Leather is proud to make all products in the USA, from totes, overnight bags, satchels, and portfolios, with the finest leather on the market. Lund Leather handbags come in gorgeous and timeless styles and are built to last a lifetime. In fact, they come with a lifetime guarantee, making these bags ones you'll likely pass from one generation to the next. All Lund Leather products are made in Union, New Jersey.
Designer Purses and Handbags Made in USA: The Ultimate Source List
Did we miss your favorite American made designer purse or handbag manufacturer? Let us know in the comments below and we will add them to our list. Check back frequently because this list is always being updated.
130 Degrees®, vegan, compact anti-theft travel cross body bags, made in Montana. 130 Degrees® produces a series of limited edition bags and several standard solid colors. These bags emphasize anti-theft capabilities with clever design features, making for extremely compact and compatible bags, perfect for everyday use or travel.
Feeling secure never looked so good! These unique and fashionable bags will help you look great wherever your travels take you, whether touring, shopping, or a night on the town. Take a closer look, and notice subtle design features that keep your valuables in your pockets, not the pickpockets. These bags are easy for you to open, but they have covered zippers, internal security pockets, and a tether to defeat purse-snatchers. 130°® anti-theft bags are here to protect your good stuff.
Artifact totes, backpacks, cross body bags and more are handmade in Omaha, Nebraska using the finest waxed canvas and leather and come with a lifetime guarantee.
Beargrass Leather leather handbags are custom and handmade in Montana. Learn more about Beargrass Leather handbags at the top of this post! Free shipping within the United States on Beargrass Leather orders over $50. Use promo code USALOVE.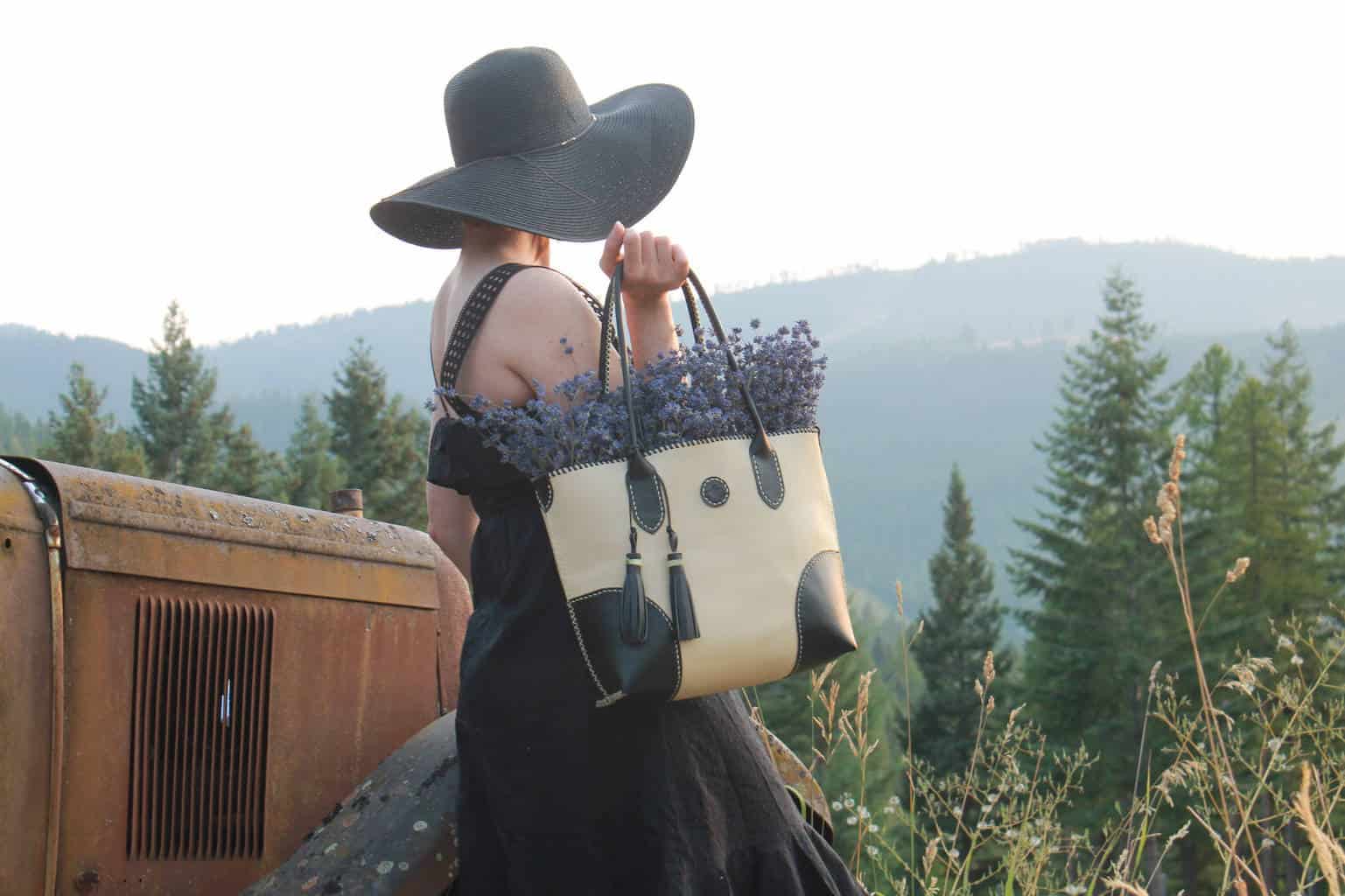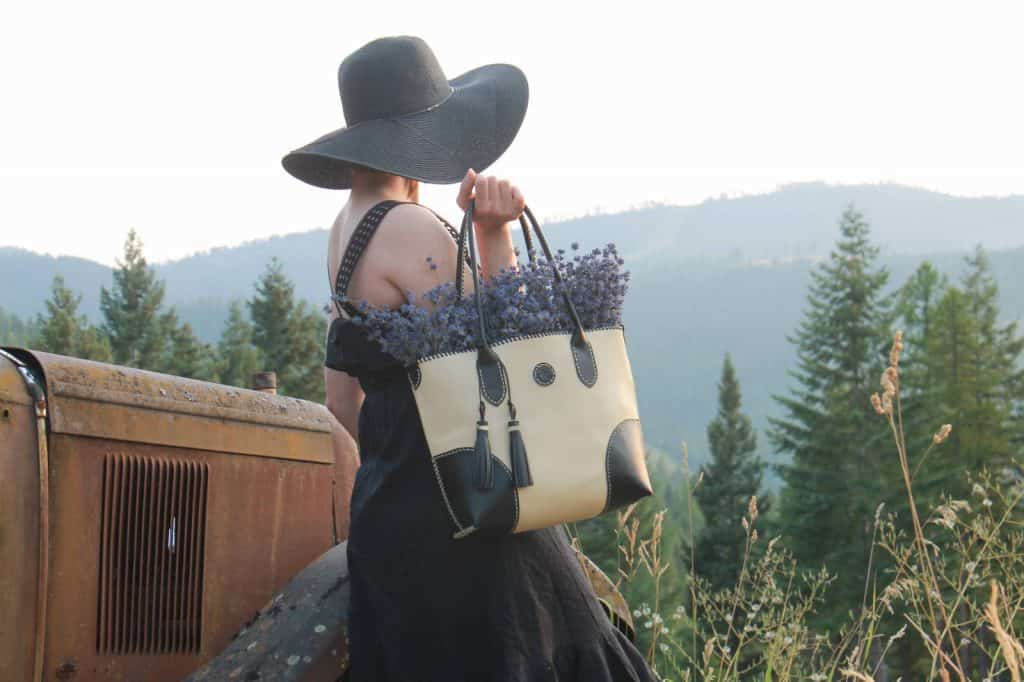 Beautiful Bags Etc. handcrafted embroidered leather handbags are made in the USA.
Beau & Ro Bag Company stylish belt bags (a.k.a fanny packs) and backpacks made in New York City. Please Note: Not all of the Beau & Ro handbags are made in the USA. The ones that are, are labeled.
Bella Modi customizable luxury handbags, tote bags, wristlets and more are made in Idaho.
Better Life Bags tote bags, shoulder bags, school/work bags and more are customizable and made in Detroit, Michigan.
Billykirk offers leather and waxed canvas totes and bags
Blair Ritchey collection brings functional luxury to easily upgrade your wardrobe. Blair's namesake collection which included totes, handbags, clutches and more, is designed and handcrafted by Blair in her Cleveland, Ohio studio. Learn more about Blair Ritchey at the top of this post!
Brynn Capella offers tons of handbag styles from crossbody bags to small leather goods. They recently added some day-to-evening bags in specialty leathers from metallics to animal prints. Learn more about Brynn Capella handbags American made designer handbags at the top of this post. 15% off any full-priced item from Brynn Capella with discount code USALOVE. No expiration date.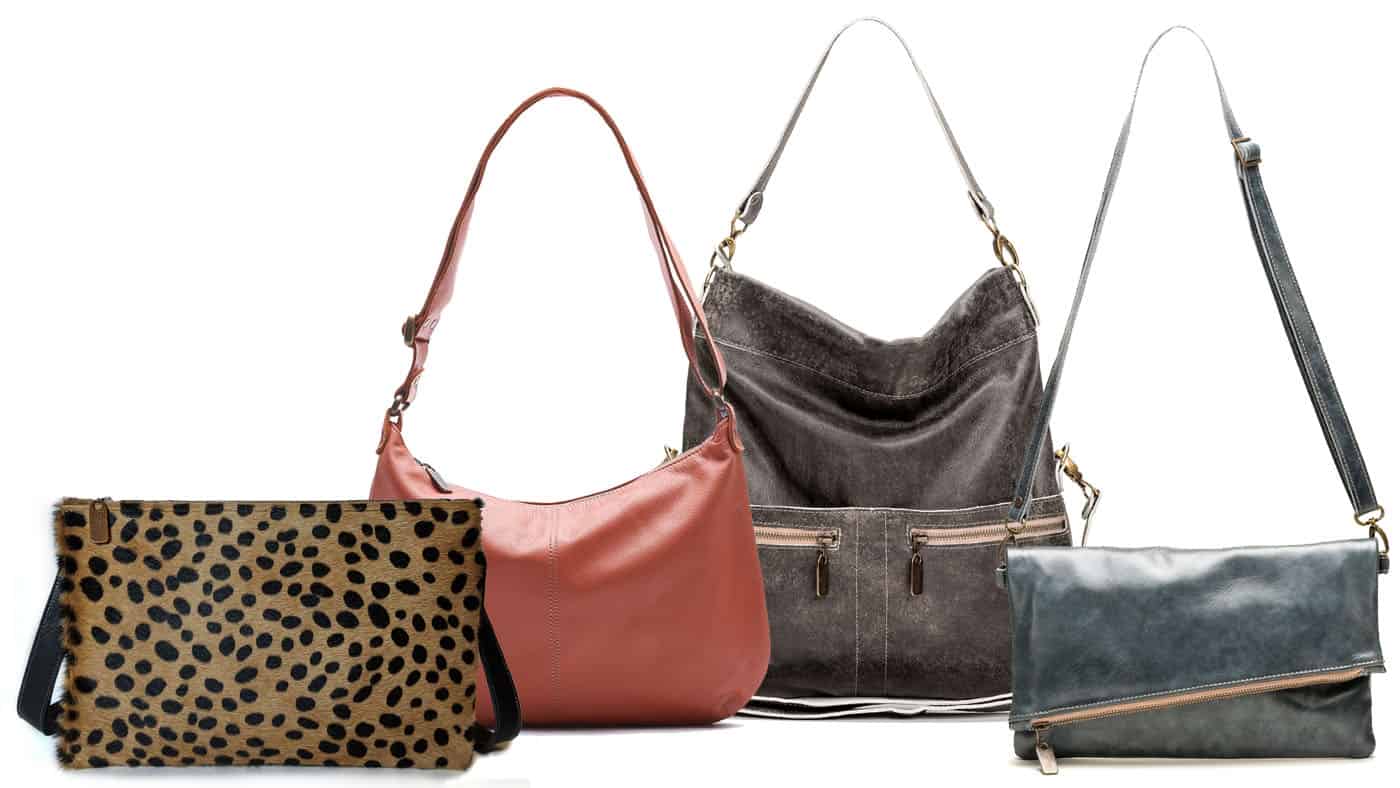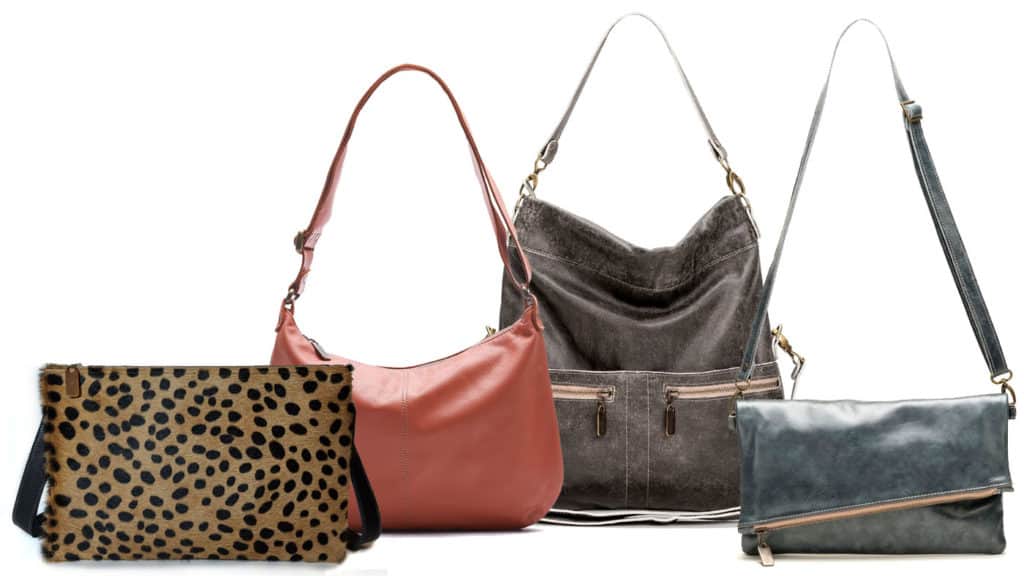 Calleen Cordero's namesake line is known for her quality leather shoes, and also offers a luxury handbag line.
Cinda b's Fabric handbags, clutches, totes and more all are made in USA at the company's factory in Fort Wayne, Indiana.
Clare V. offers leather bags of all styles and colors made in USA. I personally love the line!
Colonel Littleton designer purses and handbags are handmade in Texas from high quality American leather.
Danielle Sakry leather handbags are made in Minnesota.
Duluth Pack makes American made purses and totes. We love the Market Tote is made for everyone from the adventurer to the shopper. The classic Market Tote will have you feeling organized and prepared. There is no longer a need to be the multi-bag person- toss your snacks, water bottle, and gym clothes in your market tote and own the day. Made from rugged 15oz canvas construction for longevity and "better with age" quality and paired with adjustable premium leather handles with roller buckles for multiple length options. 20% off Duluth Pack with code USALOVE. Offer valid through 12/31/2020. *Cannot be combined with other discounts, offers, or promotions. Comes with a lifetime guarantee too.
FOUNT leather designer purses and handbags are made from fine Italian leather in Cleveland, Ohio.
Frank Clegg has been making leather goods in Fall River, Massachusetts since 1970. The brand even offer exotic American alligator leather bags and accessories.
Grá Handbags makes a luxurious and functional leather crossbody travel bag is designed for globetrotters everywhere.
Graf Lantz offers leather and wool felt bags and totes of all sizes, made in L.A.
HARVEYS handbags, totes, clutches are vegan and made from seatbelts.
HfS Collective bags are handsfree made from eco-friendly materials.
Holly Aiken designs and makes vinyl handbags and a very mod diaper bags in North Carolina.
Jenny N leather designer purses and handbags are handmade in Texas. Learn more about Jenny N handbags American made designer handbags at the top of this post. Code USALOVE gets you free shipping on orders within the US from Jenny N.
Joshu + Vela totes, handbags, duffle bags are available made from leather or canvas.
Kámen Road is committed to artisan and small scale production in the USA and offers small-batch, full-grain leather goods made to last. Learn more about Kámen Road made in USA handbags at the top of this post. Take 15% off with discount code USALOVE. No expiration.
Katie Kalsi handbags are made in the USA with interchangeable hand painted leather straps.
Lotuff leather handbags are handmade in Providence, Rhode Island.
Malibu American offers bohemian style luxury bags that are made in the USA, California to be exact.
Mei Vintage handbags are made with care and thought, utilizing a mixture of new, organic and recycled materials. They offer vintage kimono fabric bags come in limited editions and each bag is unique.
Merci Fortune designer leather handbags are made in New York City.
Molly G handbags, clutches, and wallets are made in Los Angeles.
moop canvas and waxed canvas handbags, clutches and more are made in Pennsylvania.
Moro Tran luxury handbags are crafted in NYC.
Paige Hamilton Design handbags are made of waterproof nylon and Italian leather. Made in California.
Pietro offers well priced made in USA leather handbags in both trendy and classic styles.
R.Riveter handbags are made in the USA by military spouses.
Rebecca Ray Designs offers classic style leather totes. If you love Dooney & Burke purses, you'll love Rebecca Ray.
Rough and Tumble Bags leather and waxed canvas handbags, tote bags, and more are made in Maine.
Sea Bags vegan handbags are made from recycled sailcloth in the heart of Portland, Maine's working waterfront.
Shana Luther handbags are handmade in NYC.
Shannon South sustainable leather bags are made from remnants and upcycled materials.
Shinola leather and suede handbags and totes are made in Detroit.
Skipper Bags are beach totes made of repurposed sails made in Maryland.
Spicer Bags cork and textile handbags are made in San Francisco.
Stephanie Dawn offers cotton bags. If you love Vera Bradley, shop Stephanie Dawn for the made in USA option!
Tikishiki Handbags are Japanese inspired handbags with Hawaiian themed fabric, handmade in Hawaii.
Uptown Redesigns offer upcycled bags from outdated leather coats. All of the bags are handcrafted and made in New Orleans, Louisiana.
Urban Southern Amish inspired leather handbags are made in Tennessee.
Wendy Nichol luxury leather handbags are made in New York City.
American Made Purses and Handbags- Retailers
Below are retailers that offer a selection of made in USA purses and handbags. Read labels carefully! Not all products offered by these sites are American made.
Cover Image: Kamen Road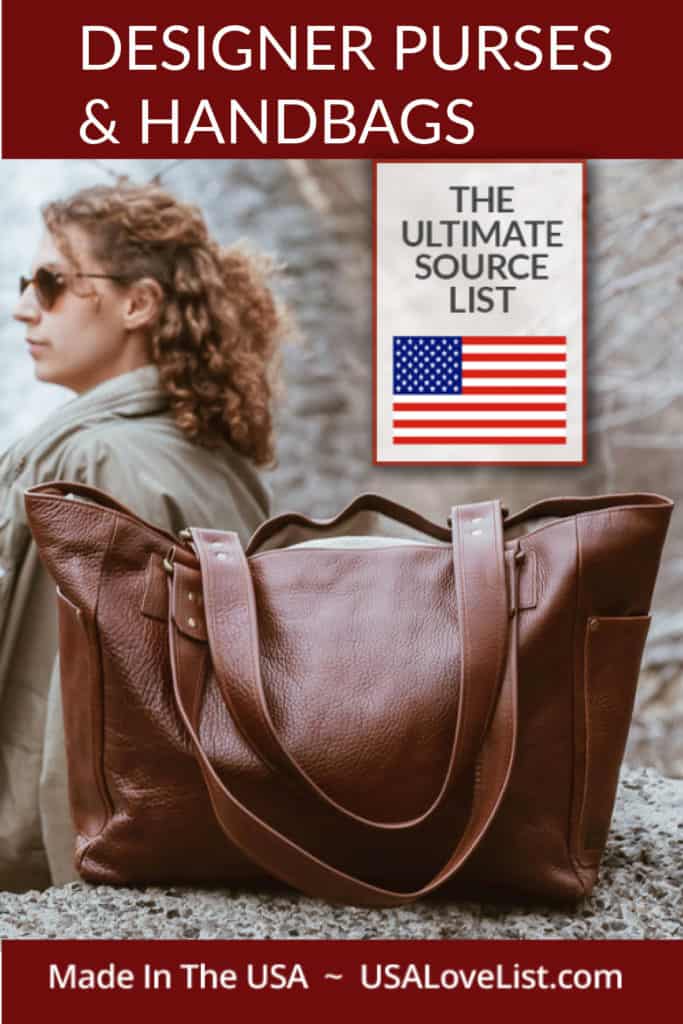 Love this list? Then you will LOVE these lists too!