American made designer purses and handbags are hard to find, so we've put together an ultimate source list for you. While some of these designer purses and handbags are a small investment, all of these brands offer quality products, and many of these brands offer lifetime warranties. Let us know which bag is your favorite in the comments section!
American Made Designer Purses and Handbags
Customized Leather and Canvas Bag Options from Jenny N.
Attention is in the details with bags from Jenny N.  Jenny Nemlekar designs and sews each one of her bags. She uses premium full-grain leather, metal hardware, and water-resistant canvas to line her bags. Jenny N. bags are built to last for years to come. As a one-woman operation, Jenny focuses on quality over quantity and provides customer-centric service. Every Jenny N. bag can be customized from the leather color, thread color, monogram, and closure styles.  View the Custom Bags section to see all of the customizations options and view Jenny's Instagram for inspiration on custom bags she's done in the past. There are so many options; the possibilities are endless. All of Jenny's bags are made by hand in her Dallas, Texas studio. $15 off order of $150+ on Jenny N. bags with discount code USALOVE. No expiration date.
Image credit: Jenny N.
Luxury Travel Bag: Gra Handbags
Grá Handbags offers a luxurious and functional leather crossbody travel bag is designed for globetrotters everywhere. The purse comes equip with ten RFID shield credit card slots and an RFID shield passport pocket. This purse will keep every travel document organized in one compartment, allowing you to carry your phone, e-reader, sunglasses and more in the spacious second compartment. Brand founder and designer, Maryellen Kilkenny, started Grá – Gaelic for love –  after being inspired by her own wanderlust, and her frustration for the lack of functional luxury travel purses. Maryellen is committed to making her bags in the United States. She believes each of our purchases represents our support of jobs for our neighbors and fellow countrymen and women. The purse makes for a great gift and is a purse to have for years to come. It is $199.00.
Image credit: Gra Handbags
Functional Luxury from Blair Ritchey
Blair Ritchey collection brings functional luxury to easily upgrade your wardrobe. Her namesake collection is designed and handcrafted by Blair in her Cleveland, Ohio studio. We love the Lango Messenger bag in this bright, neutral color (cement), perfect for all seasons. It offers adjustable straps, brass hardware, and a detachable wallet that can be used as a wristlet.  Blair's functional, timeless, and luxurious collection will last you for years to come.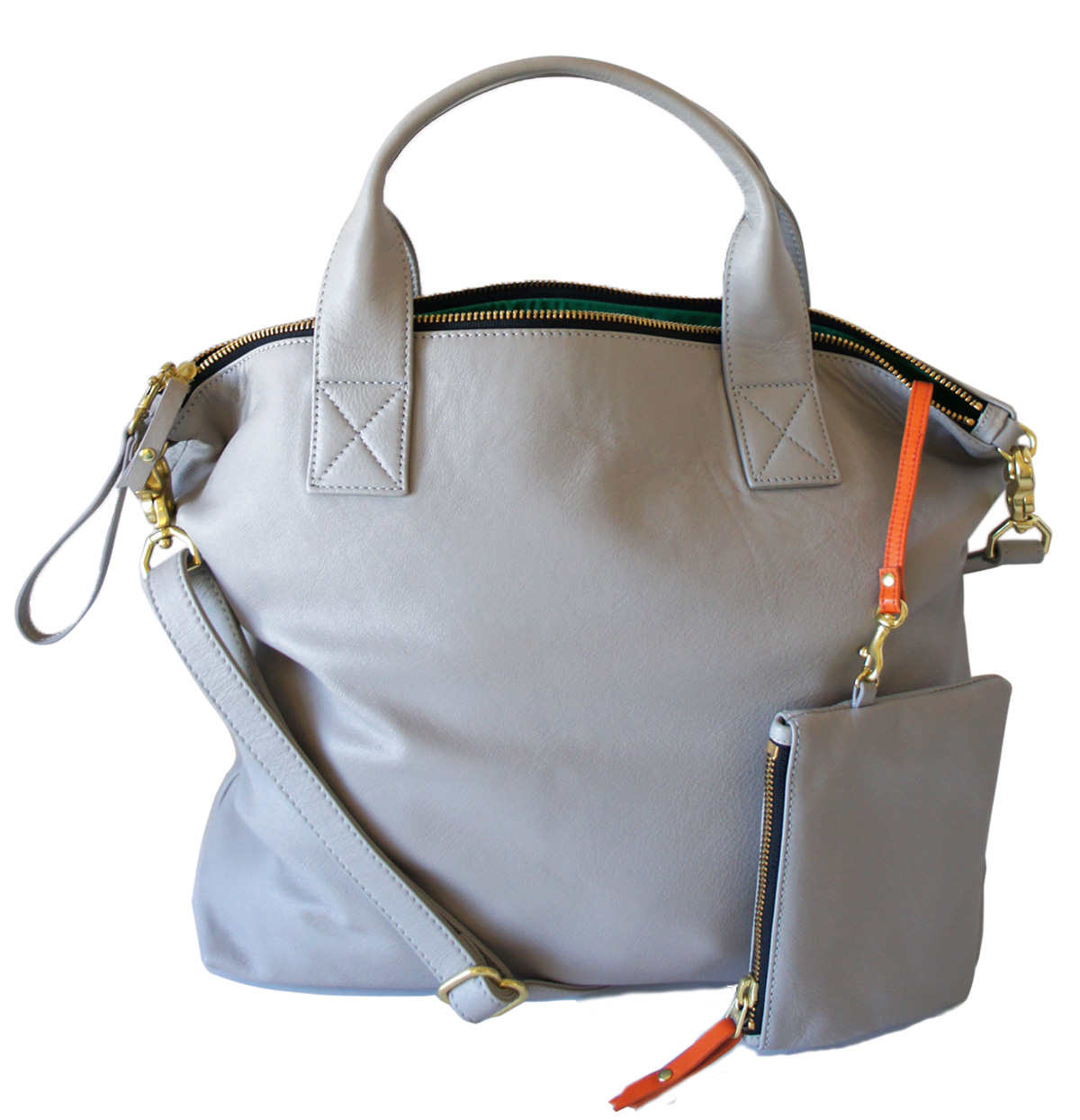 Image credit: Blair Ritchey
The Online Marketplace for USA Made Handbags: AnytownUSA
AnytownUSA is the go-to marketplace for American products, with a number of handbags we love, like this BSimple Creations Stripe Colorblock Tote. This bag is as comfortable holding just a few key essentials as it is opening wide for extra items. Laptop?  Check. Wallet and makeup bag?  Check, check. And, in addition to working hard, this tote with its striped fabric, is a style-worthy accessory, too! AnytownUSA is honored to offer a 10% discount to military members to recognize and thank you for your service. The discount is available to active duty service members, veterans, retirees, spouses, and immediate family members.
Image credit: BSimple Creations
Sea Bags: Eco-Friendly, Vegan Totes and Handbags
Sea bags has been making vegan, eco-friendly handbags in the USA since 1999. Their bags are handcrafted from recycled sails on the working waterfront in Portland, Maine. We love the Grey Mariner Stripe Tote for its sophisticated, nautical look. 10% off with code USALOVE through December 31, 2018. Not valid with "Your Design" Custom bags, Limited Edition Items, Sale Items, Gift Cards, Auction Items, or non-Sea Bags brand third party items. Not valid with any other discounts, promotions, or previous orders.
Image credit: Sea bags
Boho Chic From FOUNT Leather
Founded in 2014 by husband and wife team Phillip and Jackie Wachter,
FOUNT
's heirloom pieces are perfect for everyday wear. All their products are made from the finest full grain Italian leather and are crafted by hand in their Cleveland, Ohio studio.
Image credit: FOUNT Leather
Beautiful Bags Etc: Embroidered Leather
Beautiful Bags Etc.
grew 35 years ago when its founder, Catherine Cyko, began taking sewing and tailoring classes after reminiscing about the hum of her grandmother's treadle-powered sewing machine. She started designing her own handbags, all of which are handmade in the USA with attention to detail from the leather, to the lining, and the hardware. She uses full-grain aniline dyed leathers, polyester (fade proof) embroidery thread, and scratch resistant, heavy duty nylon zippers. It's not only the outside of the bag for which she has a keen eye – she uses drapery weight fabrics to line the inside of each handbag. Catherine develops and creates all of her handbag designs, many of which feature intricate and colorful embroidery designs.
Make a statement with the embroidered Caramel Brown Leather Slouch Purse. It's luxurious yet fully functional. This bag features antique brass hardware, buttery leather, and a voluminous interior designed to accommodate your daily essentials. It's an affordable luxury that will last a lifetime.
Image credit: Beautiful Bags Etc.
American Made Designer Handbags and Purses: The Ultimate Source List
Blair Ritchey collection brings functional luxury to easily upgrade your wardrobe. Blair's namesake collection which included totes, handbags, clutches and more, is designed and handcrafted by Blair in her Cleveland, Ohio studio. Learn more about Blair Ritchey at the top of this post!
Image credit: Gra Handbags
Image credit: Tchoup Industries
American Made Purses and Handbags- Retailers
Below are retailers that offer a selection of made in USA purses and handbags. Read labels carefully! Not all products offered by these sites are American made.
Have we missed anything on this list of American made designer purses and handbags?  Which is your favorite?  Share other American made handbag brands with us in the comment section!
Disclosure: This is a sponsored post which USA Love List is proud to share with you because, sponsored or not, we only share stuff we love.
Photo credit J.Sale Photography for Merci-Fortune 
Follow USA Love List's board Bag it up! on Pinterest.