When friends and relatives get married, we're thrilled for them, but it usually means giving a substantial gift. The key to giving American-made wedding gifts is knowing which brands to look for on the registry and having some off-registry favorites. These are ours.
Don't miss our other lists of American made wedding gift ideas;  Eco-Friendly Wedding Gift Ideas, All American Made,  Best Bridal Shower Gifts, Made in the USA and American Made Wedding Gifts: Things They Didn't Put On Their Registry
Best Wedding Gifts, Made in the USA
Beehive Handmade Unique Kitchenware
Beehive Handmade unique made in USA kitchenware items are more than just cooking tools. Beehive Handmade's beautiful kitchen gadgets and utensils are crafted to hold a special meaning to those who give and to those who receive them. These heirloom quality measuring spoons, serving utensils, scoops, cheese markers, napkin rings (pictured above) and more are sure to be passed down through generations. All Beehive Handmade products are made in Rhode Island from lead free pewter alloy that is tested safe for food. Even their product boxes and packing materials are made in the USA (also in Rhode Island).
Beehive Handmade Heritage Cake Server and Heritage Cake Knife, pictured below, make a unique personalized wedding gift given together or separately. These personal and meaningful gift items will be cherished for generations.
Made in USA Kitchenware Deal: Save 10% on your Beehive Handmade order with promo code USALOVE. No expiration
Liberty Tabletop Flatware
High quality, American made flatware is a wedding gift that will last for generations. Liberty Tabletop is the only flatware that is still manufactured in the United States, upstate New York to be exact. Liberty Tabletop stainless steel flatware is made from domestically sourced steel that is 8 to 10 percent nickel and 16 to 18 percent chromium. Unlike stainless steel in foreign flatware manufacturing, Liberty Tabletop guarantees that the metal mix in their stainless steel does NOT contain lead, mercury, or any other toxic metals that we don't want in our mouths. If you are soon to be married and aren't sure what type of flatware to add to your registry, Liberty Tabletop has a buyers guide on their website that can walk you through the process.
Save now on the ultimate wedding gift with the made in USA Chest & Flatware Bundle Special. Save 15% off and receive free shipping when you bundle a flatware chest a 65 piece or 45 piece set in the Lux or Heritage lines. Choose from two beautiful chests (Adams or Hamilton) and 17 different Liberty Tabletop flatware patterns. 
1919 Cookware from Regal Ware
The 1919 Cookware Collection is featured on Celebrity Chef Christopher Kimball's Milk Street. This elegant collection was specially designed for home chefs to have quality kitchens tools on hand to enhance the cooking experience.  Each 1919 Cookware item is designed and manufactured to perfection in West Bend Wisconsin. All newlyweds deserve to live, laugh and COOK happily ever after! 1919 Cookware can also be found at Bed, Bath and Beyond. 10% off 1919 Cookware with code USALOVE.
Best wishes to the happy couple. Give a made in USA gift so they can begin their lives together than with a home full of proudly American-made products.
For more American made wedding gift inspiration, don't miss our source lists: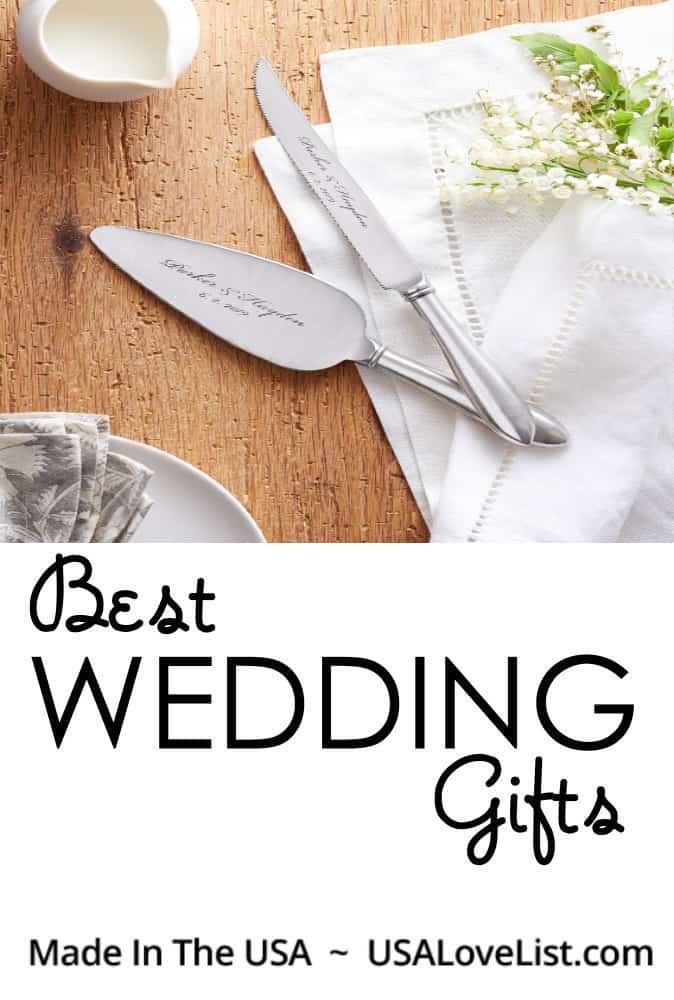 Disclosure: This is a sponsored post which USA Love List is proud to share with you because, sponsored or not, we only share stuff we love.