We are already looking ahead to Father's Day and we've teamed up with Every Man Jack to offer a gift any man in your life will love. Get to know this made in USA product line and choose any or all of the many different ways to enter and win.
I've been looking for a natural, yet affordable line of grooming products for my husband that would make him feel fresh and smell like a man. I finally found it. 
There are a few mass market men's grooming lines which have become wildly popular among teens and young men. I have a teen boy in my house so I can speak from experience. These products, which shall remain nameless, have incredibly strong, synthetic fragrances which, in the first moment of contact, are pleasing, but quickly give everyone but the wearer a headache. All of the major brands appear to be influenced by this fragrance-heavy movement. No thank you.
At the same time, I have been keeping an eye out for my husband for an American made option, using natural ingredients, with a scent that does not overpower. There are plenty of great options out there, but they often are pricey, or need to be special ordered, which my husband would never do.
When Every Man Jack sent me some of the products for their collection to check out, I loved the essential oil based scents right away. I got stars in my eyes when I saw the affordable price point. I knew it was a keeper when I found that they were available from easy-to-find major retailers.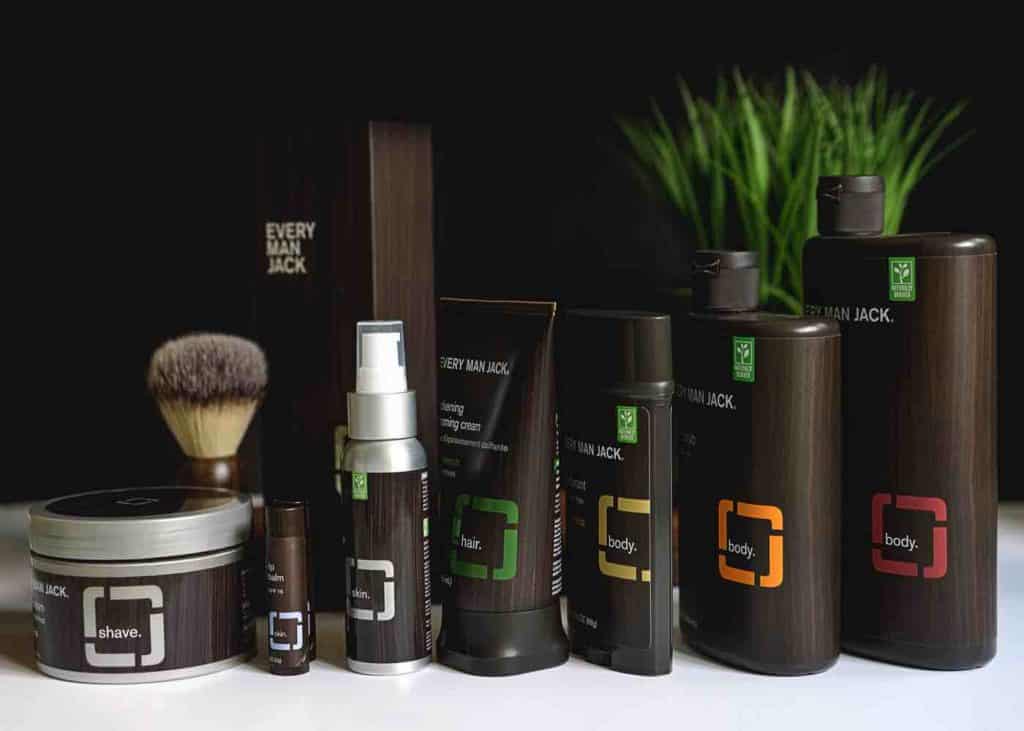 This is a grooming brand that provides everything a man needs and nothing he doesn't. It features professional quality formulas that are dermatologist approved, the line is formulated with responsible ingredients and identifiable essential oils and crafted in the USA.
There are no parabens, sodium lauryl sulfate, phthalates, aluminum, dyes, synthetic fragrances, tallow or animal fats within these products. These high-quality essentials are easily accessible at Target, Whole Foods, The Vitamin Shoppe, Walgreens, Sprouts Farmers Market, or find the entire line on www.EveryManJack.com.
Every Man jack has made gift giving easy with their men's grooming kits. Just choose the scent that pleases you or choose fragrance free for none at all.
THE GIVEAWAY
Enter now to win a Men's Sandalwood Body Gift Set from Every Man Jack including everything he'll need to clean up nice. Hydrating body wash, moisturizing body lotion, and aluminum-free deodorant, all with a refreshing sandalwood scent. Plus you'll get a compact toiletry bag to take on the road. ($35 Value) If you win, this prize will be delivered to you in plenty of time for Father's Day gifting.
There are a variety of entry options including opportunities for multiple daily entries. Good luck!
Click the arrow buttons below for further instructions on each entry. This giveaway will close at midnight Eastern on Thursday, April 26, 2018. The winner will be randomly selected, verified for correct entry participation, and notified by email.
If you've already entered one contest on USA Love List, entering another will be even easier. Visit our Giveaways Page to find out about other active offers to join.
Disclosure: USA Love List received this product unconditionally for review purposes. Our opinions are always our own, and we aim to write fair and balanced reviews to promote only the very best of American-made products and experiences.