The loss of regular beauty routines has been especially brutal to many of us this year, especially as the seasons change. The cold can really deplete the moisture and leave your lips flaky, tight, and dry. I have the solution for how to fix chapped lips. Here is a three-step guide to restore your lips to a healthy smooth, hydrated and full look.
Read below to see my top USA made beauty product selections. These will not disappoint! Try it for yourself and comment with your results.
How to Fix Chapped Lips in Three Steps
Step 1 – Exfoliate Your Lips
Exfoliate lips with a mild and gentle exfoliator. You can put it on your lips and massage it around with your fingertips or use a toothbrush. The increase in the circulation and following with hydration (step 2) leaves your lips looking plump.
USE: sara happ The Lip Scrub in Brown Sugar It is a simple blend that leaves your lips feeling clean, full and healthy. This is so much easier than making it yourself and it is pleasantly packaged.
Step 2 – Soften & Hydrate
You will want to protect your newly revealed healthy lips with a hydrating and protecting balm.
Use: bareMinerals Jack of All Trades, Clearly the One. Feels like velvet to your lips and leaves a smooth surface.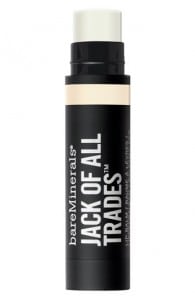 Step 3 – Shine
To maintain or achieve the full lips effect you can add a sheer gloss to the center of your bottom lip, it gives the illusion of full lips. It really gives your lips some depth to focus on applying this way.
Use: Be Legendary Lip Gloss by Smashbox is a great choice to bring out your pout. This gloss is packed with hydration and isn't sticky, so it's not going to undo all your hard work at making your lips pretty.
We Have More Tips and Tricks for Beautiful, Healthy Lips!
Don't miss these great tips for beautiful lips featuring American made products:
Tell us, what's YOUR everyday lip product? Balm? Gloss? Lipstick? Or do your lips go naked??