It's hard enough to be motivated to work out. We found more than a dozen fashion fitness wear brands made in the USA to help your cause. Don't settle for boring workout clothes made overseas. These American made fitness lines are so fashionable, you'll wear them all the time. Brands are listed in alphabetical order.
Best Fashion Fitness Wear Brands
Photo Credit: shopavocado.com
Avocado makes super comfortable and high-quality fashion-forward fitness apparel in Los Angeles, California. I'm a HUGE fan of this line. Avocado's pieces are made from seamless, high-performance fabric, making movement easy and comfortable. The fabric is thicker so the leggings hide dimples or imperfection while holding you in. The leggings also sit higher on the waist, so they won't dig into your midsection, but rather smooth it out.
Photo Credit: beyondyoga.com
We love Beyond Yoga fashion fitness wear for several reasons. First, the material is soooo buttery soft you will want to live in these tank tops, sports bras, and leggings. Second, we love that Beyond Yoga clothing is made for women of all sizes. Their sizes run from XXS to 4x. And of course we love that all of their clothing is made responsibly in California.
Photo Credit: www.boathouse.com
Boathouse has been making all its apparel in the USA since 1976. It is all designed, tested and made in Philadelphia, Pennsylvania with its name inspired by the city's iconic Boathouse Row on the Schuylkill River.  We love the very American style this brand exudes and appreciate that it is, in fact, all made here.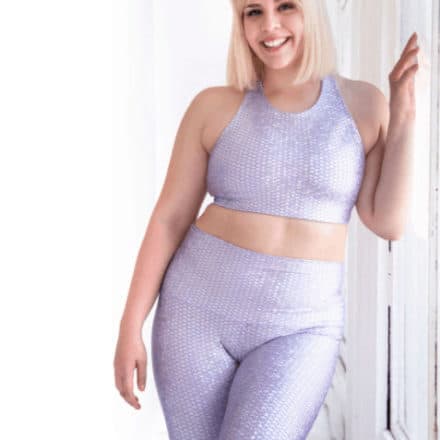 Photo Credit: emilyhsudesigns.com
Emily Hsu Designs makes the most rad print leggings for the best prices! We seriously couldn't be happier that they are made in the USA. In 2014 Emily began sewing leggings for herself and her daughters when she couldn't find anything on the market that fit all her needs: high-performance activewear with a superior fit, on-trend prints, and amazing price point. Here we are years later loving her collection.
Photo Credit: goldsheepclothing.com
Goldsheep makes vibrant, one-of-a-kind fitness wear in Laguna Beach, California. The leggings and sports bras are made of a polyester lycra fabric blend with wicking finish for breathability. The leggings are lightweight and high waisted, so they sit comfortably during exercise.
Photo Credit: goodhyouman.com
good hYOUman was created by Brett Novek in memory of his father, David Novek, in 2011. The brand is meant to inspire while you get your hustle in. From bras to tanks and leggings, you'll want to update your workout wardrobe with a few of good hYOUman's pieces. This fitness wear collection is manufactured in Los Angeles, California.
good hYOUman's leggings are absolutely my all time favorite leggings. The fit, fabric and feel are all superior, making them the best leggings (American made or otherwise) I've ever worn. We're just so happy good hYOUman makes its garments in the USA.
Photo Credit: Amazon
Kurve makes Sports bras, bralettes, camis, tube tops, leggings, and a variety of other inner layers, activewear, and dancewear for women and kids. The styles are mostly sporty and colorful with some feminine touches. Kurve is made in Los Angeles. Visit the Kurve Store on Amazon.
Photo Credit: www.hardtailforever.com
I'm obsessed with Hard Tail Forever. The brand makes colorful cotton workout gear for yoga, running and the gym. This performance gear is made from pre-shrunk synthetic fabrics that keep you dry while you workout. They make all their yoga and performance fitness wear in Los Angeles, California. Fun fact: the brand is owned by sole proprietor, and Veteran, Dick Cantrell. 
I have Hard Tail Forever clothing and I feel stylish every time I wear them. The fabric has held up well, hasn't faded, and never rides up while I'm walking or cycling.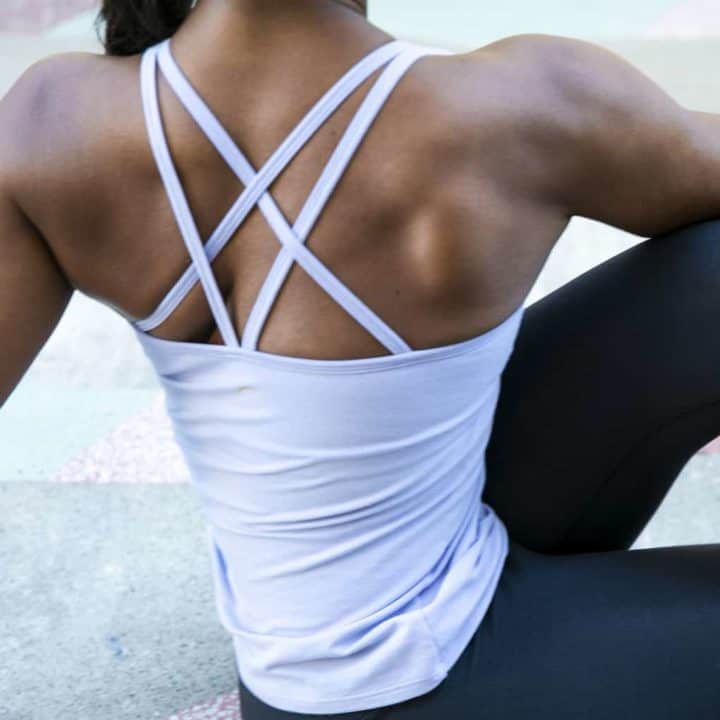 Photo Credit: yogahyde.com
Finding made in USA organic cotton leggings can be difficult. Hyde makes its American made yoga leggings with organic cotton and spandex. With just the right amount of spandex, these organic yoga pants and shorts are perfectly designed to work with your body regardless of your practice. The fabric gives you the range of motion you need without shifting out of place, restricting your flexibility, or making you feel uncomfortable. Hyde makes its collection, which also includes tank tops and sports bras, in Los Angeles, California.
Photo Credit: nuxactive.com
NUX is proudly made in the USA; it's a pillar of their manufacturing. The collection is made of seamless microfiber, and you can select the compression level you're looking for, no – light-, moderate-, or high compression.
NUX collection offers the epitome of fashion as fitness. From loungewear to performance wear, there are timeless, unique, and fashion-forward options for everyone.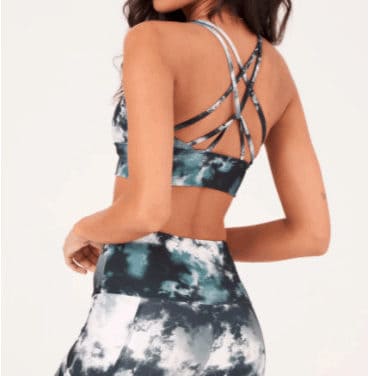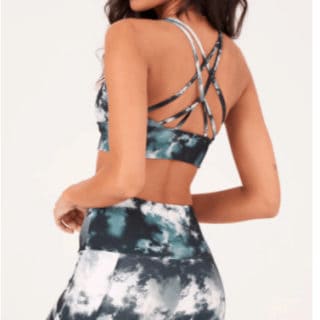 Photo Credit: www.onzie.com
Onzie makes its performance wear from fast-drying material, like nylon and polyester. They make low-, mid-, and high-rise pants. Because of the fabric and fit, I'd suggest the high-rise pants because they are pretty tight where they hit you. The high-rise style helps avoid creating a muffin top look.  
Onzie makes its collection from start to finish, from knitting, dyeing, cutting, sewing, photography, marketing, distribution, and design, all in Los Angeles, California. The brand was started by a 20-year Bikram yogi veteran. Shop Onzie at Nordstrom.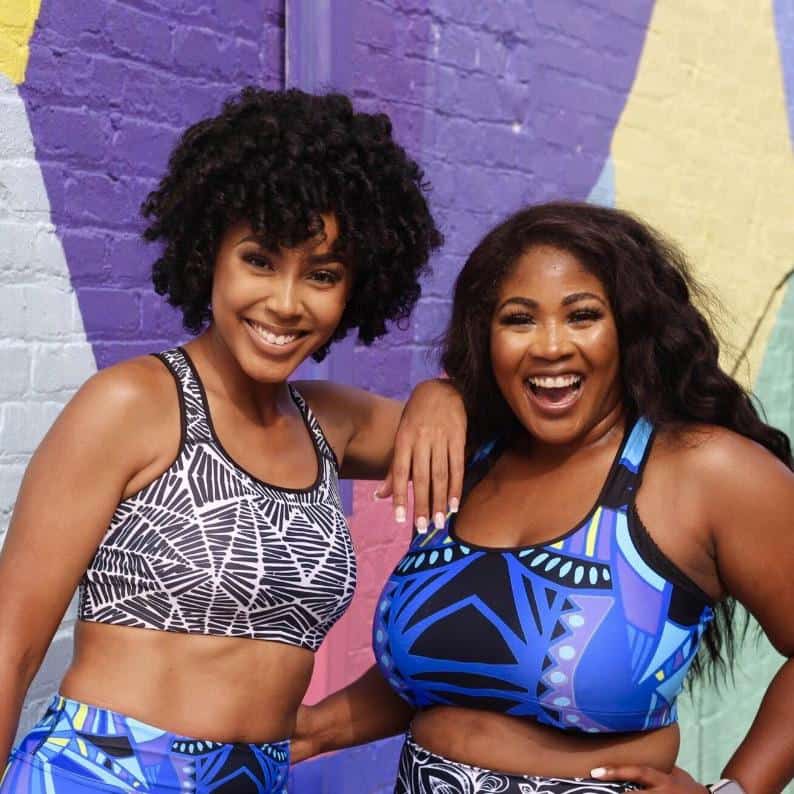 Photo Credit: rochelleporter.com
Rochelle Porter Design makes activewear featuring vibrant prints derived from the founder's original artwork and colorful Caribbean roots. This activewear is made of soft, SUPER stretchy material that moves with you during your exercise routines. This activewear is eye-catching and fun to wear, making working out a little more enjoyable. If you enjoy tighter workout clothing, I suggest going down a size since the materials are made of four-way stretch material.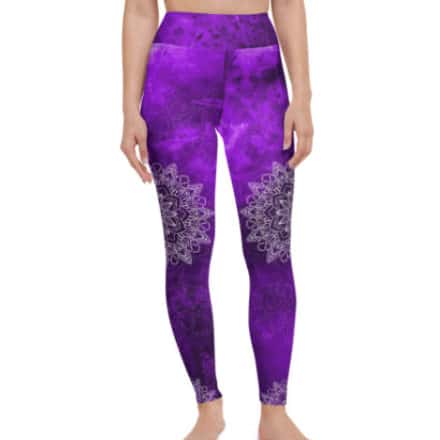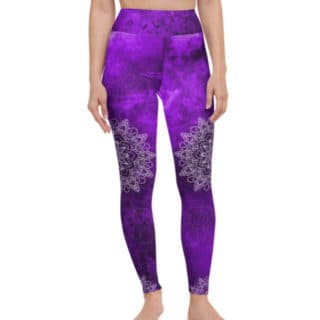 Photo Credit: suniayoga.com
Sunia Yoga leggings are bold and beautiful because we believe in living a colorful life. They use the highest quality sublimation printing process with eco-friendly water-based ink with no unnecessary chemicals. The premium quality fabric is soft as butter on your skin, yet durable and long-lasting.
Have you visited our Made in USA Shopping District? It is the place to start your shopping when you want to find the best of American-made.
LOVE THIS LIST?
Honestly, we know you will love these lists too!
Yoga Tips for Beginners
Made in USA Sneakers and Athletic Footwear: The Ultimate Source List
What's In Your Gym Bag? Made in USA Gym Bag Essentials
Made in USA Activewear: The Ultimate Source List
American Made Leggings: The Ultimate Source List
Fashion Fitness Wear: American Made Fitness Brands We Love
Hydration, Vitamins, Wellness- Made in USA Sources To Look & Feel the Best
Made in USA Options for a Detox Cleanse You can Trust
Disclosure: This is a sponsored post which USA Love List is proud to share with you because, sponsored or not, we only share stuff we love.

Pin this list to save it for later!
Image credit: evicii