Crowdfunding websites, such as Kickstarter, have become launching pads for American made companies and products. By showing support with a monetary pledge, anyone can make a difference in the success of a campaign. Today USA Love List shares our favorite made in the USA crowdfunding campaigns.
Some of these campaigns end in only a few days, so pledge your support now (in some cases you can pledge as little as $1), before time runs out! You can also show your support by sharing these made in the USA crowdfunding campaigns via your social media networks.
Made in the USA Crowdfunding Campaigns: Pledge your support today!
Adi, the Stay-Put Plate
Mom inventor Karen Kart has launched this Kickstarter campaign to raise funds to launch the production of Adi, the Stay-Put Plate.  The Adi plate is designed to stay in place during mealtime. The suction cup on the bottom of Adi has a strategically placed remover tab that only adults can reach- not prying little fingers! Adi even comes with a secure cover, making it great for snacks and meals on the go. Manufactured in Southern California, Adi is free of BPA, Phthalates, and PVC.
YOXO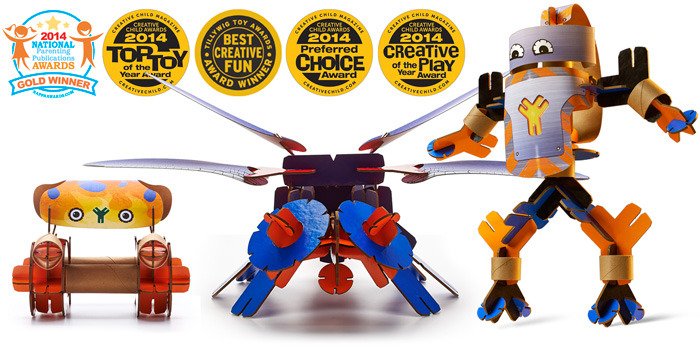 YOXO, pronounced "yock-so", is a creative building toy for kids ages 4 and up. YOXO inspires imagination!  YOXO building kits come with links, tubes, and other accessories, which are made to fit with toilet paper, paper towel tubes, and cereal boxes. YOXO has been manufactured successfully in Michigan for over a year. This Kickstarter campaign has been started to raise the funds needed to purchase a big, fancy, expensive machine that is needed to increase YOXO production to keep up with consumer demand.
DoodleSuit for dogs
The DoodleSuit, a snow suit for dogs with hair, was invented by Karin Hoskins. Her doodle dog, Bug, loves to play outside in the snow, but the resulting clumps of snow on Bug's fur were uncomfortable to him, and a pain to remove.  The DoodleSuit is designed to reduce the area of exposure to clumping snow (and mud too!) and works on all dogs with hair. This Kickstarter campaign has been set up to raise money for the first production run of the made in Colorado DoodleSuit.
"The 50" Jacket

Dirtball, a men's clothing line of Eco friendly active wear, is no stranger to us here at USA Love List. We are excited to share with our readers this Kickstarter campaign that has been started to launch the production run of Dirtball's "The 50" Jacket.  "The 5o"Jacket is 100% made in the USA from 50 recycled water bottles.
Le Collektor Hoodies
Made in Los Angeles with locally knitted fabric, Le Collector Hoodies aren't just traditional streetwear hoodies- they are works of art! Le Collector interchangeable hoods are designed by popular artists. With one jacket and many hoods, you can wear your favorite jacket every day and showcase your art collection! This Kickstarter campaign has been started to raise enough money for the first production run of jackets and hoods.