This is a friendly reminder that there is ONLY TWO MONTHS UNTIL CHRISTMAS. Now is the time to be thinking about American made Christmas decorations! We are excited to be working with Crab Pot Trees again this year to bring back this popular giveaway.
Crab Pot Trees: Made in USA Christmas Decorations
Crab Pot Trees are Christmas trees made from….crab pots! A string of lights woven through American made crab pot mesh creates the beauty and the simplicity of the Crab Pot Tree.
Handcrafted on the shores of North Carolina, Crab Pot Trees were originally created as a frugal way to use up leftover crab pot mesh, and as a unique way to keep the makers of crab pots employed during the winter off season. These easy to display lighted trees quickly caught on with the locals, who fell in love with the nautical themed holiday decorations.
Crab Pot Trees with incandescent lighting have been a favorite of ours here at USA Love List for years now, and we are excited to share with our readers that Crab Pot Trees are available with LED lighting! * Please note: The LED lights are NOT made in the USA. Currently, there are no LED lighting strands made in America.
Save 30% off of any Crab Pot Trees you order by going to https://crabpottrees.com/promo and entering promo code USALOVE. No expiration date.
Why we love Crab Pot Trees with LED lights
This will be my fifth Christmas season decorating with my Crab Pot Tree, which has incandescent lights. It's been through wind, rain, snow, and extremely low temperatures. I am expecting it to still be going strong when I take it out of storage this year. However, the Crab Pot Trees with LED lighting are even better, here is why:
LED lights use 1/10th of the electricity as standard incandescent lights. This means you can decorate your yard with MORE LED lit Crab Pot Trees and still save $ on your electrical bill.
LED lights last many years longer than incandescent lights, so Crab Pot Trees with LED lighting will last even longer.
The LED light strands also have waterproof bulbs, so they are just as durable as the incandescent bulbs.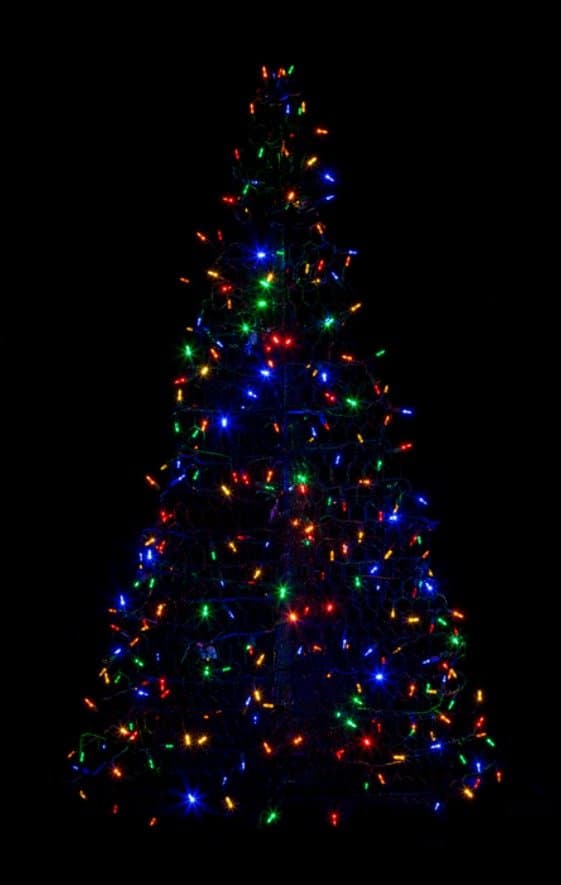 NOT JUST FOR CHRISTMAS!
Keep Crab Pot Trees in mind when you are looking for unique American made holiday decorations all year long!
Disclosure: This is a sponsored post which USA Love List is proud to share with you because, sponsored or not, we only share stuff we love.