Have you been hunting for American Made Christmas decorations? They can be hard to find, but we found them for you. Holiday decorations are something that you get out and use year after year. Choose made in USA products that will last, that you can trust, and most importantly, that you feel good about.
Don't miss our post on holiday decorating ideas using American made products or our tips on storing holiday decorations with American made products.
Hard to Find – Christmas Decorations Made in the USA
Whether you have already begun transforming your home into a winter wonderland, or you have yet to bring the Christmas boxes out of storage, here is a list to inspire you to purchase made in the USA holiday decorations this year.
CHRISTMAS LIGHTS
It appears that there is no manufacturer of Christmas lights anywhere in the USA! However, there are companies that manufacture Christmas decorations in the USA that include LED lights (Remember: the lights themselves are NOT made in the USA).
Crab Pot Trees are indoor and outdoor Christmas trees handcrafted in North Carolina from mesh wiring left over from crab trap manufacturing. Strands of LED lighting are attached to these fabulous tree shaped wire creations for easy holiday lighting displays. Crab Pot Trees come in multiple sizes and are very easy to set up and fold for storage. Save 30% off of any Crab Pot Trees you order by going to https://crabpottrees.com/promo and entering promo code USALOVE. No expiration date.
ORNAMENTS, AND OTHER CHRISTMAS DECORATIONS
Commercial Christmas Decorations
Online Retailers of made in USA Christmas decorations
LL Bean has a nice selection of holiday wreaths and tabletop centerpieces which are made in Maine from fresh evergreens.

Neimen Marcus offers a large selection of clearly labeled high made in the USA Christmas decorations.
Plow & Hearth, a catalog and online retailer of home and lifestyle products has a clearly marked sections for made in USA indoor and outdoor holiday decorations.
Bronner's CHRISTmas Wonderland, a.k.a The World's Largest Christmas Store, is located in Frankenmuth, Michigan. Not all of the Christmas items they sell are made in America, but with 'Made in the USA' at the top of their web page as one of the search topics, it's easy to find ornaments, nativities, and decorations that are .
Norton's USA is an online retailer of only American made goods, including holiday decorations.
BUY LOCALLY MADE CHRISTMAS DECORATIONS WHENEVER POSSIBLE!
If a fresh cut tree is what your family prefers, visit a tree farm this year and pick out your own. My kiddos love to run through the trees to find the perfect one for our house. To find a tree farm near you check out PickYourOwn.org. Most of these farms even sell wreaths and garlands or other holiday decorations.
Holiday wreaths and other handmade holiday decorations can be purchased at local bazaars, holiday craft shows and farmers' markets. Check your local newspaper to find one near you. You're sure to find great holiday decorations like ornaments, or even handmade greeting cards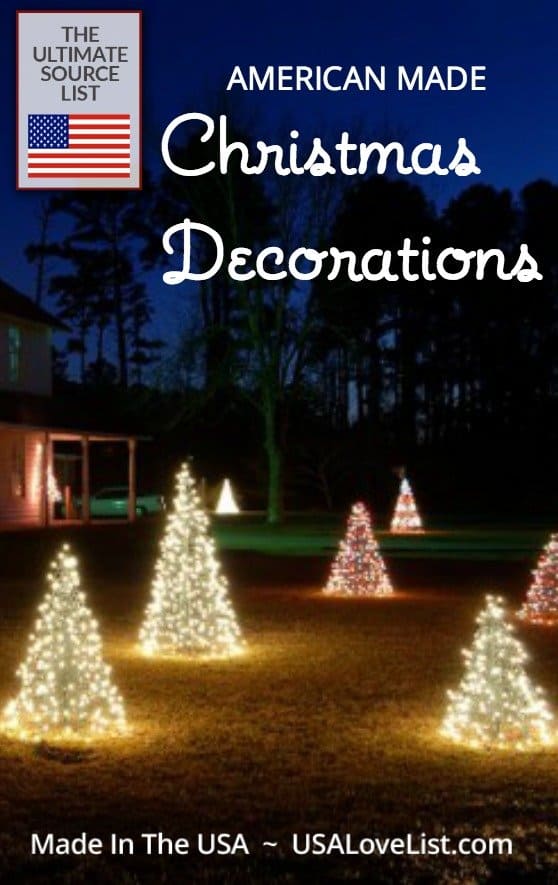 Disclosure: This is a sponsored post which USA Love List is proud to share with you because, sponsored or not, we only share stuff we love.