Crystal Body Deodorant is an all natural American made deodorant.  This non-toxic deodorant is a USA Love List favorite.  Read a little about their business growth story and find out how their mineral salts neutralize odor.  Here are the top 10 reasons we love to share this product with you:
No harsh chemicals.
Hypo-allergenic and great for sensitive skin.
Not a trace of white residue.
Light and refreshing scents.
Convenient application in a roll on or spray.
Portable and travel friendly with their deodorant wipes.
Inexpensive.
Easily accessible in over 35,000 stores worldwide.
Recyclable packaging.
Vegan.
Can't wait to get your hands on this?  Shop now for 20% using coupon code LOVE20.
Le Crystal Naturel to Crystal Body Deodorant – Their business growth story.
The deodorant began as Le Crystal Naturel.  On a trip to France in 1984 Jerry was introduced to a product, made from mineral salts, which purified water.  Later he was able to determine that the same product would work as a hypoallergenic deodorant.
He began importing the mineral salts and assembled a small crew to get the deodorant retail ready.  Each stone was done by hand.  Pitching his product wasn't easy but his breakthrough moment came by way of Henri Bendel.  Crystal was a huge success and picked up by other high end department stores in NYC.
Demand grew and Le Crystal Naturel became Crystal Body Deodorant.  Under their new name more variations of the hypoallergenic deodorant began being produced.
Crystal Spray Body Deodorant is made of 100% natural mineral salts, which are hypoallergenic, fragrance and baking soda-free, non-sticky, non-staining, leaves no white residue and can be used by both men and women. We love it because it's scent free, leaves no residue, and lasts long. 
How Crystal Body Deodorant Works
The mineral salts in the Crystal Deodorant create a layer of protection from odor causing bacteria.  The bacteria does not thrive in the environment of the mineral salts.
CRYSTAL BODY DEODORANT REVIEW
To date, this is the natural deodorant that has worked for me the best.  It keeps my underarms dry with no residue.  The scented versions are my favorite – all equally.
There are many natural deodorant options on the market.  I find Crystal to be the most similar to everything we have come to love in traditional deodorant but without the chemicals.  They offer easy and convenient packaging.  Their deodorant is never clumpy and dries clear.   Crystal also has a nice light scent available, not heavily saturated in essential oils just to mask body odor.  The addition of a light scent is perfect with the formula that wards off the odor causing bacteria.
Note: Only Crystal's liquid products (towelettes, roll-ons and sprays) are made in the U.S.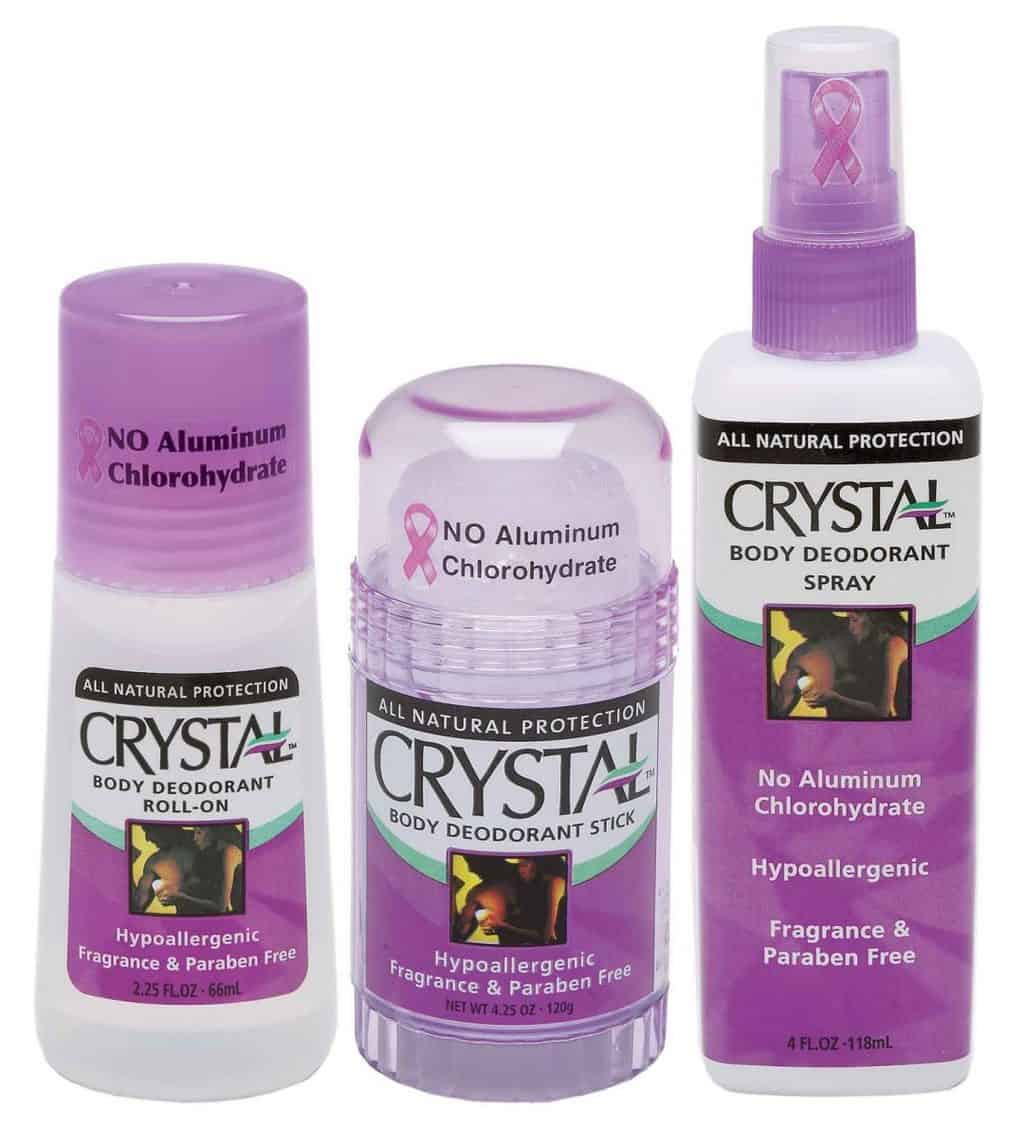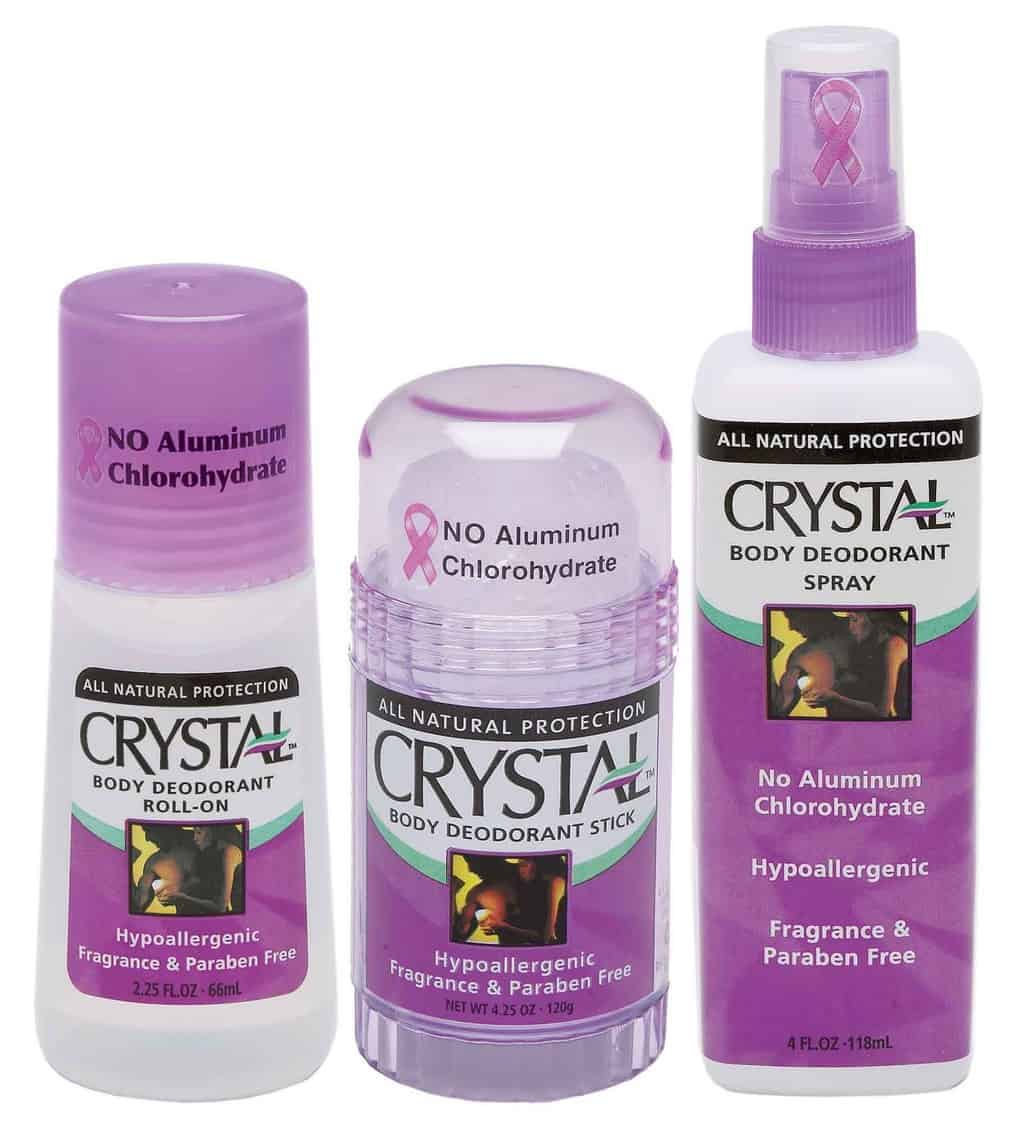 THE GIVEAWAY
Crystal Body Deodorant is giving one winner a year's supply of deodorant, five roll-on deodorants, one in each scent, plus four packs of deodorant towelettes, one in each scent.
There are a variety of entry options including opportunities for multiple daily entries. Good luck!
Click the arrow buttons below for further instructions on each entry. This giveaway will close at midnight on Thursday, September 28, 2017. The winner will be randomly selected, verified for correct entry participation, and notified by email.
If you've already entered one contest on USA Love List, entering another will be even easier. Visit our Giveaways Page to find out about other active offers to join.
Disclosure: This is a sponsored post which USA Love List is proud to share with you because, sponsored or not, we only share stuff we love.