Hawaii is a unique state, and not just because it is a tropical island chain and the birthplace of surfing. The state is literally in the middle of the biggest ocean in the world. In terms of manufacturing and production, this means that anything that is manufactured here would either need raw materials grown here or imported. Then, the manufactured items would need to be sent back to the mainland for distribution. Due to the high cost of land to grow raw materials combined with an expensive or inadequate labor force, it is usually going to be cheaper to make almost anything somewhere else. Anywhere else.
But again, Hawaii is a unique state, and manufacturers are now taking pride in their 'Made in Hawaii' items, and these products can, in turn, get a higher premium.
So without further ado, here is my selection of Ten Things We Love: Made in Hawaii.
Photo Credit: www.hawaiikaico.com
If you're anything like how I used to be, I never paid much attention to the type of salt that I would consume. I'm not much of a salt-eater, but if my food ever needed a sprinkle, I would just grab whatever was at hand and conservatively shake it over my plate. Recently, though, I've been converted to a salt that I know you'll love just as much as I do, and that is Hawaii Kai's SOUL of the SEA gourmet sea salt. When you can't quite hop on a plane and head to Hawaii, Hawaii Kai brings the islands straight to your kitchen. Their sea salts that are expertly harvested in Molokai's pristine waters, using their groundbreaking Solar Seal system. This salt isn't just receiving accolades from my mouth, but also, from the American Academy of Hospitality Sciences, which voted SOUL of the SEA as the only gourmet salt to ever receive the Star Diamond Award for Outstanding Quality. Don't trust our word for it though; try it for yourself!
Photo Credit: www.bigislandcandies.com
In 1977, Big Island Candies set out to create quality macadamia nut candy that uses 100% Hawaiian grown macadamia nuts. Over thirty years later, their gift shop, which includes a viewing window into the chocolate factory, has become a must-stop attraction for visitors to Hawaii Island.  Their signature product, the Chocolate Dipped Macadamia Nut Shortbread Cookies, is world renown. All of their products are made with quality ingredients, including local eggs, real butter, high-grade chocolate, and 100 percent Kona Coffee.  Besides the tasty delights that one might expect, including a variety of cookies, brownies, and chocolate covered coffee beans, Big Island Candies offers items that are bit unusual, including cuttlefish and other local favorites, each dipped in chocolate!  Big Island Candies started with one employee in 1977 and now has more than 90 employees in the 40,000-square-foot Hilo facility.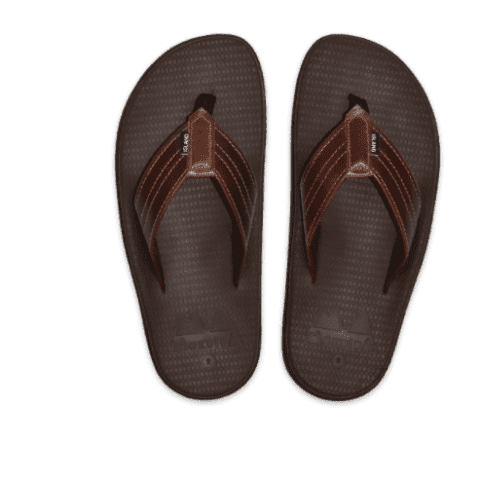 Photo Credit: shop.islandslipper.com
Island Slipper is the oldest manufacturer of 'made in Hawaii' footwear.  For more than 60 years, Island Slipper (the local term for sandals or flip-flops) has stayed true to the tradition of their hand-made quality product. The factory floor hums as experienced craftsmen cut, trim, wrap, sew, last, glue, and press pairs of slippers. Several of the employees have been at the factory for 20 years or more. Island Slipper got its start in the early 1940s when Takizo and Misao Motonaga opened their factory in Honolulu with five employees. Island Slipper remained in the family until the Motonaga family offered it to John Carpenter in 1985. When Carpenter took over there were five sandal factories still producing in Hawaii. Today Island Slipper is the last of the original factories to make 100% of their product in the Islands.  More than 80 styles of men's and women's slippers, all featuring comfort and durability, are available at two retail stores on Oahu and online. Shop the Island Slipper Amazon store.
Island Slipper is featured in our lists of Men's Sandals Made in USA and American Made Women's Sandals and Flip Flops.
Kona Coffee
Gourmet coffee lovers take note- one of the most expensive types of coffee is grown and made right in Hawaii. Kona Coffee  is the title given only to coffee that is grown in the Kona District of Hawaii. The flavor of Kona Coffee is unique to the growing conditions- porous volcanic soil, and the regions warm and consistent climate. All Kona Coffee is hand-picked, wet-method processed and sun-dried. There are over 600 farms in the Kona District that are in business growing and producing Kona Coffee. Though there are many brands, no 2 coffee companies and blends taste the same.  Some Kona Coffee Cultural Festival Cupping Competition winning Kona Coffee brands include; Hula Daddy Kona Coffee, Kona Gold Rum Co., and Hawaiian Queen Coffee. For more information about Kona Coffee and for a list of past winning companies, visit the Kona Coffee Council website.
Niihau Shell Lei
A post about Hawaii would be remiss to not include an authentically traditional Hawaiian item.  Just off the coast of the island of Kauai is a privately owned island called Niihau, which not only has its own dialect of the Hawaiian language but its own unique history and culture.  The origins of the Niihau shell lei are unknown, but residents of Niihau have been making shell lei from the tiny shells that surround their island home since at least 1778 when Captain Cook first visited the islands.  The stunning pieces of jewelry were first brought to the attention of the courts of Europe when Queen Kapi'olani traveled to London to attend Queen Victoria's Jubilee in 1887.  In fact, Ni'ihau Shells are the only shells recognized by gemologists as gems, consequently, they are the only shells that are insurable as fine jewelry.  The value of the lei can range from $100 for a single strand, to over $30,000 for multiple strands with the rarer and more desirable colors.  Maui Hands, a gift and art gallery featuring 100% made in Hawaii products, has a selection of exquisite lei available in their four retail stores on Maui, with a few selected pieces on their website. Each Lei (from Maui Hands) comes with a certificate of authenticity and a lifetime warranty.
Photo Credit: oceanvodka.com
Handcrafted in Hawaii, Ocean Organic Vodka is the only spirit in the world made with deep ocean mineral water, and the only vodka distilled from organic sugar cane.  The high mineral content of the Hawaiian ocean water imparts a unique character to the vodka and adds a depth of flavor to the traditional vodka cocktail.  Ocean Vodka, which is 100% USDA organic, has been the exclusive vodka on Hawaiian Airlines since 2007.  In 2013, the company opened the Ocean Vodka Organic Farm & Distillery on the island of Maui, consolidating all supply and production, with farming, distillation, manufacturing, marketing and sales for the first time since the brand's inception in 2005.
Ocean Vodka is featured in our list of Award Winning American Made Vodka Brands We Love.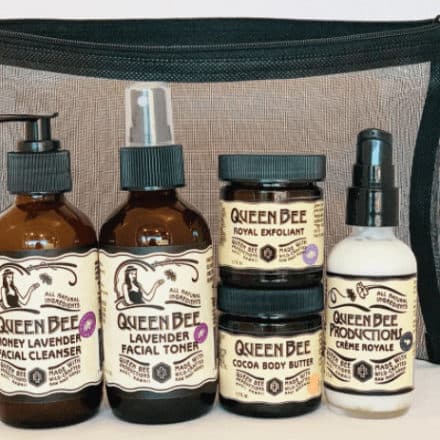 Photo Credit: www.queenbeemaui.com
Queen Bee Maui, a honey-based skin care line, was founded in 2009 by an herbalist and an aesthetician; both with a passion for nature and its gifts.  Together,  the founders combine the medicinal features of herbs, healing powers of honey, and pleasure of the senses to create Queen Bee Productions body products.  Cleansers, toners, balms and other products are made using all natural ingredients including raw honey and beeswax, organic herbs, oils and other fine ingredients for a high quality blend.  There are no fillers, parabens, synthetics or chemicals; they take pride in the luxury of naturally clean and effective ingredients. Queen Bee sources ingredients locally, as much as possible, and uses traditional Hawaiian Healing herbs, such as Noni in their products.   In the few short years that they have been selling their products, Queen Bee has become a powerhouse in the crowded 'made in Hawaii' body product category.
Photo Credit: sigzanedesigns.com
One of the first images that comes to mind when thinking about Hawaii is the iconic Hawaiian shirt, but the sad reality is that most 'Hawaiian' shirts aren't made here.  One company whose products stand out for many reasons is Sig Zane Designs, with bold and graphic prints, and products that are made by hand using high-quality materials on the 'Big Island' of Hawaii.  Designer and founder Sig Zane started making pareos (sarongs) for his wife, Nalani, and then friends and family, each with designs based on images with Hawaiian cultural significance.  With the exception of growing the cotton and weaving it into the material (which is done on the US mainland), the entire process takes place in Hawaii; including the creation of each print design, the hand-screening of the prints onto the fabric and then the cutting and the sewing of the yardage.  Only 60 yards of fabric are hand printed at a time, then sewn into aloha shirts, dresses, blouses, and pareos.  Each piece is a limited item since each color combination is only printed once.  Sig Zane Designs are available at the retail store in Hilo, Hawaii, which opened in 1985, and online.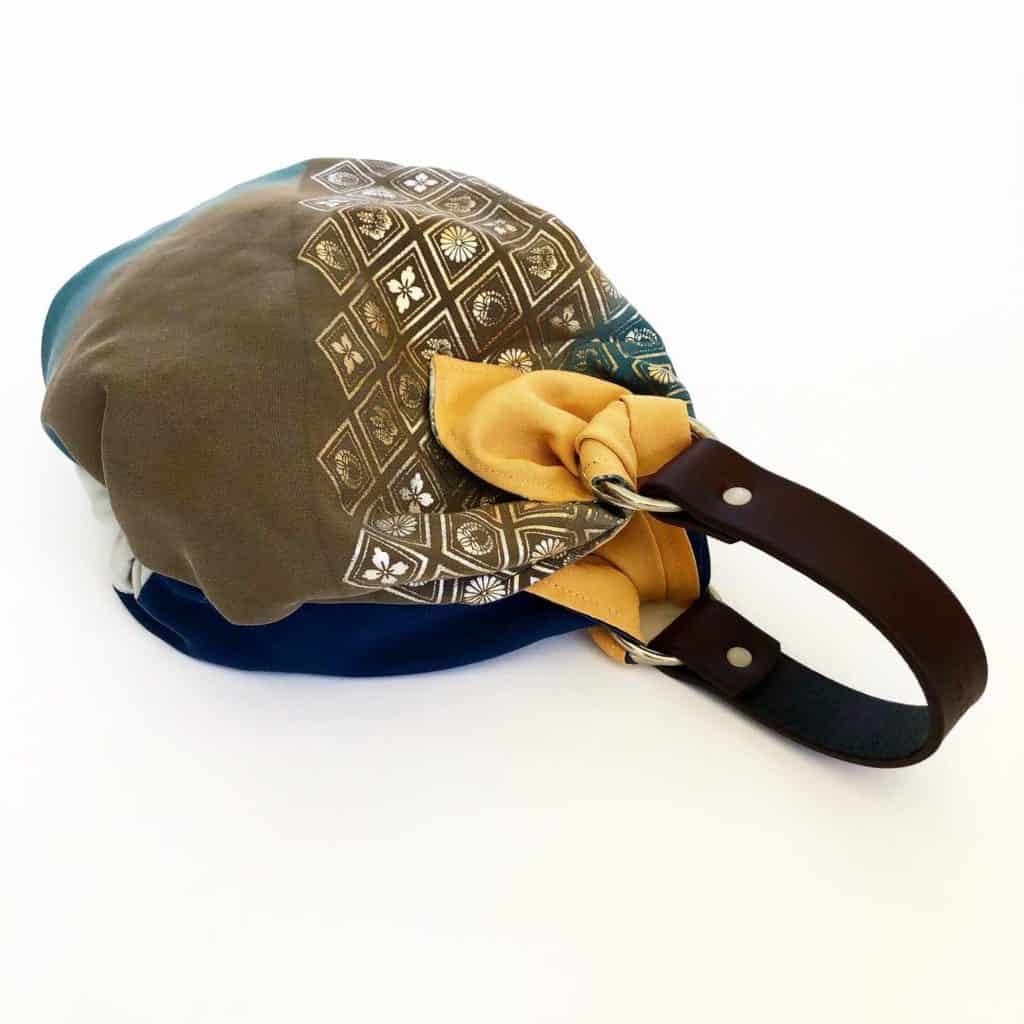 Photo Credit: www.tikishiki.com
Tikishiki Handbags are a blend of Japanese inspired design and Hawaiian inspired fabrics. These fashionable and functional cloth handbags are available in 3 sizes and have a leather handle. They are handmade and each bag is unique.
Tikishiki Handbags is featured in our list of American Made Designer Purses and Handbags: The Ultimate Source List.
Tea farming in Hawaii is has been gaining in popularity and recognition since 2001. According to ratetea.com, Hawaii is the largest tea producing state in the United States. To learn more about some the various types of teas grown in Hawaii, check out Drinking American Grown Black, Green, and White Tea Benefits Your Health, where all of the teas mentioned can be found made in Hawaii.
Liz Smith is a Maui-based publicist who is the creator of the blog Maui Made.
We are welcoming guest post submissions on the topic of The Top 10 Things Made in My Home State. Contact us for submission guidelines.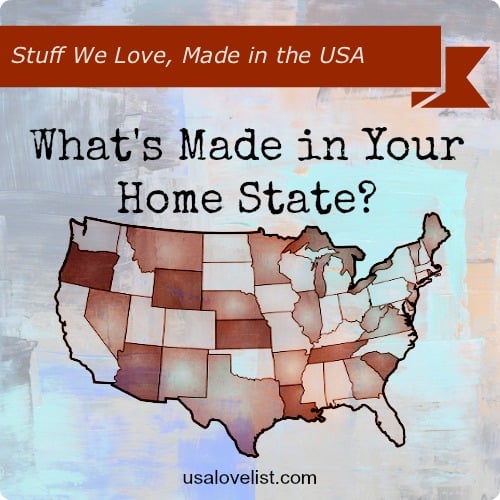 Have you visited our Made in USA Shopping District? It is the place to start your shopping when you want to find the best of American-made.

Pin this list to save it for later!