September is here and we have pumpkin spice on the brain. From all things pumpkin spice flavored (see our HUGE list of goodies here) to Pumpkin Pie and Pumpkin Pancakes, we really love all things pumpkin. Nothing rings in fall like the scent of warm, soothing spices.
We've brought back our popular pumpkin spice brownie recipe, and a chance to win spice to stock your pantry with fall favorites from Frontier Co-op!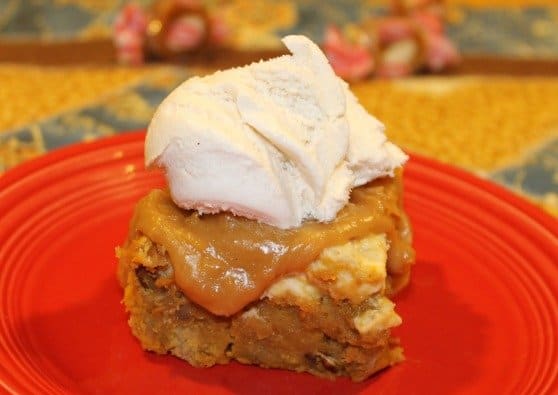 INGREDIENTS
1 stick of unsalted butter, room temperature
1 large egg
1 tsp vanilla
1 cup flour
1 tsp baking powder
3/4 tsp Frontier Co-op Cinnamon
1/8 tsp Frontier Co-op Ground Cloves
1/4 tsp salt
3/4 can solid packed pumpkin
1/2 cup coarsely chopped pecans
1/4 cup cream cheese
2 tblsp sugar
1 egg yolk
2 tsp whipping cream
1/2 tsp vanilla
Goetze's Caramel Creams Caramel Sauce recipe (I halved it for this and used all that was made)
DIRECTIONS
Preheat oven to 350. Butter and flour an 8 inch square glass baking dish. Beat butter in a large bowl until light with a stand mixer or hand mixer. Gradually add brown sugar and beat well- about 2 minutes. Add 1 egg and 1 tsp vanilla. Beat to blend. Add flour, baking powder, spices, and salt. Beat until well mixed. Beat in pumpkin. Stir in pecans. Spread batter into prepared baking dish- batter will be thick.
In a bowl, mix cream cheese, sugar, egg yolk, whipping cream, and 1/2 tsp of vanilla blending well. Drop by heaping teaspoonfuls on top of batter. Using a small knife, gently swirl cream cheese into batter, making a marble pattern. Bake for about 35 minutes.
ENTER TO WIN FALL SPICES FROM FRONTER CO-OP
One lucky winner will the following spices. There are a variety of ways to enter this giveaway including opportunities for multiple daily entries. Good luck!
Nutmeg
All Spice
Cardamom
Cinnamon
Cloves
Pumpkin Pie Spice
Turmeric
and…Vanilla Extract
Click the arrow buttons below for further instructions on each entry. This giveaway will close at midnight on Thursday, September 14, 2017. The winner will be randomly selected, verified for correct entry participation, and notified by email.
If you've already entered one contest on USA Love List, entering another will be even easier. Visit our Giveaways Page to find out about other active offers to join.
Disclosure: This is a sponsored post which USA Love List is proud to share with you because, sponsored or not, we only share stuff we love.