We are lucky this week to be working with a growing American manufacturer, Lanternland, to bring our readers a  very popular made in the USA Giveaway. Read on to find out what you could win then find the entry form at the end!
Longer days are here and we are outside longer with warmer evenings. Now is the time to make sure those outdoor lighting fixtures are safe, working, and looking good. For many of us, it might be a necessity to upgrade to high quality, long lasting, weather proof, and of course, American made, outdoor lighting fixtures
American Made Lighting by Lanternland
Lanternland has been manufacturing artisan copper lanterns and brass indoor & outdoor lights in Arizona since 1978.  The solid brass and copper construction of every light will never rust or corrode and is guaranteed for life. This durability makes Lanternland fixtures ideal for outdoor use, as they will withstand all types of weather. In fact, all lights are UL listed for wet locations (except the Country Kitchen Pendant Hanging Copper Light and the Portland Copper Lantern Table Lamp). Each Lanternland light is handcrafted in the USA and made to order with a choice of finish and glass. Lanternland should be your first stop to shop for outdoor and indoor lighting fixtures.  Here is why:
Lanternland lighting products are 100% handmade in the USA and are made to order.
Lanternland offers a vast selection of ceiling lights, pendant lighting, wall sconces, wall lights with brackets, barn lights, post lights and more.
All Lanternland lights are UL listed and UL Approved for Wet Locations (except Country Kitchen, which is the only lighting fixture that is not suitable for outdoor use).
Lanternland lighting fixtures are made with high quality copper or brass, so outdoor lighting will not rust or corrode, even in areas that are exposed to salt water.
There are 8 standard finishes, and 4 glass styles to choose from.
All-natural hand applied "living" finishes develop a rich patina over time..
All of Lanternland's lights are covered with a Lifetime Warranty.
Lanternland provides free shipping.
Lanternland offers an all natural, hand applied finish to match any decor.
Lanternland lights are made to order by skilled artisans, so once you choose a light style that suits your indoor or outdoor lighting needs, you can match the finish and the glass style to your existing decor.
There are 8 finishes to choose from:
USA Love List is working with Lanternland,  maker of high quality, artisan copper lanterns and brass indoor & outdoor lights, to bring you today's awesome giveaway!
The Lanternland Giveaway
One USA Love List reader will win a choice of ONE of the following handmade in the USA from solid brass and copper Lanternland lighting fixtures with a lifetime warranty, valued up to $400. All fixtures are UL Listed and will not rust or corrode.  Which fixture will you choose? Once you decide, use the entry form at the end – there are many different ways to enter, including daily options!
Open Spaces Hanging Lantern Pendant
The Open Spaces Hanging Lantern Pendant is  shown here in Dark Copper with Seeded Glass. This lantern pendant is suitable for indoor or outdoor use. Picture it hanging on your porch or over your kitchen island. This versatile, hand made  lantern fits well with in traditional and contemporary style homes.
Choice of Small or Medium, Choice of finish and glass. Retail value: $315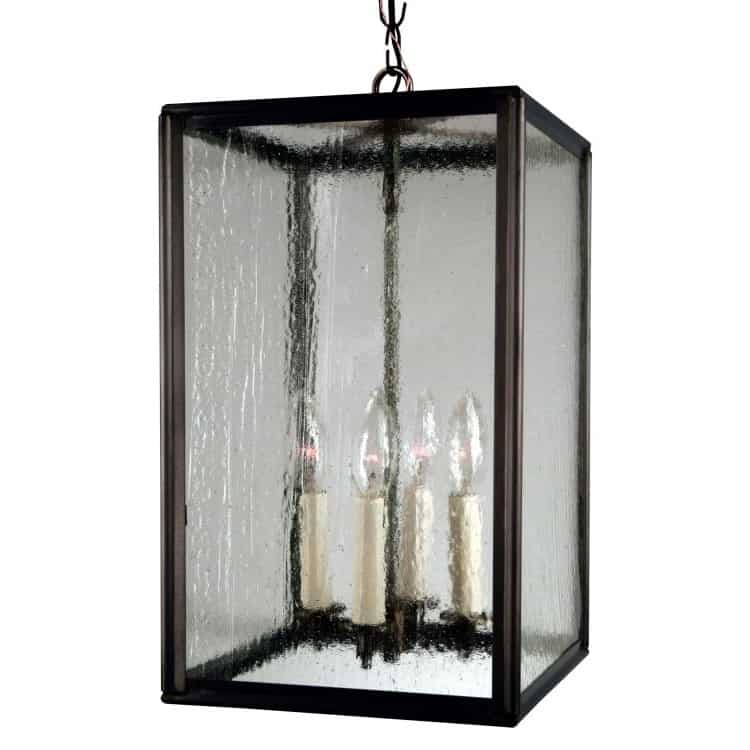 New Haven Wall Sconce
The New Haven Wall Sconce, pictured here in Antique Copper Finish with Seeded Glass, is a Lanternland best seller. This rustic wall sconce is suitable for indoor and outdoor use. The UL listing of the handcrafted New Haven Wall Sconce makes it a perfect fixture to light the exterior of your garage or front door in ocean front and wet locations.
Choice of Small, Medium, or Large. Choice of finish and glass. Retail Value: $195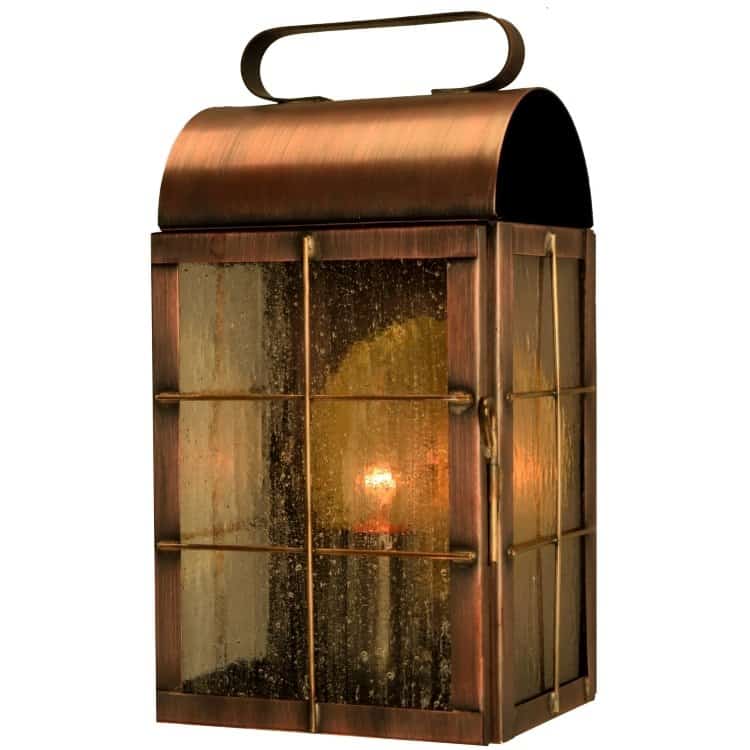 Portland Pendant Hanging Lantern
The Portland Pendant Hanging Lantern, shown here in Verdi Green finish with Seeded glass, is another popular Lanternland lighting fixture. Handmade from solid copper and brass this lighting fixture is suitable for both indoor and outdoor use. Hang it to light your foyer, or add to your pergola for classic lighting.
Small Size Only, Choice of finish and glass. Retail Value: $405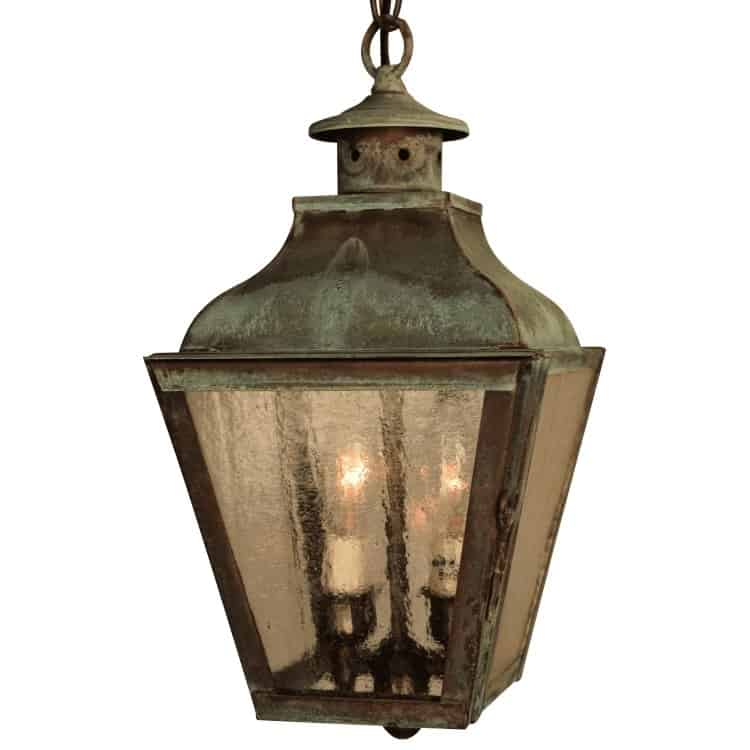 Which Lanternland light fixture will you choose?
There are a variety of entry options including opportunities for multiple daily entries. Good luck!
Click the arrow buttons below for further instructions on each entry. This giveaway will close at midnight (Eastern) on October 11. The winner will be randomly selected, verified for correct entry participation, and notified by email.
If you've already entered one contest on USA Love List, entering another will be even easier. Visit our Giveaways Page to find out about other active offers to join.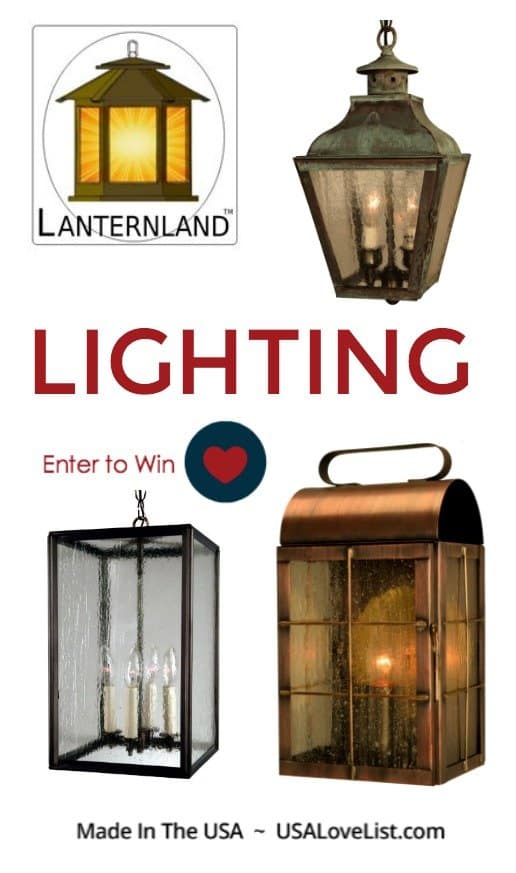 Disclosure: This is a sponsored post which USA Love List is proud to share with you because, sponsored or not, we only share stuff we love.