Lily Trotters is releasing two new breakout styles for 2018  – "S'mitten ©" and"Course-it ©" and we're offering USA Love List readers the first chance to snag them!
Do you wear compression socks? If you're not familiar with the benefits compression socks, I suggest you read ahead. You'll absolutely thank me later because Lily Trotters American made compression socks are a real life changer. I wear them almost everyday, whether I'm running errands around town, taking a leisurely walk, taking an indoor cycling class, hiking, or traveling, I have to have these socks.
These socks are a MUST have! Lily Trotters compression socks are a game changer, especially if you're on your feet a lot. 
These socks are made with cushioned heels, reinforced toes, moisture-wicking and antimicrobial nylon. The 15-20 mmHg of graduated compression offers mild compression.  I love the weight of these socks too – they aren't too heavy for summer, and offer some warmth during colder months.
Who benefits from wearing compression socks?
those who sit or stand or walk all day long
travelers, hikers, backpackers, athletes
pregnant women
those looking for improved vein health
…okay, basically what we're saying is that YOU need compression socks.
Compression socks aid in
increased efficient circulation in the body, which may prevent cramping, spider veins, and blood clots
increased blood oxygen, which is believed to enhance athletic performance
muscle recovery, and leave legs feeling refreshed and energized
improve circulation in the body, which may prevent cramping, spider veins, and blood clots
Whether running, traveling, sitting or standing, women can now add support to their legs and look adorable while doing so.
 Lily Trotters fashion forward compression socks are very well made, and come with a 100% satisfaction guarantee. They offer
cushioned heels
reinforced toes
moisture-wicking
antimicrobial nylon
15–20 mmHg compression socks
built to perform, yet easy to take on and off
cushioned heels, reinforced toes, and wicking finishes
These socks offer medium 15-20 mmHg of graduated compression offers mild compression that is typically recommended during pregnancy or long flights, and to runners, cross-fitters, or anyone one sits, or stands, for long periods of time.
ENTER TO WIN 
Lily Trotters is offering one lucky winner the chance to win 3 pair of socks, in the pattern of your choice, with a total retail value of $144.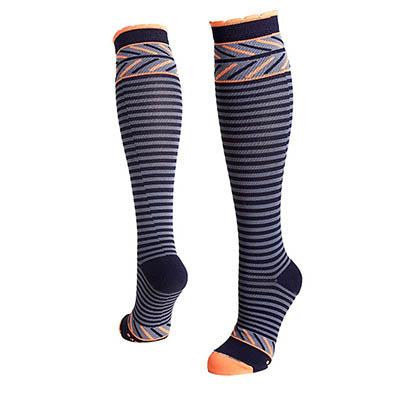 There are a variety of ways to enter this giveaway including opportunities for multiple daily entries. Good luck!
Click the arrow buttons below for further instructions on each entry. This giveaway will close at midnight on Thursday, January 18, 2018. The winner will be randomly selected, verified for correct entry participation, and notified by email.
If you've already entered one contest on USA Love List, entering another will be even easier. Visit our Giveaways Page to find out about other active offers to join.
Disclosure: This is a sponsored post which USA Love List is proud to share with you because, sponsored or not, we only share stuff we love.