Make, then lie in the world's best beds made in the USA. Most American-made beds feature solid wood construction and other safe materials, making them both durable and beautiful.
American-Made Beds
True story: about a dozen years back, I bought a bed online without doing my research. It fit my price point and was a storage bed that had those under-bed drawers I had been wanting in my kid's small bedroom.
Within two years, that bed had fallen apart, and not because of misuse. The joints refused to hold together. And the underbed storage? Infuriating. It never worked well at all.
Lesson learned. I drove thirty miles to a local Amish craftsman and replaced that bed with another one that looks as good today as the day I purchased it.
Like any piece of furniture, when you buy a bed, you want a high quality one that lasts a very long time. You also want it to look stylish and enhance your place of rest, your sanctuary, your bedroom.
Sadly, many people do what I did and try to save money by buying an inexpensive bed made somewhere other than the USA. In the long run, the process costs more money because these beds do not reflect quality.
Maybe you've done the same, and maybe you also believe you can't afford American-made furniture, including beds.
While doing research, I discovered that USA-made beds, even with high ratings, aren't a whole lot more expensive than made-for-less beds. But there are a few specific qualities you want to look for if you want a well-made place to slumber.
What to Look For in A Bed
Buying a quality bed frame is just as important as buying a great mattress. After all, if around 30 years of your life is spent getting quality shuteye, you want to do everything in your power not to count sheep.
Size
A bed frame serves as the main support system for your bed, so choose a frame that supports the size of your mattress. If you have a queen-size mattress, choose a queen-size frame. A twin XL is longer than a regular twin-size mattress. Know the difference between a king-size bed and a California king bed. To be sure, measure your mattress, then make sure your frame is 2-5 inches bigger to support the mattress.
Related: Buy Quilts Made in the USA
Support
You need good underneath your mattress, and that support comes in the form of a platform base or box spring base. A platform base doesn't require a box spring because it's a flat, stable surface. A box spring usually sits on a metal bed frame, so be sure to buy a quality, strong frame. A divan bed frame is a sturdy box with drawers underneath, my personal favorite. You can place your mattress either right on the divan frame, or you can use both a box spring and a mattress.
These days, adjustable bed frames are very popular. As the name indicates, these frames can go up and down with the mattress on them. These require a memory foam mattress.
Bed Height
A bed placed on a platform base sits much lower to the floor than a mattress placed on a metal frame and box springs. If you want a low profile bed, choose a platform bed; otherwise, opt for box springs.
Bed Style
A bed's style varies as much as any other home décor style. In the list below, you'll read about mission, contemporary, traditional, modern farmhouse, midcentury modern, Scandinavian, and more. If you're not sure what you want, reach out online to a company's designer who can help you.
Construction
Choose a bed made from heavy metals or wooden bed frames and use American-made materials. A bed's pressure points, where legs are joined to the rails, ideally should be connected with mortise and tenon joints for long-lasting durability.
Also, choose a bed that's made by an American craftsman rather than a bed made on an assembly line. This individual is an expert at furniture making and takes pride in his talents. You'll get years of use from these beds.
Why Buy A Bed Made in the USA?
Plenty of reasons exist for buying American-made beds. The most obvious reason is you're buying a well-made product. It will last maybe longer than you will.
A second reason is not only are you investing in the best furniture, but you're also investing in communities just like your own. People need a living wage, and you're helping fuel not only the local economy but also the national economy.
Unlike many furniture factories in other countries that exploit their workers, have unsafe facilities, and don't embrace sustainable reforestation, American companies do just the opposite. They care about the people who work for them. They're required by law to provide safe working environments, and they definitely practice reforestation, among other eco-friendly endeavors.
While other furniture manufacturers use harmful chemicals in their manufacturing processes, our U.S. products avoid using them.
A final reason for buying a bed made in the United States is that most of the furniture makers are artisans. Their work is not just a job. It's something they enjoy doing, they do it well, and they celebrate their craft. You're the beneficiary of something great.
Another big reason for buying American-made products is customer service. The minute you run into an issue or need warranty information, you'll be thankful for a representative that's both helpful and kind.
When you buy an American-made bed, you're investing in others, but you're also investing in yourself and your home.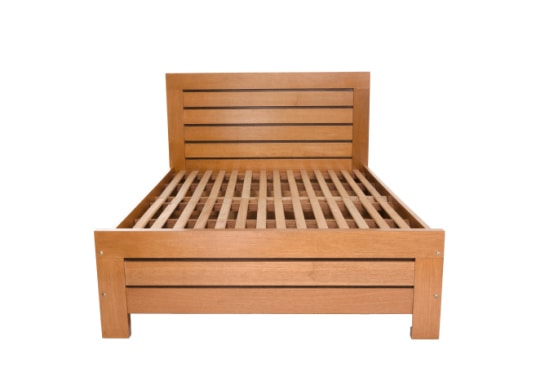 The Cost of Buying A Bed Made in the USA
The cost of domestic beds varies greatly. You'll find them hovering around the $800 mark and up. Most likely you won't find a $300 bed because one at that price point will fall apart very soon after you buy it.
Still, if cost is a concern, most of the companies I list extend different ways for you to save money, including one or a combination of the following:
Complimentary shipping
A discount when you sign up for its emails
Seasonal markdowns
Sales
Clearance prices
A percentage off certain purchases
Check out these other great articles related to USA Household Goods!

Pin this list to save it for later!