USA Love List readers save 15% off with code USALOVE at Zkano. No expiration date.
Zkano's made in USA socks are made in Fort Payne, Alabama, the former sock capital of the world. They just celebrated five years in business last week, on October 27th. We're proud to share the story of their founder,  Gina Locklear, through a recent Q & A.
Q: In the early 90's (is this right?), your parents started their own sock company. Tell us about what you remember most vividly during this time.
A: Yes, we started making socks in 1991 and my parents started our company, Emi-G Knitting, from the ground up. Though I was just entering my teenage years during this time, I have vivid memories from this part of my life. From what my parents tell me, these were really tough financial times for our family but ironically, I remember them as being some of the happiest days of my life. Since my sister and I were so young, we had to spend a lot of time at the mill with my parents during the summers when school was out. I remember watching both my parents work in our little mill through the window of the office where my sister, Emily, and I spent a lot of our time doing anything we could to make the day go by faster. We were kids, you know.. always so bored. We listened to Nirvana, Red Hot Chili Peppers and Guns and Roses over and over again on my tiny boom box, which seemed like a lifesaver to us. Sometimes, we'd find a box of 'rags', defective socks that can't be sold, and jump around in them and make a game out of it.
My mom and dad did a little bit of everything at the mill. Dad was actually one of our 2 knitters and my mom ran a machine that's called a turn sewing machine, which would seam the toes of the socks. I didn't realize it at the time but thinking back on it now that I'm an adult, they both worked their so diligently off to get this business off the ground. My dad would often times stay at the mill knitting by himself until midnight each night, then begin around 5 am the next day.
Another memory I have is of my parents bringing home batches of slightly defective socks to literally be 'darned' so they would be first quality socks, instead of second quality. Sometimes, my grandparents would even come up from Gadsden on the weekends to help them with darning the socks.
Q: Then in the late 90's production started being shipped overseas. Fort Payne was left with only 10 mills. How did your parents react to this situation?
A: When manufacturing began shifting overseas, it was horrifying to me. I remember it like it was yesterday. My dad would talk about the possibilities of what could happen if CAFTA passed and even as a high school kid, I remember being so worried. At this time, my parents' efforts had paid off and our small business was turning into a success. We had begun knitting for Russell Athletic, which is what contributed to Emi-G's success in the beginning. Being one of their knitters was wonderful. It was profitable and stable business, so we thought. Of course, Russell decided to follow suit and eventually, they moved their manufacturing overseas along with just about everyone else. We were devastated because we didn't know who we would knit socks for anymore. It didn't seem like we had many options, and we actually did not. Would we shut down? Would all the sacrifices my parents made to get Emi-G off the ground be for nothing? We didn't know. But, with mills shutting down all around us, it didn't seem like a positive situation. We scrambled to find more business. Eventually, we did find more business and we were able to keep our doors open, but it's been a struggle. The sock business has never been the same since NAFTA and CAFTA were put into play. There have been so many times throughout the years we thought we were going to have to close due to overseas competition. We fought and fought and managed to stay open. I feel like this is because we've always been known for our quality production and remaining a small mill helped a lot as well.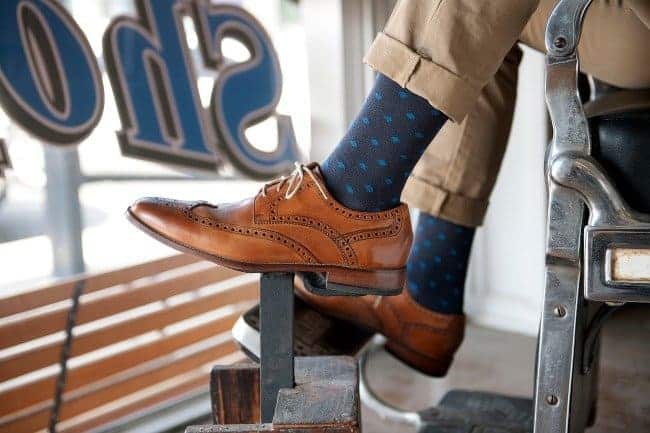 Q: How about the town? What happened to the people of Ft. Payne as they watched their jobs slip away?
A: Fort Payne changed in a big way. My dad says it feels like the majority of the mills in town shut down in a week's time. Really, I think it took a year or two.  Fort Payne is a very small town and when I think back to when I was a kid, even before we got into the sock business, I remember being aware that we were a sock town. I don't know a better way to describe that. That's just what we were. It seems like almost everyone you knew was involved in the sock business in some way. For me, my grandmother knitted socks in the 50s at the first sock mill that opened in Fort Payne back in 1907. I also had 3 uncles in the sock business and 1 cousin, all lost their mills due to outsourcing in the late 90s/early 2000s.
Back in the good days, there was a constant buzz and feeling of energy in our small town when the sock industry was thriving. The road where our mill is located is where most all the mills in town were before the change. It's called Airport Road and at one time, almost every single business located on this 5+mile stretch was a sock mill. There was constant traffic. Sock trucks making deliveries. Yarn companies making deliveries to the mills. Yarn reps, knitting machine reps from all over the country/world were in town all the time. During "Hosiery Week", there were community events, sports events, concerts etc..  It was so much fun. Now, all of that is gone of course. But, I'll always remember it. This energy/buzz I was talking about went away in a lot of ways. Fort Payne is by no means 'dead' but it's obvious that our hosiery industry, our core, has forever changed.
From what I understand, the people who were employed in the sock mills went different directions. Some of them moved out of town. Some were forced to find new careers in town.. I have heard thoughts from a few of these displaced hosiery mill workers and some say they would love nothing more than to be working in a mill once again. For a lot of folks, it was their life's work. They took pride in it and they loved it.
Q: Tell us about what inspired you start zkano.
A: The threat of losing our family business, seeing loved ones and friends lose their jobs/careers. Seeing a once thriving and exciting town turn into something very different.. All of these things made me want to do something and somehow, let people know what it means to buy a product with a label that says Made in Mexico, Honduras, China, etc. I wanted to spread awareness that large companies' choices to move their manufacturing from the US to overseas hurt people, families and it hurt entire towns. Zkano was my voice to do so. I also had wanted to become a part of my family's business in some way for a long time. It all just made sense to me that I would start a brand of our own, hoping it would help our business to thrive once again, while allowing me to tell the story of Fort Payne.
Q: At the end of the day, you must feel really good about what you're doing. Does that feeling make all the hard work worthwhile?
A: Yes, what we're doing does feel worthwhile. It is a lot of hard work. Much like my parents were in the early days, I'm very hands on. I'm in our mill every day and often help with making samples, quality control checks, and really, I help out with whatever needs to be done. The to do list is long. We have a very small team, which both mom and dad are a huge part of. We all wear a lot of hats. It can be exhausting and I admit, there are times when I feel frustrations of being buried in the day to day workload. But then, I step back and remember how lucky I am to be doing what I feel as though is my life's calling.
Check out the complete Zkano line at Zkano.com