The 2013 Ford Focus ST. A fun, fast and yet practical, American auto package that competes with sport compact cars like the MazdaSpeed3 and the Volkswagen GTI. After spending the week with the Focus ST we were sad to have our time with it end. If you've never driven a proper, fast, front wheel drive manual car, a visit to your local Ford dealer may be in order.
Don't miss USA Love List's Made in USA Cars: A Guide to Buying an American Made Car, SUV or Truck!
2013 Ford Focus ST
The formula for cars like the Focus ST appears to be as follows: take a practical, economical, small car and add a pile of power. In addition to more power, throw in some sporty looks and make something that can still slide under your local radar gun while providing thrills on your favorite back road. The Ford Focus ST starts with the very good Focus five door hatchback. The standard Focus is one of the best small cars available today and adding sporty intentions takes nothing away from the basic car.
The critical difference, and the one that you should be willing to pay a bit extra to get follows: the basic Focus rarely makes you smile and the Focus ST provides wide grins every time you step on the gas. In addition for additional thrust the ST also provides hip hugging seats, distinctive looks, and razor sharp handling.
In today's world, it is rare for a front wheel drive car to provide an engaging driving experience. The Focus ST engages its driver in every way. First, you have to shift it yourself. An automatic transmission isn't offered on the ST. Second, when you turn the steering wheel, reactions are instantaneous and the most direct in its class. Third, everything you touch feels high quality and well designed. The steering wheel on the Focus ST is so pleasant to hold you may find yourself visiting your car when you're not driving.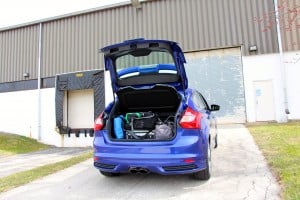 Looking for something fun to drive that is American made? Take a look at the 2013 Ford Focus ST.