Scent is a powerful trigger of memory. Amy Vance, owner of Vance Family Soy Candles knows this and has developed a line of candles around her love for each one of the United States. The American Scent Trip candles celebrate the uniqueness and beauty of each state through fragrance, based on Amy's memories of time spent there. I have had the pleasure of discovering countless American made products, all lovingly made, and this one stands out as one of the most special.
Smell is a wizard that transports you across thousands of miles and all the years you have lived. -Helen Keller
This quote graces each natural candle, poured into heavy glass then cleverly packaged in a cardboard cylinder resembling a native American drum. The package art features the shape of the state and its' major interstate highway. On the backside is a passage written by Amy of her fragrance inspirations.
Pennsylvania is mellow and sweet with honeysuckle, Hershey's chocolate, and the spicy cinnamon molasses of Shoo Fly Pie.
Oregon is crisp and intoxicating with coffee, hazelnuts, sage, marionberries, and Douglas fir.
California is light and verdant, full of bright fruit and citrus notes balanced with earthy Redwood and eucalyptus.
Appreciating each scent is as satisfying as tasting fine wines. As a bonus, each one includes a local recipe or fun facts about the state. Reasonably priced at just $16, I can't think of a more delightful American made item to have on hand for gifts or simply for personal enjoyment.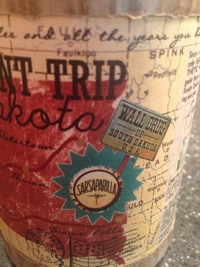 There are currently five states in the American Scent trips line: Washington, Oregon, California, Texas, Pennsylvania, & South Dakota. Eventually all 50 states will be depicted and you are invited to share your state along with your favorite scent memories in the comments below.  Vance Family Soy Candles also makes a wide variety of other candles including ones inspired by holiday drinks and cocktails, travel candles poured in tins, long-lasting spa candles, massage candles, and specific flower scents such as gardenia or rose.
All of Vance Family Soy Candles' products are made in Washington from renewable, non-GMO, biodegradable soy and organic essential oils and flavors. This means no dyes, no petroleum products, and no phthalates. They burn with low smoke, from cotton or paper wicks, packaged in heavy recycled glass. All of the packaging and products used in these candles are American-made and they donate at least 10% of profits to charity.
THE GIVEAWAY
Vance Family Soy Candles wants a USA Love List reader to win one of every candle in their collection. This includes all of the states currently available in their American Scent Trips line: Washington, Oregon, California, Texas, Pennsylvania, & South Dakota plus 18 more candles, with a value over $380.
Click the +1 button for further instructions on each entry. This giveaway will close at midnight on Thursday May 30. The winner will be randomly selected, verified for correct entry participation, and notified by email.
Disclosure: USA Love List received some products in this post unconditionally for review purposes. Our opinions are always our own, and we aim to write fair and balanced reviews to promote only the very best of American-made products. 
If you've already entered one contest on USA Love List, entering another will be even easier. Visit our Giveaways Page to find out about other active offers to join.