My family and I were recently given the opportunity to try out several brands of American made tech accessories.  The hubby, kiddos, and I have multiple laptops, tablets, and cell phones that we use at work, school and at home. Keeping all of these devices protected during transport, use, and even when not in use, is important to our wallets. 
Four American Made Tech Accessories We Love
Carved Phone Case
Consider one of these gorgeous phone cases from Carved in Indiana. Handcrafted using real wood and epoxy, each case is one-of-a-kind and is made to fit your specific phone. It truly is one of the best tech gifts on the market. Carved provides different options for you to select from, including traditional phone cases or live edge phone cases. You'll also find corresponding MAG wireless chargers. These products are swoon-worthy! Shop the Carved website or Amazon.
Timbuk2 Custom Prospect Laptop Pack
The Timbuk2 Custom Prospect Pack is made to order in San Francisco. This backpack, which I custom designed with this snazy pattern, is sturdy and well made.  There is even a zipper in the back where my Mac can be removed from the Pack without having to open the buckled front. You can learn more about the Timbuk2 Prospect Pack and enter to win your own, here.
Woodchuck Skins
Woodchuck laptop, iPad, phone and Kindle skins are made in Minnesota from 100% real wood. I LOVE the skin that Woodchuck personalized for my Mac! Not only does it look fabulous, but it takes a beating! I was afraid the wood would scratch, or even stain, since I have permanently sticky surfaces in my house thanks to the kiddos.  The Woodchuck skin just wipes clean with a slightly damp cloth.
WaterField Designs Tech Cases
WaterField Designs tech sleeves and cases are made in San Francisco.  I have the Tablet Slip Case for the Kindle. Our Kindle is primarily used by my kiddos and this case is easy for them to get the Kindle in and out of on their own. Plus it's waterproof, which protects the  Kindle from spills and possible leaks in their backpacks.
Shinola leather tech envelopes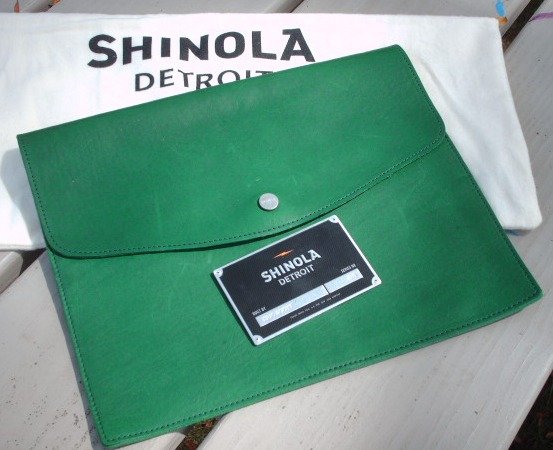 The Shinola leather tech envelope that I received from Detroit based Shinola was made in Missouri by Eric Scott, one of the top leather good manufacturers in America. This envelope is lightweight, soft, and well made. The hubby uses it to transport his iPad to and from work.
Make sure to check out the USA Love List's Gadgets & Tech Accessories Pinterest board for more American-made suggestions!
Follow USA Love List's board Gadgets & Tech Accessories, Made in USA on Pinterest.
Disclosure: USA Love List received products in this post unconditionally for review purposes. Our opinions are always our own, and we aim to write fair and balanced reviews to promote only the very best of American-made products.