It's not difficult finding a jaw-dropping American made wedding dress; the problem is in trying to decide which dress you want!
Find A Stunning American Made Wedding Dress
It's easy to assume the most beautiful and well-made wedding dresses are made in cities like Paris, but we're here to dispel that myth once and for all.
The best designers with mile-long degrees (and veils and trains) make their gowns right here in America. While some of their fabrics, embroidery, and lace might be globally sourced, these designers choose only the best details and then make their gowns here in the USA.
Why Buy A Wedding Dress Made in USA?
Buying a USA-made wedding dress ensures a number of important things:
You'll be working with educated, trained associates who know the product inside and out
The bridal experts will make recommendations specific to your requirements
They will not make promises they can't keep
If problems arise, they will communicate quickly with you
Associates work with seamstresses who can fit and alter your gown to your body rather than a million other bodies
The gowns are proudly made carrying the reputation and integrity of the designer
Working conditions are excellent and the employees receive fair compensation
You're supporting American companies with hard-working individuals
You're also supporting our American economy
What Kind of Wedding Dresses Can You Find?
You can find both off the rack, custom-designed, and custom-made gowns throughout the 50 states. Some of the gowns are traditional, some are eco-friendly, and some are more Avante Garde. Depending on your budget, some wedding dresses are more affordable, while others cost a pretty penny for your special day. You'll find gowns in all sizes and both formal and informal ceremonies.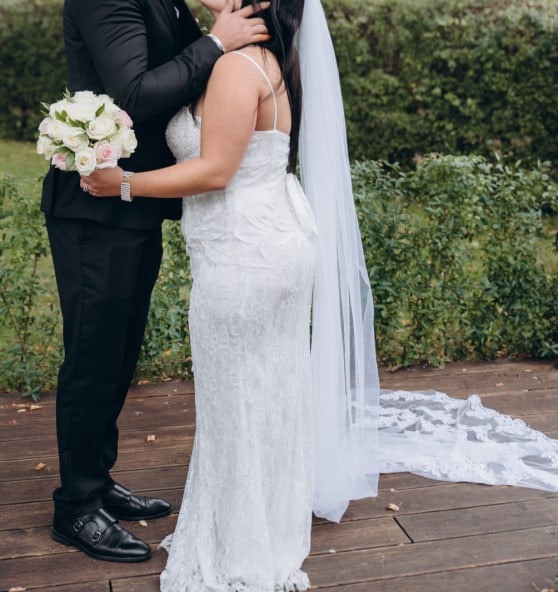 You'll also find wedding gowns in a variety of stores and salons. You can choose to buy a made in the USA gown at:
a department store such as Nordstrom, Niemen-Marcus, or Saks Fifth Avenue
select chain bridal stores
specialty bridal salons
specific designer ateliers
Some brides enjoy traveling to special destinations such as New York City, Chicago, or Los Angeles where they can experience shopping in bridal salons and ateliers that are geographically located near a favorite designer.
Begin Your Wedding Dress Shopping with USA Love List!
Since there are multitudes of retailers who carry wedding gowns, the choices can feel endless and overwhelming. To make your experience more enjoyable as your shop for one of the most exciting days of your life, we've done the research to help you narrow your focus.
Have questions? Need help? Don't hesitate to reach out! We will do our best to assist you.
Do you know of a wedding gown designed and made in the USA we haven't listed? Leave a comment and link in the section near the bottom of this article. We'll check it out!
Check out our other helpful wedding-related articles!

Pin this list to save it for later!
Pin this list to save it for later!