Not only are Better Life cleaning products safe for people, pets and the planet, but they work great too!
Better Life cleaning products were developed by two dads who decided they didn't like the toxic chemicals and residue that traditional cleaners left behind for their children to be exposed to. Their resulting products are a great line of safe cleaning products that are American made, Eco-friendly, plant derived cleaners, containing NO dyes, NO alcohols, NO synthetic fragrances, and NO petroleum based ingredients.
Better Life: A Growing American Company
The Co-founders of Better Life appeared on Shark Tank where all 5 Sharks offered them a deal.
Better Life safe and effective cleaning products are now available in Walgreens + Duane Reade locations (over 400 nation wide), more Target stores (450 nation wide), and a growing number of grocery and health food stores across the country. Find a store near you here.
Better Life has since doubled its manufacturing facility, been able to install solar panels AND has increased post consumer recycled content in its packaging.
We love to see an American made company succeed!
Why Americans Love Better Life Cleaning Products
People across the US are discovering how fabulous Better Life cleaning products are. Here is why I love them:
All Better Life cleaning products are made from plant derived ingredients.
All Better Life cleaning products are American made, cruelty free, sulfate free, and petroleum free.
All Better Life cleaning products are free of alcohol, dyes, and synthetic fragrance.
The Dish it Out Celery and Sage scented dish soap makes my dishes sparkle and smells good enough to eat.
I use What- EVER natural all purpose cleaner to clean everything, from the kitchen counter, to the bathroom sink, to the guinea pig cage.
I feel safe using Even the Kitchen Sink natural cleansing scrubber on the tub right before my kids take a bath.
Have you given Better Life safe and effective cleaning products a try yet? Once you do, you'll be hooked!
Oh, and keep an eye out for the new Better Life labels, rolling out this summer- same great product, cool new look!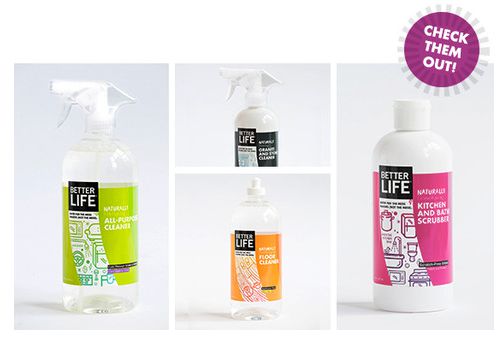 The Giveaway
Enter now to win Better Life products worthy of cleaning every room in your house! The winner will receive:
What-EVER Clary Sage and Citrus All Purpose Cleaner, 2 bottles, 32 oz each
Dish It Out Clary Sage and Citrus Natural Dish Soap, 2 bottles, 22 oz each
Simply Floored Natural Floor Cleaner, 1 bottle, 32 oz
Even the Kitchen Sink Natural Cleansing Scrubber, 1 bottle, 16 oz
I Can See Clearly, WOW! Natural Glass Cleaner, 1 bottle, 32 oz
Oak-Y Dokey Natural Wood Cleaner, 1 bottle, 160z
There are a variety of entry options including opportunities for multiple daily entries. Good luck!
Click the arrow buttons for further instructions on each entry. This giveaway will close at midnight on Thursday, July 30th. The winner will be randomly selected, verified for correct entry participation, and notified by email.
If you've already entered one contest on USA Love List, entering another will be even easier. Visit our Giveaways Page to find out about other active offers to join.
Disclosure: USA Love List received some products in this post unconditionally for review purposes. Our opinions are always our own, and we aim to write fair and balanced reviews to promote only the very best of American-made. Follow USA Love List's board Make it Shine! on Pinterest.