Celebrate the Fourth of July everyday with patriotic scented candles from David Oreck Candle Co.  Enter to win one now. These candles make great gifts too.
David Oreck Candle Co. Patriotic Candles
Does the name David Oreck sound familiar to you? Maybe you own or have heard of Oreck vacuums. Yes, this is that David Oreck, and in 2009 Mr. Oreck founded  David Oreck Pure Air Candles.
What makes David Oreck Candles different from other candles?
All David Oreck Candles are hand poured in North Carolina. Mr. Oreck likes to say " From our clean factory to your home!"
All candles are made with an exclusive 100% soy formula, so they burn clean all the way down with no sooty smoke.
The lead-free candle wick, like the wax blend, is made in the USA.
The wide wick design on all candles creates an even, clean burn.
All candles are created with burn time enhancement; soy candles burn evenly- no "tunneling", soy candles burn longer- 16oz candles burn for up to 100 hours, 22oz candles burn for up to 150 hours.
David Oreck Candle Co. Patriotic Candles will bring a touch of Americana to your home all year long! The Patriotic Candles are available in 2 sizes; a 12oz hourglass with the extra wide wick for double the fragrance throw, and the 22oz Celebration Patriot candle with 4 wicks. Both Patriotic Candles are made with three layer scents: the red layer is Apple scented, the white layer Vanilla, and the bottom blue layer has a blue bells floral scent.
David Oreck Candle Co. July Promotion: Buy 2 12oz Patriot candles and get a 10oz Mango Pineapple candle for FREE!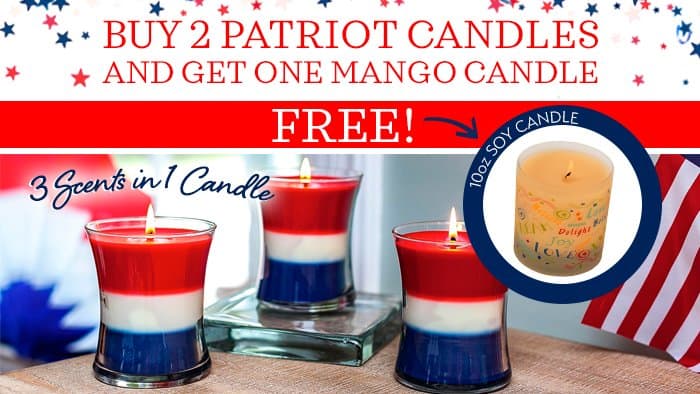 Tweet your thanks to this company for keeping their products made in the USA:
THE GIVEAWAY
Enter now to win the David Oreck Candle Co. 22oz four wick Celebration Patriot scented candle, valued at $47.50.
There are a variety of ways to enter this giveaway including opportunities for multiple daily entries. Good luck!
Click the arrow buttons below for further instructions on each entry. This giveaway will close at midnight on July 19, 2018. The winner will be randomly selected, verified for correct entry participation, and notified by email.
If you've already entered one contest on USA Love List, entering another will be even easier. Visit our Giveaways Page to find out about other active offers to join.
Disclosure: This is a sponsored post which USA Love List is proud to share with you because, sponsored or not, we only share stuff we love.