Are you surprised this stylish outfit is fashionable and eco friendly? Dress from head to toe in eco friendly fashion. It's always the chic thing to do. Have you ever noticed how many supposedly environmentally friendly products are made overseas?  Foreign-made products have a larger carbon footprint and less accountability in ingredients or materials and labor practices. You can count on USA Love List to identify earth-friendly items you can be truly proud to own. Here are my favorite eco fashion finds, all American-made:
Five American Made Finds from Eco Fashion Labels
Kris Nations Chevron Cuff from Eco Lustre is handmade from recycled 14k gold which is laid over recycled brass. I love this eco-friendly bracelet!
Code USALOVE saves you 10% off at EcoLustre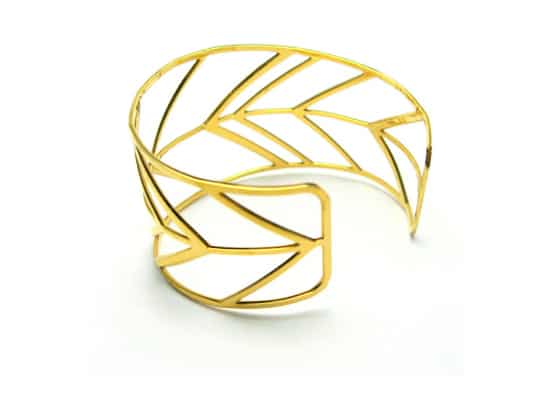 Jess Rizzuti Fiona Baguette Clutch – I love the natural cork body of this bag. While the bag is in neutral colors, it's stylish enough to be the focal point of your outfit. I get so many compliments when I wear it out too!
Fashion scarfs are in style again this year and a Beau Monde Organics scarf makes the perfect gift for the Lux Lady on your list! Beau Monde Organics scarves are handmade from organic cotton and organic thread. The unique designs are printed with environmentally friendly dyes. I LOVE my scarf. It is super soft and comfortable to wear.
Julie Bee's Platinum Leather Pump – Not only are these pumps SUPER cute, but the leather is vegetable-dyed so Julie Bee's is able to eliminate the use of harsh chemicals. All its shoes, include the flats and wedge sandals are made in California.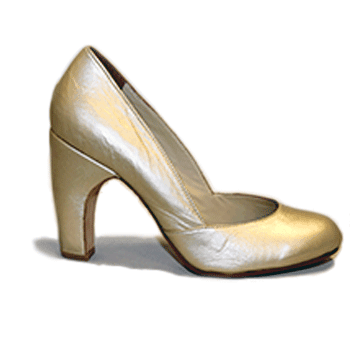 tenoverten offers a really rich and luxurious nail lacquer. The polish goes on smoothly, is color rich, and stays on long. The Elizabeth color is also aluminum free. The color is pretty sick – I highly recommend it! If you're ever in New York City, check out the brand's exclusive nail salons in SOHO, Tribeca, or Midtown. tenoverten products are also cruelty free, vegan, and made in the USA in a factory that honors the Leaping Bunny Program manifesto.
If we missed any eco fashion brand you love in our list, be sure to tell us about it in the comments! And don't miss our eco-jewelry source guide.
Disclosure: This is a sponsored post which USA Love List is proud to share with you because, sponsored or not, we only share stuff we love.