This giveaway is one you don't want to miss! This week we are partnering with Americraft Cookware the maker of heirloom quality 360 Cookware and 360 Bakeware, handcrafted in the USA. 360 Cookware and 360 Bakeware are perfect for people who buy for quality and who have a passion to support American industry.
360 Cookware & 360 Bakeware
American Made
360 Cookware & 360 Bakeware items are all handcrafted by experienced craftsmen at the Americraft Cookware manufacturing facility in West Bend, Wisconsin. By keeping their cookware & bakeware manufacturing in the USA, Americraft Cookware helps to employ 9,000 Americans, and nearly all of their product's supply chain is sourced in the USA.
At 360 Cookware, they know that you want to be an exceptional home chef. In order to do that, you need the best cookware to help you create meals you and your family will love. The problem is, most people's cookware is inefficient and worn out which makes you feel frustrated. The 360 Cookware Team believes your kitchen is the best restaurant in town so it should be equipped with the best tools. They understand how much joy cooking can bring to you and how good it feels when someone asks you for seconds which is why we've equipped over 60,000 kitchens just like your's with heirloom quality cookware.
Save 20% off your 360 Cookware & 360 Bakeware order now with discount code USALOVE – No expiration date.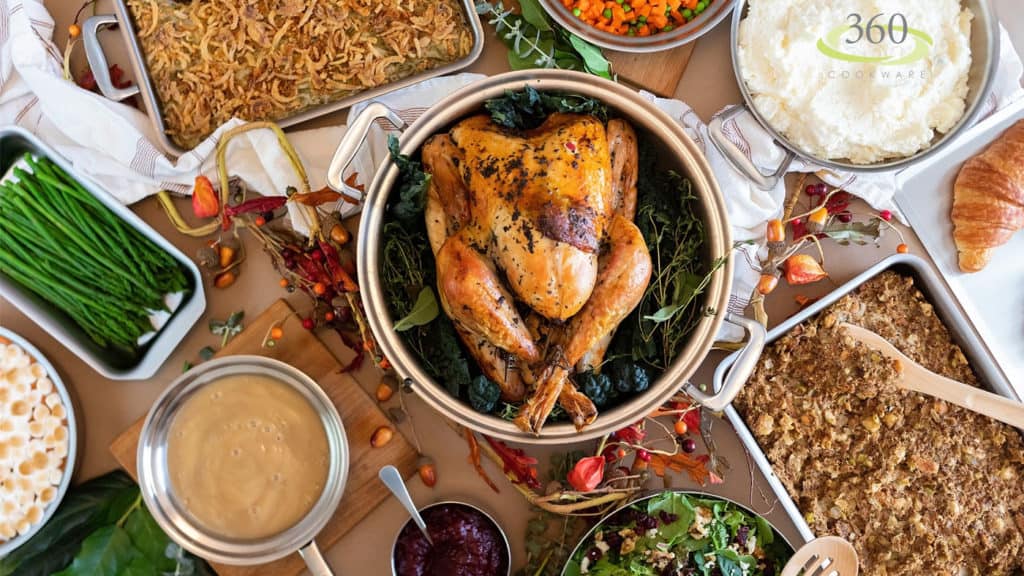 360 Cookware & 360 Bakeware Vapor Cooking: A Healthier Way to Cook
360 Cookware & 360 Bakeware products are nothing like the pots and pans you will find in your local big-box store. Not only are they crafted with high quality, American sourced stainless steel, but they are designed with technology for a different kind of cooking- Vapor Cooking.
Vapor cooking heats food faster and at lower temperatures, locking in flavor and nutrients and eliminating the need for added oils or fats. Wait, what?! That's right, no need for added cooking oils. With waterless cookware, a vapor seal is generated that perfectly distributes temperatures and re-directs the natural moisture back into the food.
Since 360 Cookware & 360 Bakeware pots and pans are made of T-304 Surgical Grade Stainless Steel, food never comes in contact with non-stick coatings or other hazardous elements that can seep into it while cooking.
With 360 Bakeware vapor cooking, you can even bake on your stovetop! How cool is that?! Baking on the stovetop uses less energy than oven baking, and in the summer you don't have to worry about adding extra heat to the house.
Tweet your thanks to 360 Cookware for keeping their products made in the USA:
THE GIVEAWAY
Enter now to win the made in USA 360 Cookware 6 Quart Slow Cooker Set, valued at $359.00.
The 360 Cookware 6 Quart Slow Cooker Set includes the 6 Quart Stock Pot with Cover and cooking base. The stock pot can also be used on an oven top and is oven safe for up to 500 degrees. This slow cooker set is a favorite for those who like to have family dinner slowly cooking while at work all day.
There are a variety of ways to enter this giveaway including opportunities for multiple daily entries. Good luck!
Click the arrow buttons below for further instructions on each entry. This giveaway will close at midnight on November 18, 2021. The winner will be randomly selected, verified for correct entry participation, and notified by email.
a Rafflecopter giveaway
If you've already entered one contest on USA Love List, entering another will be even easier. Visit our Giveaways Page to find out about other active offers to join.
Disclosure: This is a sponsored post that USA Love List is proud to share with you because sponsored or not, we only share stuff we love.