A lot of people have been asking us about disposable kids face masks made in the USA. For a while, I was telling them that this was one of those products that could not be found and I was directing them toward the many, many reuseable options in our ultimate source list of face masks for kids. But I have recently discovered a source for pediatric disposable masks and I am glad to report that it is an excellent one.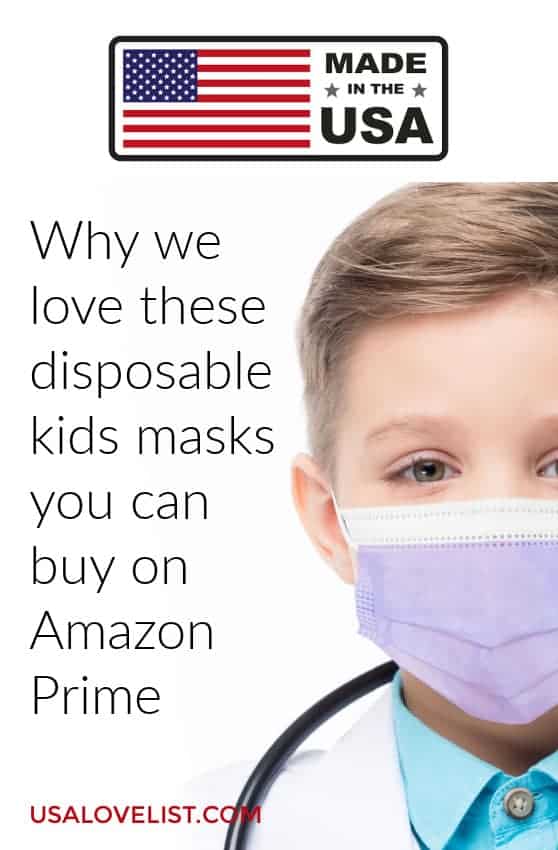 In general, I have been a huge fan of the many variations available in the form of washable cloth masks. They are environmentally responsible and they have been a key revenue source and a way to keep the doors open as an essential business for many struggling American companies. But I will admit that a high-quality disposable mask can't be topped for feeling light and breathable. On top of that, add a flexible nose wire and they have been proven to be among the most effective choices.
What is the best face mask for kids?
Kids are back in school and as activities start to resume, let's be honest – there's only one thing that matters: will they wear it? The best mask is the mask they will wear. Give a good quality American made disposable mask a try. Many people have found that for all-day wear at school and at work, nothing beats a lightweight disposable mask for comfort and breathability. Until recently, small child sized disposable masks were hard to find. And if you did find them, they were from questionable imported sources manufactured under unknown conditions and who knows if they would be available when you need more? We did a little dance when we found these masks, available in six fun colors, made in San Diego.
Fun colors and its ok if they lose it
A disposable mask designed for kids offers that unicorn of features – it is light, breathable, easy to put on, comfortable, effective. And, um… kids lose things! So a box of 50 sounds just about right. To add to the fun, these particular masks come in several colors. Kids do love choices. If my kids were still little, I'd be ordering a box in each color. If I were a teacher or a school, I'd be ordering these by the case.
Why are Made in USA disposable kids face masks so hard to find?
The reason why disposable kids face masks have been essentially impossible to find until now is because… can you guess? It's because they were all made in China, or other overseas countries. I was thrilled to find this company, Lutema, making disposable masks here in San Diego. They make disposable masks for adults too, by the way.
These are available in boxes of 50 or 100 in a choice of five gender-neutral colors: black, light blue, green, purple, and red. They have a nose bridge wire and ultra comfy ear loops designed for kids ages 4-14. They are on Amazon Prime with fast shipping and free returns if your little one doesn't love them.
Pretty cute, right? Go ahead and click through to check them out because they come in six different colors that definitely look more ready for school and playground than a doctor's office. Jealous? They make them for adults too. Find them here.
These masks are also featured, along with many washable and reuseable choices, on our Made in USA Masks for Kids Ultimate Source List and the ever-growing list of face covers for kids and adults that is our American Made Masks Source List.
We started these lists when imported masks were impossible to find. Many small American manufacturers jumped into action to help their communities, their local healthcare workers, and simply to keep their workers working. They learned to make masks to fill the need.
Continuing to support American companies now, even though cheap imports are now available, is an easy way to keep your family safe and to say thank you to American businesses for being there when we needed them. They need us now more than ever.