Winter is coming and nothing beats the feeling of getting into a cozy bed on a cold night and wrapping yourself in the comfort of perfect bedding! For our latest 'Made in USA' giveaway we are partnering with American Blossom Linens, a maker of high quality, eco-friendly bedding.
American Blossom Linens
Made in Georgia for 122 Years
American Blossom Linens started in 1899 as a company that was built on the principle of creating quality products cost-efficiently. They cut the retail establishment out of the business, so products are shipped directly to the consumer from the manufacturing facility in Georgia. American Blossom Linens has managed to sustain this principle 122 years later while keeping their manufacturing in America when competitors moved their manufacturing overseas.
From Farm To Bed
All American Blossom Linens sheet sets, pillowcases, blankets, duvets, and baby bedding are made sustainably from farm to bed. They are chemical-free (no formaldehyde) and environmentally friendly. The supply chain is completely sourced in the USA, starting with the cotton, which is 100% American grown and organic. All bedding is processed, finished, and shipped in the USA, drastically reducing the carbon footprint. The company's owners even personally know everyone that makes their products.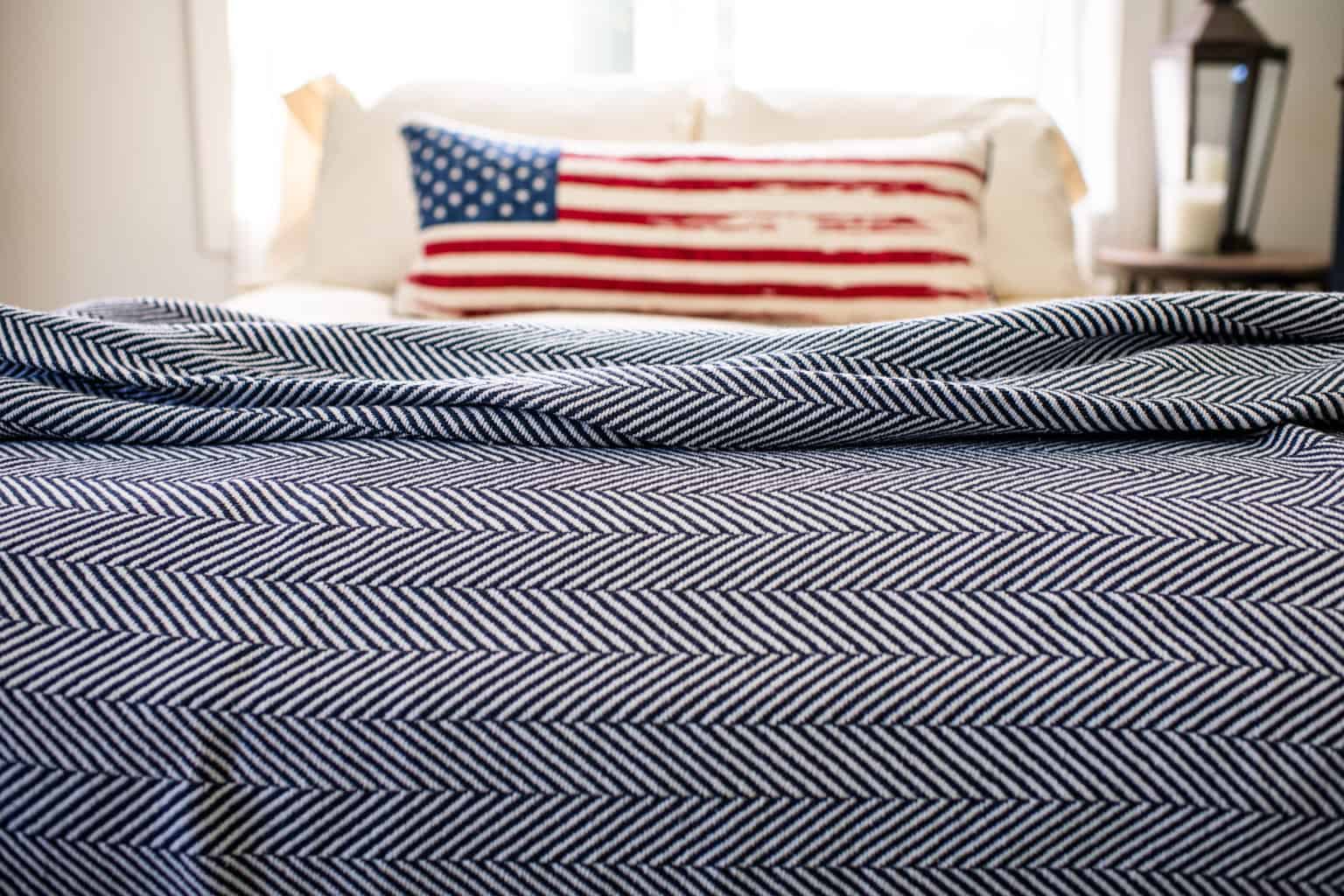 Modern Vintage Cotton Bedding
American Blossom Linens' modern vintage bedding has a timeless style. It is woven to last a lifetime and the organic cotton percale weave sheets get softer with every wash. The sheet sets are generously sized to fit today's luxury beds. The fitted sheets have deeper pockets, and the "Top" or "Bottom" labels make putting them on and keeping them in place a total dream. The top sheets are considerably larger in both width and length than most others, which ensures a secure tuck top to bottom and side to side. All Queen and King bedding sets come with four pillowcases, because for real- who only has two pillows on beds of these sizes?! The cotton blankets are classic herringbone weave and are warm and cozy for anywhere in the home. American Blossom Linens even has chemical-free organic cotton crib sheets and baby blankets. All products always ship for free and American Blossom Linens has a Happiness Guarantee that includes a two-year risk-free trial.
Use promo code USALOVE20 for 20% off your American Blossom Linens order. Offer good only from November 22, 2021 to December 10, 2021.
Tweet your thanks to this company for keeping their products made in the USA:
THE GIVEAWAY
Enter now to win a set of American Blossom Linens Classic American Made Organic Cotton Sheets, choice of size, valued up to $345.
There are a variety of ways to enter this giveaway including opportunities for multiple daily entries. Good luck!
Click the arrow buttons below for further instructions on each entry. This giveaway will close at midnight on December 9, 2021. The winner will be randomly selected, verified for correct entry participation, and notified by email.
a Rafflecopter giveaway
Disclosure: This is a sponsored post which USA Love List is proud to share with you because, sponsored or not, we only share stuff we love.