Today's American made giveaway is sponsored by Barn Light Electric. Last December we introduced USA Love List readers to Barn Light Electric's handcrafted porcelain enamel mixing bowls. Today, we are excited to be a part of another Barn Light Electric new product launch!
Porcelain Enamel Serveware: Made in the USA
Located in Titusville, Florida, Barn Light Electric played a role in reviving the American production of the porcelain enamel lighting fixtures that were popular in the 20s and 30s. Barn Light Electric's handcrafted, vintage style indoor and outdoor lighting fixtures are known worldwide and are featured in our own American Made Lighting: The Ultimate Source List.  Today,  Barn Light Electric has grown into a company that offers vintage inspired porcelain enamel home decor items, like the new Porcelain Enamel Serveware Collection, as well.  Barn Light Electric has recently introduced new pieces to their Serveware Collection that includes cake stands and serving platters. They have added a new Bakeware Collection that features porcelain enamel pie plates, and will soon be introducing canister sets.  Barn Light Electric has introduced a new paint dipped pattern  choice to their popular Dinnerware Collection. There are so many new vintage inspired porcelain enamel kitchen items to choose from made in the USA by Barn Light Electric! There is sure to be something for a loved one on your holiday shopping list (if not something for YOURSELF)!
What do we love about the new Barn Light Electric Porcelain Enamel kitchen items?
The vintage look and feel of the Barn Light Electric Porcelain Enamel kitchen items (dinnerware, serveware, and bakeware) would fit perfectly with my, I mean anyone's, retro or classic inspired kitchen decor.
The new Serveware and Bakeware collections both complement the Barn Light Electric Dinnerware Sets. 
Each porcelain enamel Barn Light Electric piece is handcrafted in Florida by skilled craftsmen from high quality commercial grade steel, then fused with food safe porcelain enamel.
Purchasers can chose interior (black, white, or same) and exterior colors (up to 9 colors to decide from).
There are also 2 styles to choose from; the speckled graniteware style (my favorite!) or the solid enamelware style and now the new dip dyed paint scheme that is available on the dinnerware. It's really like designing your own dishes- how cool is that?!
The porcelain enamelware pieces, dishwasher safe, and oven safe (up to 450 degrees).
Oh the memories!! These kitchen pieces remind me of porcelain enamel pieces that my grandmother had when I was growing up. I am sure she had owned them for ever,  just as I am sure that the new Barn Light Electric kitchen pieces will last forever as well!
The Barn Light Electric vintage inspired porcelain enamel kitchen pieces will make a great gift for the baker and and entertainer on your holiday shopping list!
Tweet your thanks to this company for keeping their products made in the USA:
THE GIVEAWAY
Barn Light Electric is offering one reader a vintage inspired porcelain enamel cake stand, valued at $50-$70. The winner will be able to select size of 10 inch or 12 inch, color and choice of style- solid enamelware or speckled graniteware.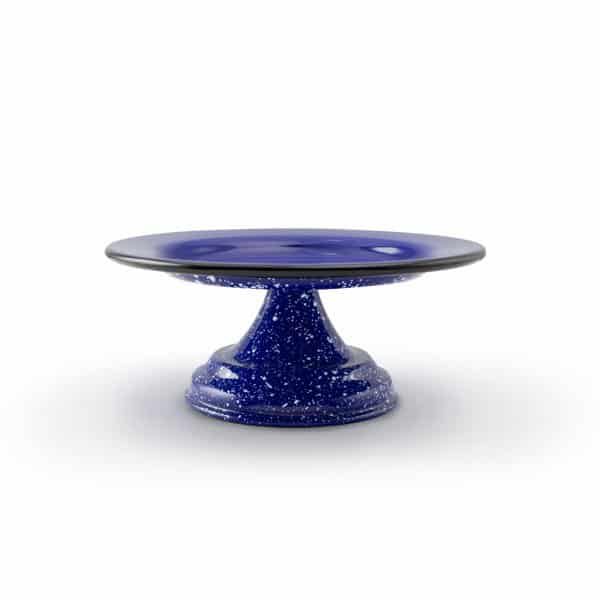 The porcelain enamel 10 inch cake stand is  shown here in the speckled graniteware style with Blue Cobalt plate top finish and Cobalt Blue with White base finish. 
The porcelain enamel 12 inch cake stand is shown here in the solid enamelware style with White plate top and Delphite base.
There are a variety of ways to enter this giveaway including opportunities for multiple daily entries. Good luck!
Click the arrow buttons below for further instructions on each entry. This giveaway will close at midnight on Thursday,December 8, 2016. The winner will be randomly selected, verified for correct entry participation, and notified by email.
If you've already entered one contest on USA Love List, entering another will be even easier. Visit our Giveaways Page to find out about other active offers to join.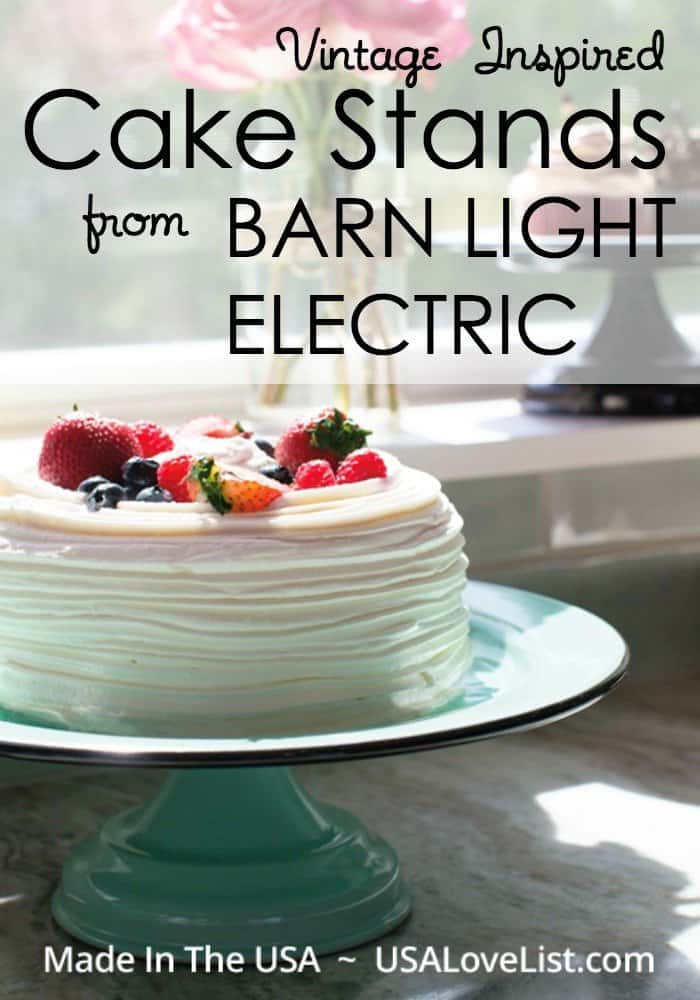 Disclosure: This is a sponsored post which USA Love List is proud to share with you because, sponsored or not, we only share stuff we love.