If you love to eat, and you love to eat well, you know that great meals start with the best ingredients and involve the right equipment. It takes time to acquire all the essentials for a complete gourmet kitchen, especially if you are trying to find the best Made in USA options out there. From the amazing Blendtec blender to the best coffee maker and gourmet foods, we found the best foodie gifts, all American made that are sure to be loved.
Best Foodie Gifts, All American Made
For the Caramel Lover
If you haven't heard about Sweet Jules Caramels, you're absolutely missing out. This Minnesota-based company, run by two sisters, was born from a long line of chefs and foodies, and it only takes indulging in their caramels to know that they have good taste and talent. Sweet Jules offers flavors that you'd expect from a caramel company, like Salted Caramel and Vanilla Bean, but they also have more unique offerings like Beer & Pretzel and Bananas Foster. With variety like this, there's really no palate that won't be pleased by these sweet treats.
Our personal favorite was Fleur de Sel, Dark Chocolate, and Salted Pecan, which has a buttery caramel base, dark chocolate top, and chunks of salted pecans sandwiched between the two layers. We loved these caramels for their homemade taste. We also appreciated their polished packaging, which includes a fun color-coated flavor chart so you drown in the caramel possibilities, making it perfect for gift-giving and sharing with others. If our descriptions aren't swaying you, take a look at the drool-worthy photos, which will definitely leave you wanting to satiate your next sweet tooth hankering with a box of Sweet Jules Caramels.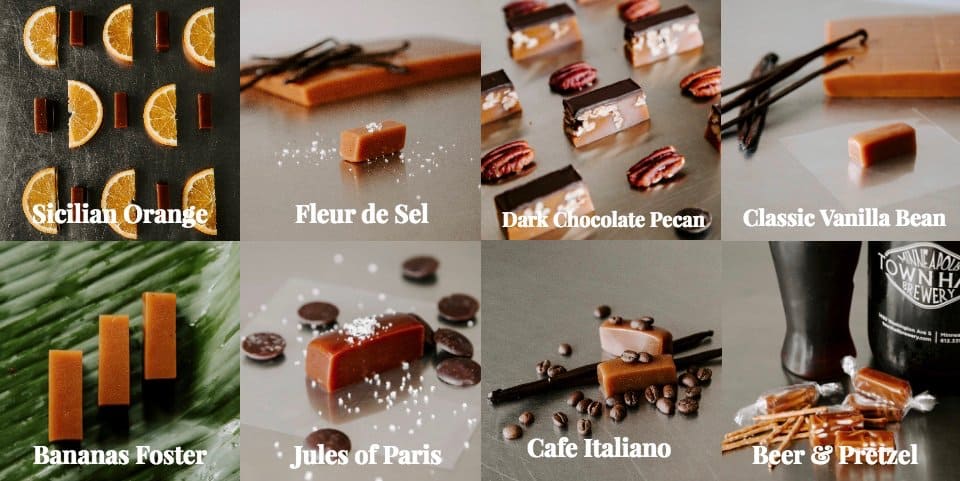 For the Everyday Cook
As a self-proclaimed foodie and cook, I know the importance of having the right equipment when cooking.  Alfi High Performance Kitchen Knives are strong, razor-sharp, and cut very well. I love using them every day. These knives are made in the company's family-owned, lean facility in California.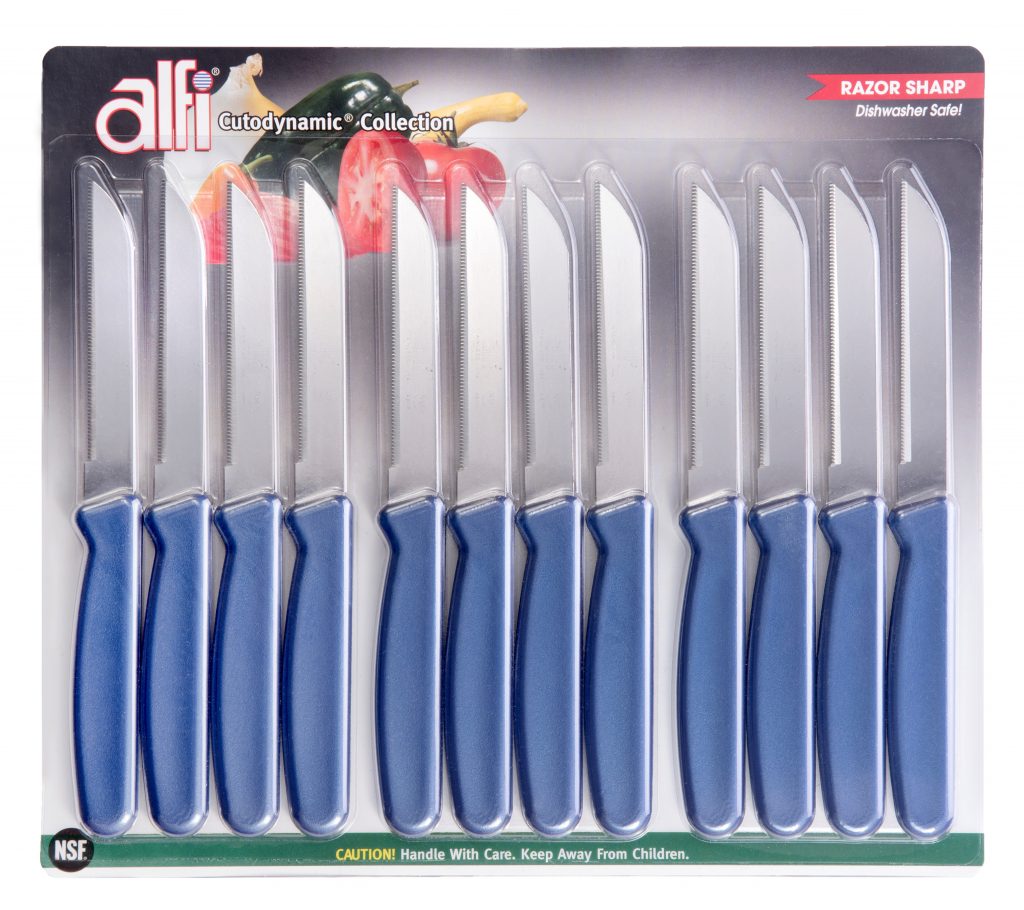 Lodge Manufacturing Company's cast iron products are everlasting ones.  Their line offers everything you need for oven and stovetop cooking, grilling, and a wide variety of baking products. These made in USA cast iron pans are a great way to ease into the joy of cast iron cooking. The brand makes all its goods in Tennessee.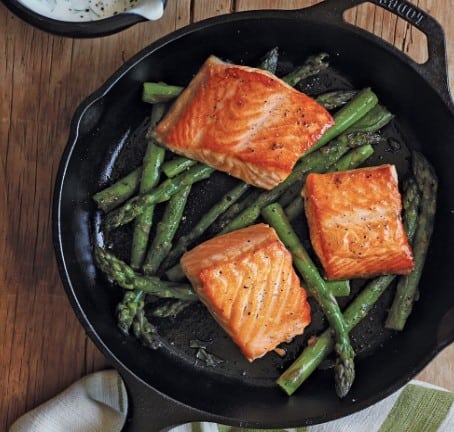 For the True Cook
I use my Blendtec at least once a day. From smoothies, bulletproof coffee, cocktails, or dips and sauces, there's always a reason to utilize this blender.
For the Entertainer
Simple, elegant, and sure to last a lifetime, Holland Bowl Mill's Cherry Live Edge Presentation and Cutting Board is a must-have piece that should be part of every entertainer's repertoire. This cutting board has an amazing finish, beautiful grain, and soft, supple texture. Each one of our live edge cherry cutting boards has its own unique rustic style. This reversible cutting and presentation board is perfect for prep and serving while taking up minimal space on the table. These one-of-a-kind boards make great wedding, anniversary, and housewarming gifts or, purchase one for yourself! We finish our boards with food-safe mineral oil and apply our famous bee's oil to each board.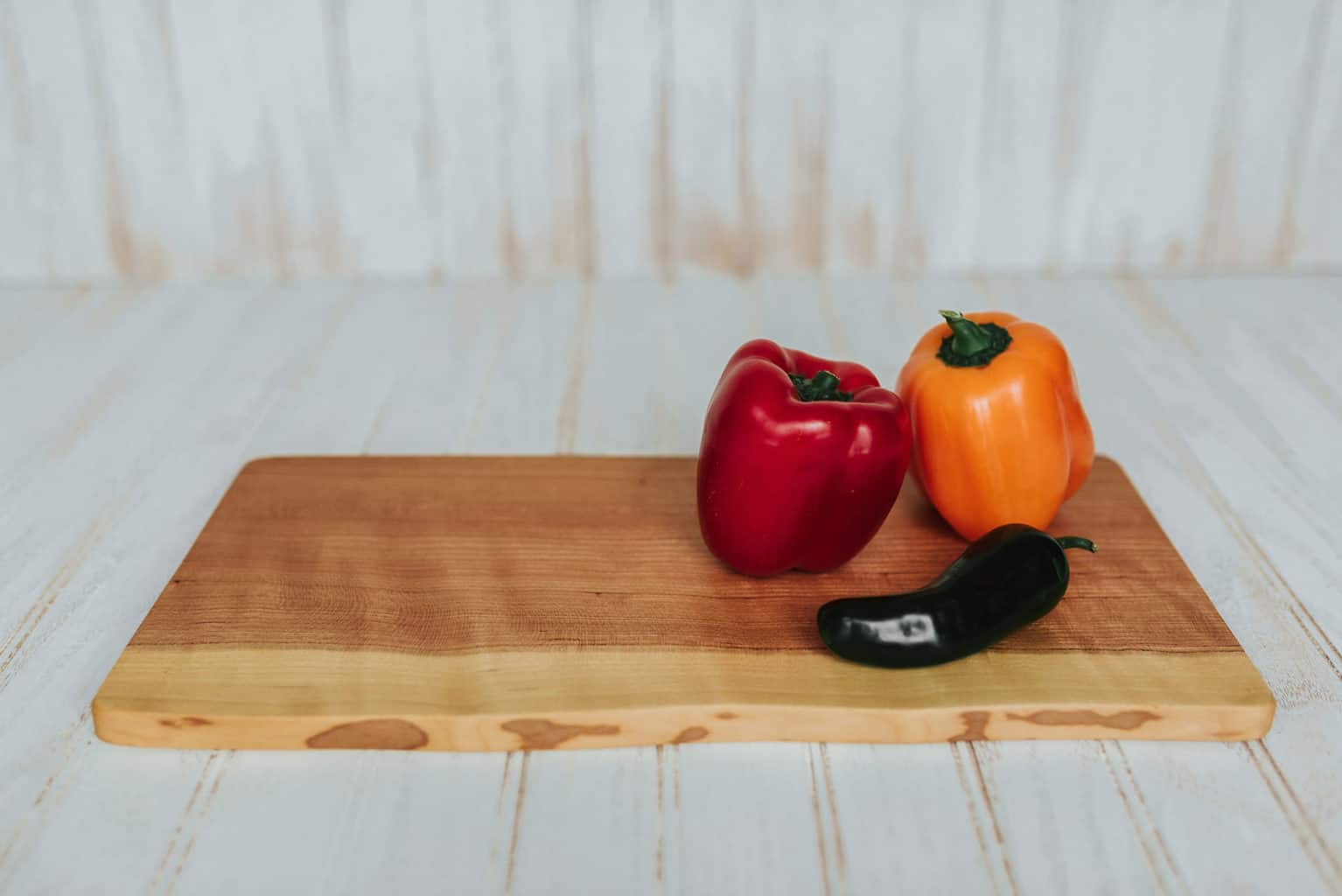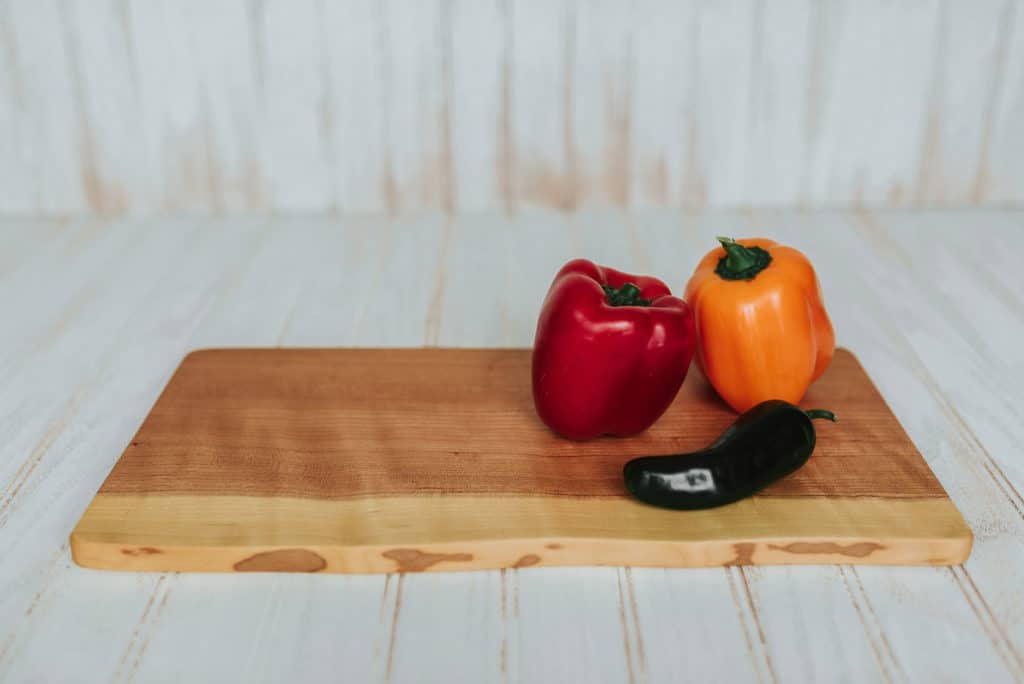 Perfect for everyday use or entertaining, Fiesta Dinnerware standouts with a huge range of colors for coordinating or mixing and matching. Homer Laughlin China Co has been manufacturing timeless Fiesta dinnerware collection in West Virginia for over 100 years. The Entertainment Set is serving guests and family and friends, alike. It includes cobalt, lemongrass, lapis, and turquoise trays with a sunflower bowl.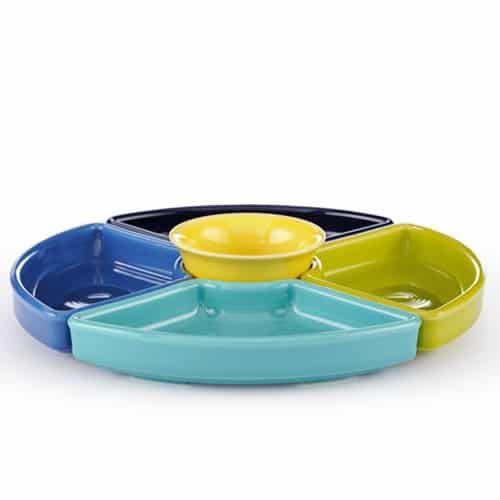 For the Creative Cook
If you know someone who loves cooking with high-quality ingredients to craft new recipes that delight and satisfy the taste buds, get acquainted with Hayden Flour Mills products. I love Hayden Flour Mills Yellow Corn Polenta for its texture. It's actually very hard to find coarsely ground polenta, and I couldn't be happier that Hayden Flour Mills makes a traditional ground polenta for me to make fried polenta with red sauce and peppers and onions. The corn is stone milled from the highest quality non-GMO corn grown by the Ute Tribe of Colorado, on tribal land just northeast of the Arizona border. Delight your taste buds.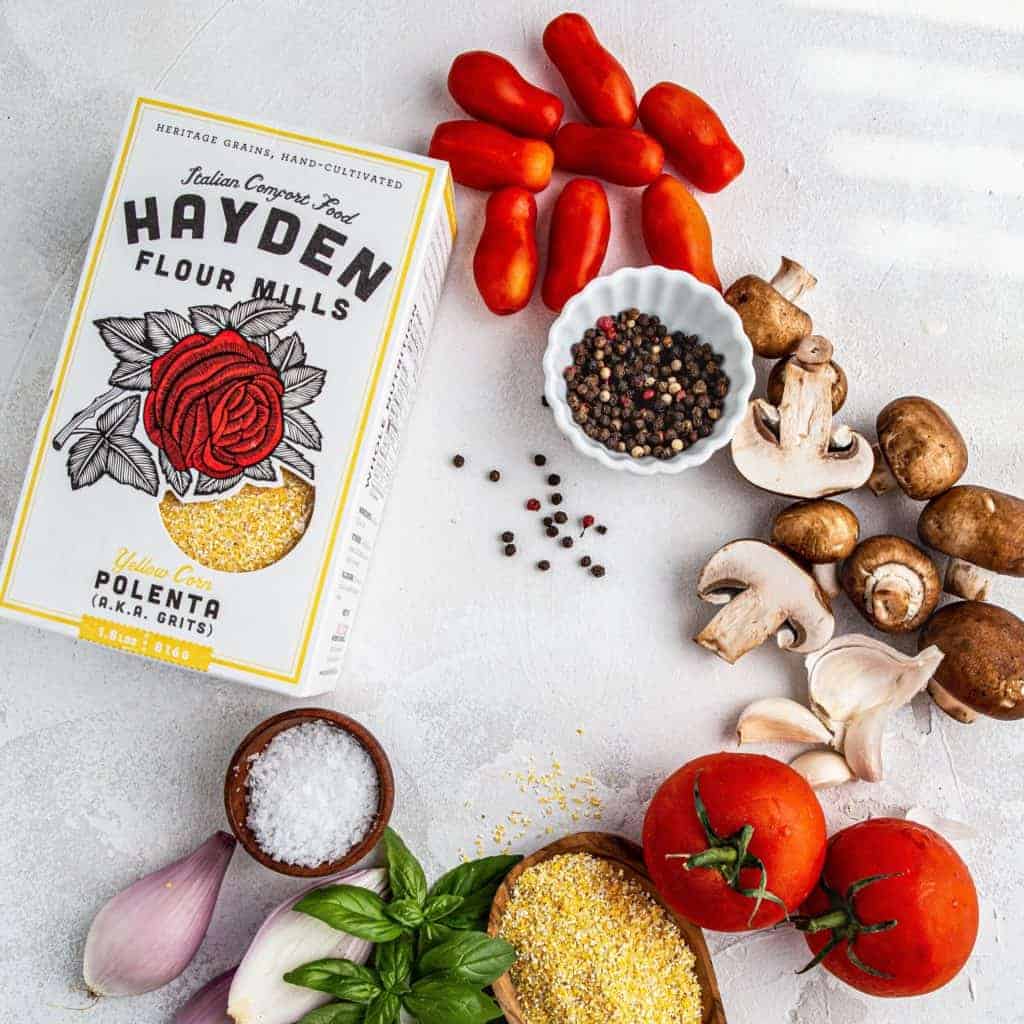 For the Date Lover
If you love fresh dates, ditch the plastic filled boxes from the grocery store and upgrade to these incredibly soft, succulent, and sweet dates from Rancho Meladuco. These are the best dates I've ever had! Share this sweet California Date Giftbox with someone special in your life who loves cooking sweet and savory dishes. It's fun to see all the creative recipes developed by others to celebrate dates. This gift box is the whole package: A 2 lb. box of plump & juicy Rancho Meladuco medjool dates adorned with seasonal satin ribbon & mini bamboo tongs, 2 bottles of luscious & rich Just Date Syrup, and a copy of our new California Date Cookbook.  This gift box celebrates all things California dates and is sure to be loved.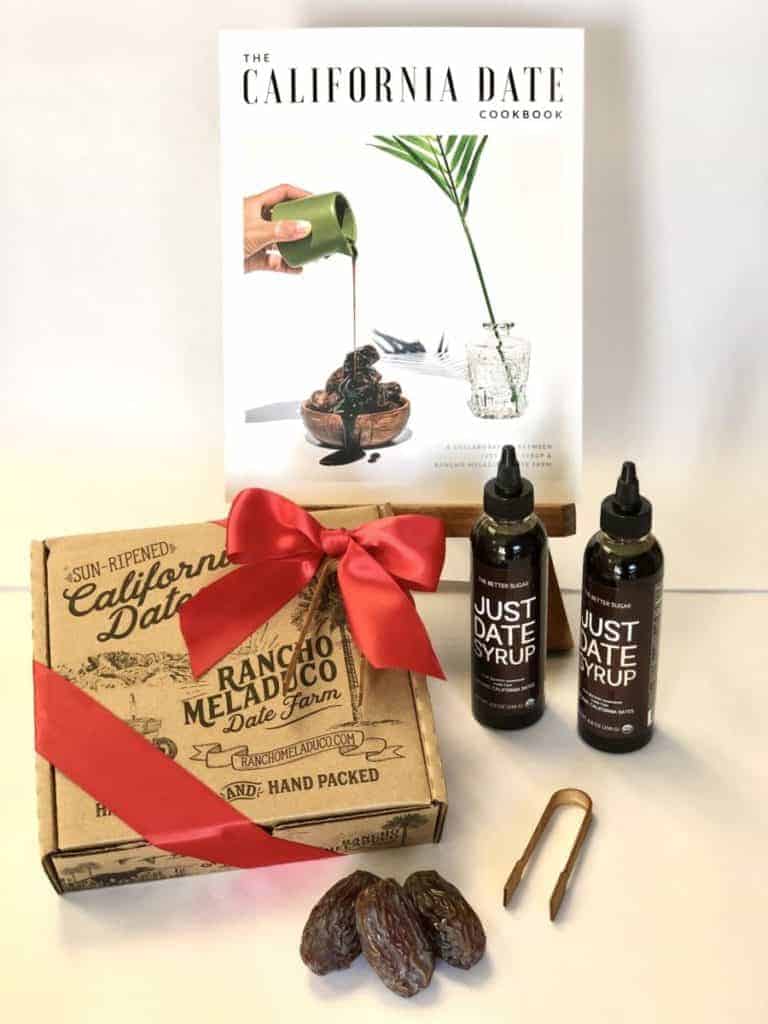 For the Tea Lover
Get organic, non-GMO, Fair Trade tea through Plum Deluxe Tea of the Month Club. Each month Plum Deluxe sends a hand-blend, fresh, special limited-edition tea for tea club members only. One of the brand's signature blends, Oregon Black Breakfast Tea, featured below, is made with black and honeybush tea, orange peels, and hazelnut essence, which offers anti-inflammatory and anti-oxidant benefits. This unique tea blend offers balanced tastes with deep, mellow, citrus, and nutty flavors from the black tea, honeybush, orange peels, and hazelnut essence, respectively.  Plum Deluxe tea blends are blended by hand in Portland, Oregon, and make a perfect American made gift for the tea lover.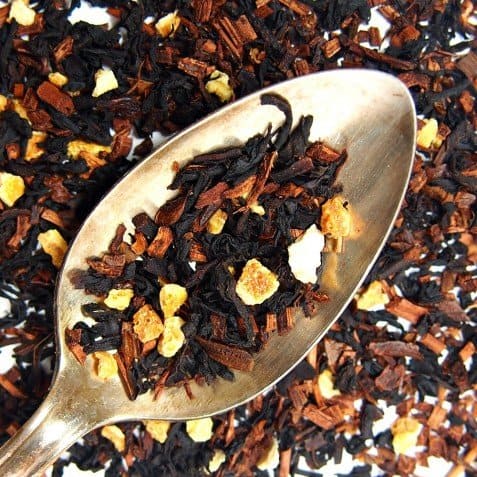 For The Bone Broth Enthusiast
Nona Lim makes excellent bone broths and I cannot begin to tell you how flavorful these gluten-free, non-dairy broth bases are. My personal favorite of the broths is the Thai Curry and Lime broth. It's made with all organic, non-GMO ingredients, including vegetable broth, coconut cream, lime juice, chicken broth, fish sauce, organic cane sugar, and kosher salt, dried chilis, and lemongrass. The broth has a balanced yet complex flavor that is bursting with taste from the lemongrass and lime. Pair it with leafy greens and your choice of protein to make a completely gluten-free meal. Buy them online at Nona Lim or find them at your local Whole Foods Market. 
For The Coffee Connoisseur
For anyone who loves their caffeine jolt, Aerobie Aeropress, made in California, is a must-have. I'm really picky about my coffee and the Aeropress makes a great cup of coffee or espresso, depending on how strong you like your coffee. You won't be disappointed with your cup o' joe if you use Aeropress. It's also perfect for traveling too because it's so compact. Don't forget about the coffee lover on your gift list– they will love the Aeropress.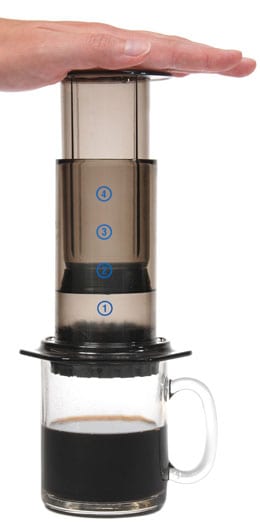 For the Wine Enthusiast
Take the edge off and unwind with In Good Taste. Take a grape journey around the world one cost-friendly sip at a time with the California Wine Mixer Collections by In Good Taste. It  will transport their senses to the sun drenched slopes of the west coast as they sample their way through 8 wines ranging from Sauvignon Blanc to Syrah. These single serve bottles are an amazing way to try new varieties and/or have a glass of wine without opening a full bottle! Uncork the magic and broaden your palate with In Good Taste's single serving bottles!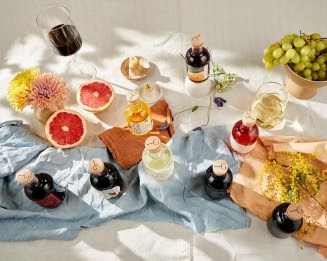 For the Cheese Connoisseur
I love Cabot cheeses for their creamy texture and nutty flavor. They make great snacks by themselves, or for a complete appetizer to serve with other food pairings. If you're looking for a cheese to have on hand, the Clothbound Cheddar is a perfect choice. It took first place at the American Cheese Society in 2013. Cabot Cheese is a cooperative owned by 1,200 farm families. The milk for the Clothbound Cheddar, shown below, comes from Kempton's Farm in Peacham, Vermont.
For the Flavor Seeker
It's never a bland moment with Yai's Thai's, Whole30 Approved, and gluten-free hot sauces and salsas. We love that Yai's Thai uses simple and healthy ingredients without sugar or artificial ingredients. Yai means grandmother in Thai, and this line of Whole30 condiments used traditional Thai ingredients for unique, bold, and zesty flavors that pair well with everything from eggs to fish and beef. The hot salsa packs quite a punch. It's the perfect balance of these simple ingredients, tomatoes, onions, ginger, cilantro, garlic, organic lime juice, sea salt, Thai chilis, and black pepper. I love the ginger, cilantro, lime add to the salsa; it makes for a unique and refreshing salsa, unlike any I've had before. 20% off Yais's Thai with discount code USALOVE. No expiration date. Limit one use per customer.
For the Honey Connoisseur
Savannah Bee Company Sourwood Honey Gold Reserve is the best of the best. There is absolutely no better honey to be had. This honey is so unique in flavor, with notes ranging from bold maple notes to soft caramel flavors and intense gingerbread spices. I love to pair this honey with a mild cheese to complete and not overpower the honey.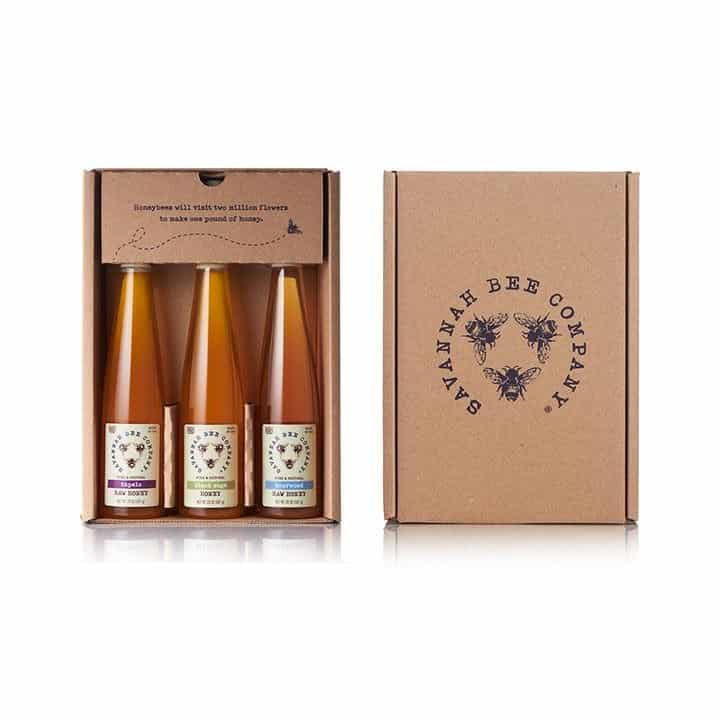 For the Hot Sauce Connoisseur
"Pour more, please.", said everyone who's ever tried Truff Hot Sauce. This hot sauce is a must-try for anyone who loves hot sauce or truffles. This hot sauce stimulates your taste buds with its complex flavors and the perfect amount of heat. There's nothing else like it on the market, and we couldn't be happier it's made in the USA. TRUFF Hot Sauce is a curated blend of ripe chili peppers, organic agave nectar, black truffle, and savory spices, including cumin. We're certainly not surprised it made it onto Oprah's Favorite Things List for 2018 and 2019.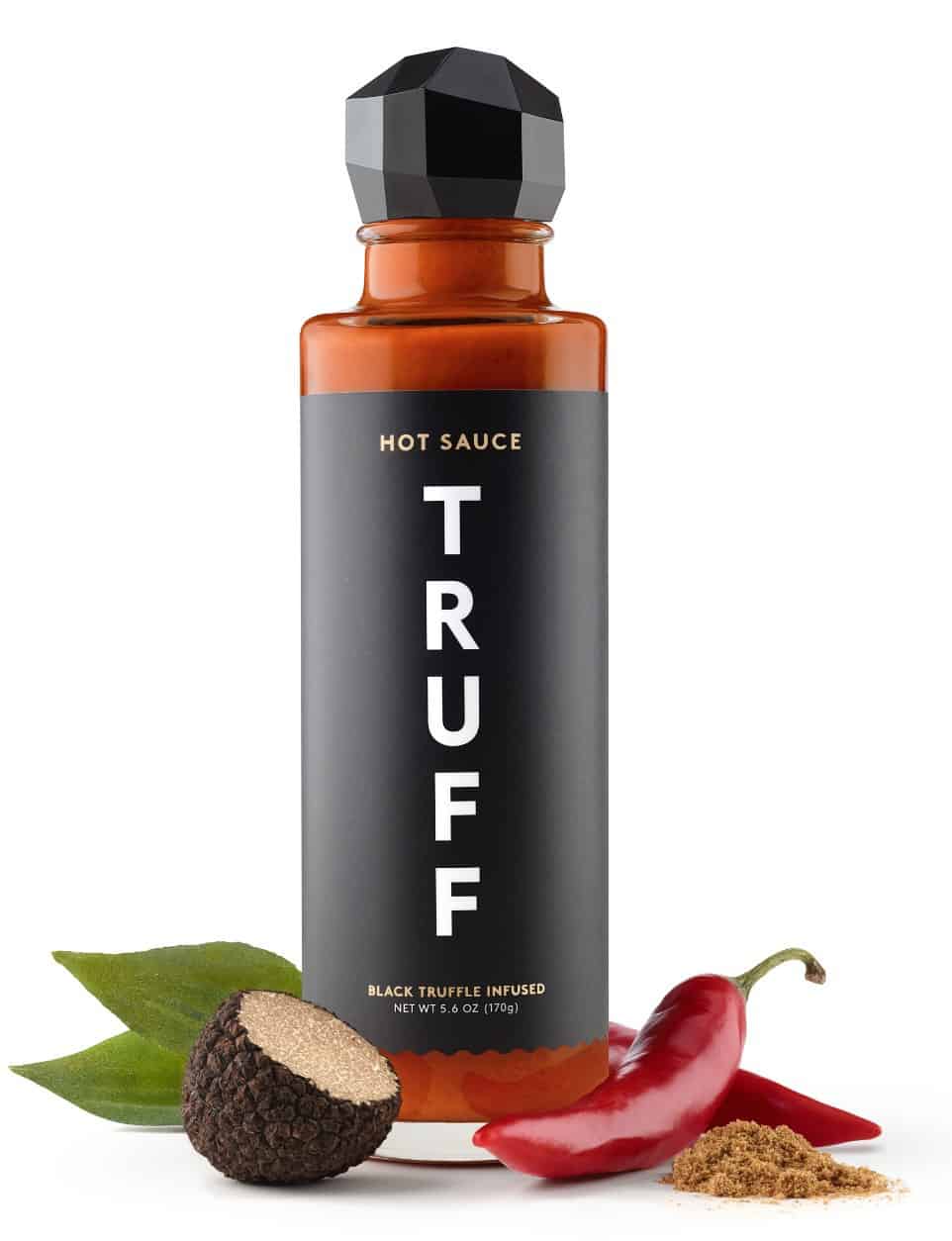 For the Ice Cream Connoisseur
Join Salt & Straw's Pints Club to get flavors like Goat Cheese Marionberry Habanero shipped direct to your door. You may have read how much I loved this flavor in my Ice Creams by Region feature, but if not, this flavor is really the perfect mix of flavors – tangy, sweet, and spicy. The goat cheese offers a creamy, tangy taste, while the sweetness of marionberry and heat of the habanero are a delicate end on your taste buds. Salt & Straw makes its ice cream out of Portland and Los Angeles.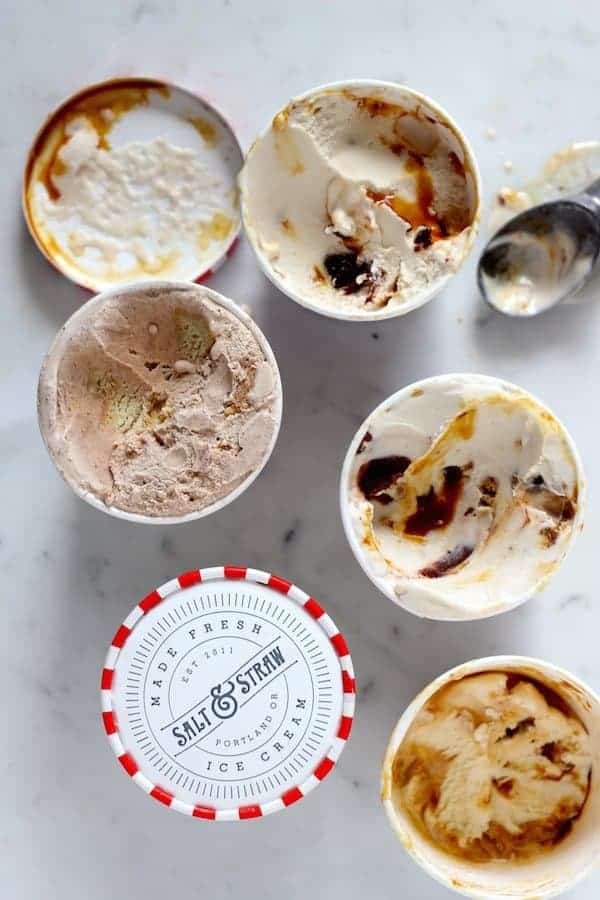 For the Cocktail Enthusiast
Bring your maple syrup out of the cabinet for more than just your weekend pancakes. If you're looking for exquisitely flavored maple, look no further than Runamok Maple. This maple has a lighter viscosity and more subtle flavor than any other maple syrup I've tried. It comes in various flavors including cardamon, strawberry rose and smoked chili pepper. Runamok Maple syrup is the perfect gift for anyone who loves creating new recipes and cocktails or someone who simply loves great maple syrup.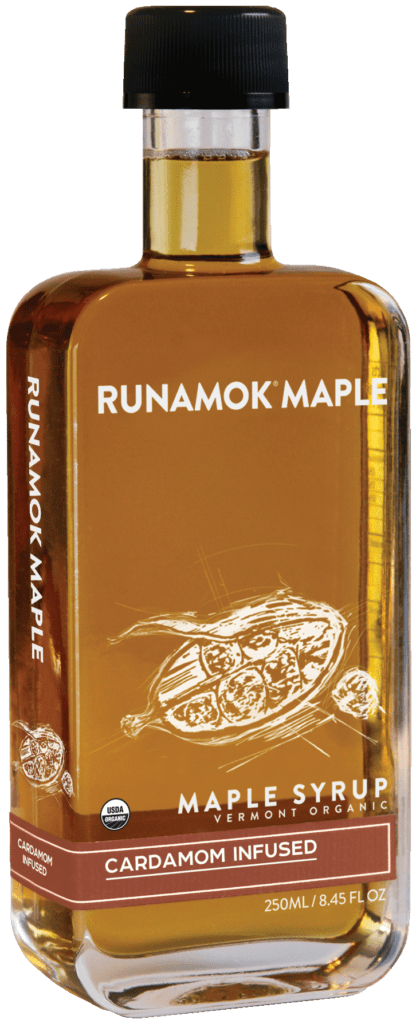 For the Nut Butter Enthusiast
Big Spoon Roasters makes handcrafted nut butters from scratch with ingredients sourced directly from like-minded producers who share a dedication to authentic quality. Select any two nut butters to build a customized gift for someone you know who loves nut butter. The Custom Two Jar Gift Box from Big Spoon Roasters makes for the perfect gift. We love the Chai Spice and Almond Coconut best! Crunchy, flavorful, with the perfect amount of sweetness, any of these nut butters pair perfectly with crispy, juicy fruits like pears and apples.
For the Pasta Lover
Not all pasta is created equally. Sfoglini makes over two dozen pasta varieties, including seasonal favorites. These pastas are the perfect texture and perfect for soaking in the flavors of the sauce you pair with them. Seasonal varieties vary and are infused with saffron, porcini mushrooms, and cocoa powder, to name a few options. Sfoglini is a Brooklyn based producer of small-batch, freshly extruded pastas made from some of the finest organic American grown semolina flour. If you love pasta, you have to try Sfolgini.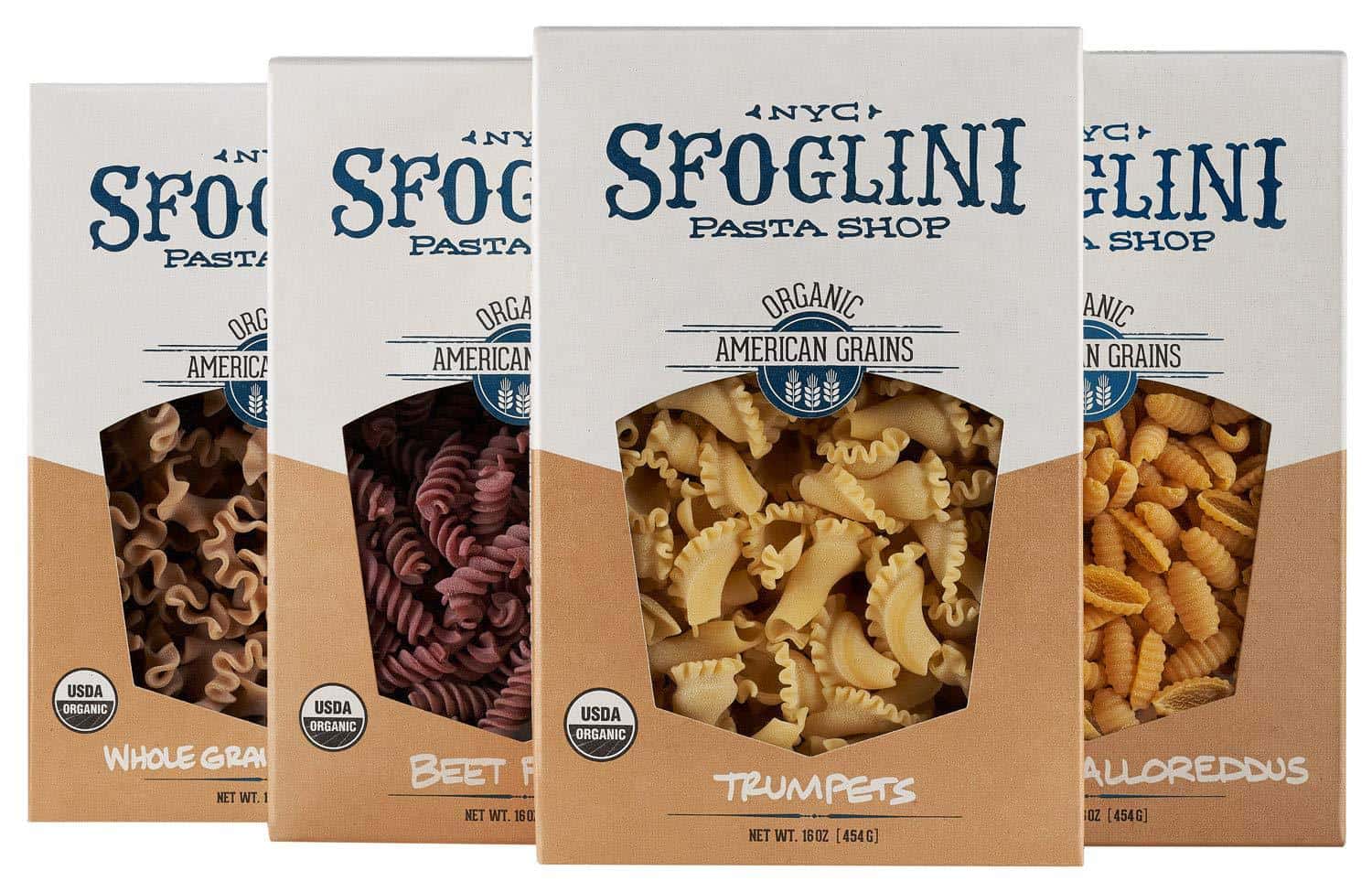 For the Pâté Lover
Les Trois Petits Cochons, which means three little pigs in French, actually started in the heart of New York City in 1975 as a small charcuterie shop and has been hand-making its gourmet food products in small batches there ever since. I love Les Trois Petits Cochons Organic Pâté Gift Tray because you get to enjoy three different pâté varieties. High-quality ingredients you can read and recognize are what make this pâté flavorful and rich. If you're not sure if you like pâté, start with Les Trois Petits Cochons since it's the best. You'll thank us later.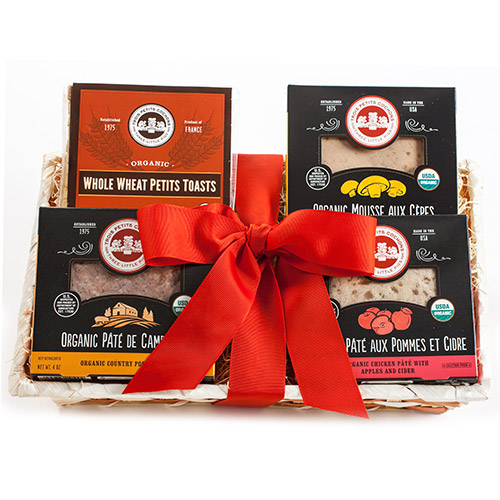 For the Seafood Lover
If you love lobster, you're going to love tender, juicy, sweet lobster tails from Get Maine Lobster. The folks there know their seafood, and they have excellent customer service. Direct from the rocky coast of Portland, Maine, their lobster and seafood is hand-selected and each purchase supports the community of Portland. All you have to do is order it online, and they will ship it right to your doorstep, overnight.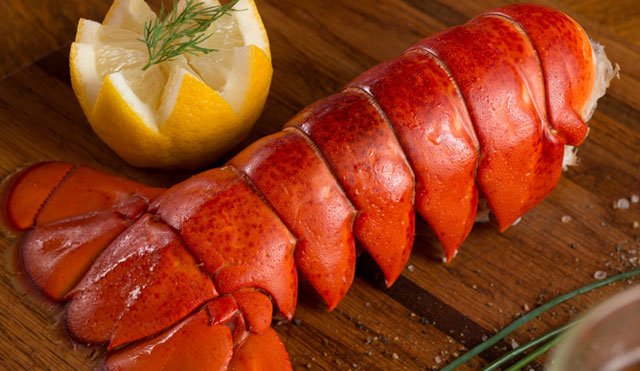 For The Wine Lover
Grassracks' Floating Wine Rack allows the opportunity to uniquely display a worthy 750 ml wine bottle. This gorgeous bamboo floating wine rack always draws attention and sparks conversation. It's a practical, beautiful and eco-friendly gift. All Grassracks' products are finished with Vermont Natural Coatings, another American company that makes high-quality wood finishes from whey protein, which is a byproduct of making cheese, making it a true foodie gift for the wine enthusiast. The product is made outside Philadelphia, Pennsylvania in Malvern.
Food Finds For Everyone
The best and most flavorful ingredients are key to cooking a memorable meal. Here are a few finds I always have on hand and love to share with others.
Ahara Rasa Chai Spice Ghee offers a fragrant masala chai spice blend, featuring cinnamon, cardamom, ginger, black pepper, and nutmeg works equally well in sweet and savory applications. Add to your oatmeal, blend in butter-coffee, sear your steak, sauté veggies, or upgrade your French toast. It is perfect for those who love flavor, and are looking for a lactose-, gluten-free butter alternative for baking. It comes in other varieties including Brown Butter, Chai Spice, Lemon & Garlic, Niter Kibbeh (Ethiopian Spiced Ghee), Tumeric & Black Pepper, and Vanilla Dream.
Ahara Rasa ghee is made in Portland, Oregon from organic, local, pastured, cultured cow's butter and it is certified Kosher.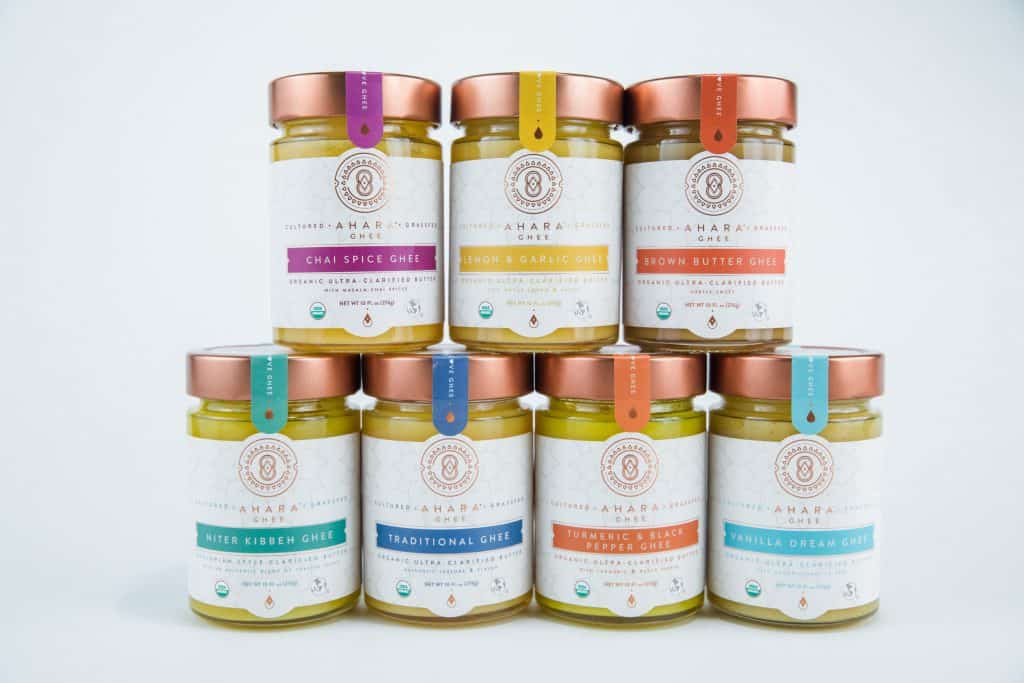 I love Palm Island Hawaiian Red Gold Sea Salt. The salt is harvested in Hawaii and a small amount of harvested reddish Hawaiian clay gives the salt its color. It is non-processed and rich in naturally occurring trace minerals found in clean, natural seawater. My favorite uses for it are on top on bread and butter, or on grilled meats and fish.
If you're looking for Paleo dressings or the best dressing for that matter, look no further than Tessemae's. Their dressings and ketchup are drinkable – they're that good.  It's the perfect all-natural, handcrafted, sugar-free, gluten-free, vegan dressing. The base of all of their dressing, except the oil-free ones, is olive oil, so the flavors really stand out. I like to use the dressing on salads or as a meat marinade. I love the fact that Tessemae's only uses natural ingredients to make their dressings. They offer classics like Southwest Ranch and Lemon Garlic, along with a Maryland inspired Lemon Chesapeake flavor, true to the company's Annapolis roots. Find them at your local Whole Foods, or online.
Do you have a made in the USA foodie gift to suggest? Add it in the comments below!
Disclosure: This post is a sponsored post which USA Love List is proud to share with you because, sponsored or not, we only share stuff we love. 
Image Credit: Rancho Meladuco