If you love to eat, and you love to eat well, you know that great meals start with the best ingredients and involve the right equipment. It takes time to acquire all the essentials for a complete gourmet kitchen, especially if you are trying to find the best Made in USA options out there. From the amazing Blendtec blender to the best coffee maker and gourmet foods, we found the best foodie gifts, all American made that are sure to be loved.
Best Foodie Gifts, All American Made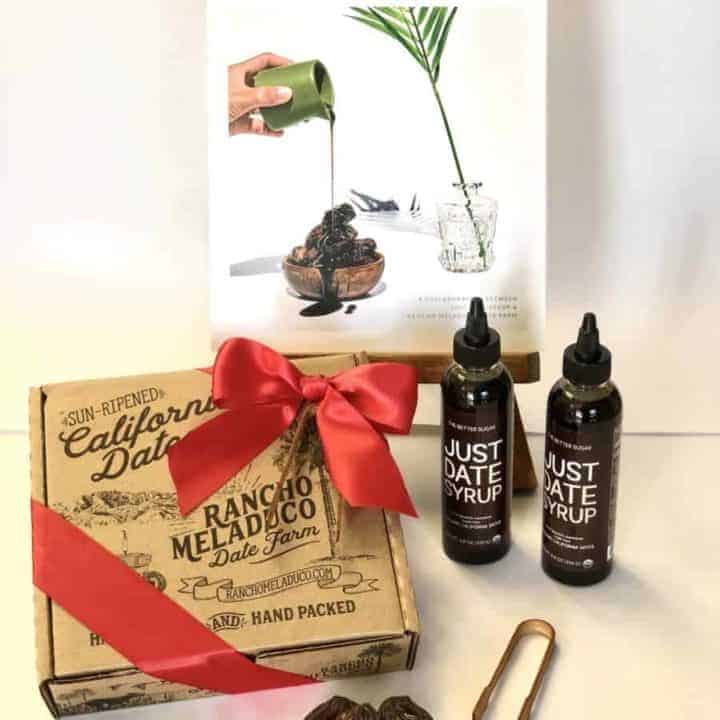 If you love fresh dates, ditch the plastic filled boxes from the grocery store and upgrade to these incredibly soft, succulent, and sweet dates from Rancho Meladuco. This gift box is the whole package: A 2 lb. box of plump & juicy Rancho Meladuco medjool dates adorned with seasonal satin ribbon & mini bamboo tongs, 2 bottles of luscious & rich Just Date Syrup, and a copy of our new California Date Cookbook.  This gift box celebrates all things California dates and is sure to be loved.
These are the best dates I've ever had! Share this sweet California Date Giftbox with someone special in your life who loves cooking sweet and savory dishes. It's fun to see all the creative recipes developed by others to celebrate dates.
If you haven't heard about Sweet Jules Caramels, you're absolutely missing out. This Minnesota-based company, run by two sisters, was born from a long line of chefs and foodies, and it only takes indulging in their caramels to know that they have good taste and talent. Sweet Jules offers flavors that you'd expect from a caramel company, like Salted Caramel and Vanilla Bean, but they also have more unique offerings like Beer & Pretzel and Bananas Foster. With variety like this, there's really no palate that won't be pleased by these sweet treats.
Our personal favorite was Fleur de Sel, Dark Chocolate, and Salted Pecan, which has a buttery caramel base, dark chocolate top, and chunks of salted pecans sandwiched between the two layers. We loved these caramels for their homemade taste. We also appreciated their polished packaging, which includes a fun color-coated flavor chart so you drown in the caramel possibilities, making it perfect for gift-giving and sharing with others. If our descriptions aren't swaying you, take a look at the drool-worthy photos, which will definitely leave you wanting to satiate your next sweet tooth hankering with a box of Sweet Jules Caramels.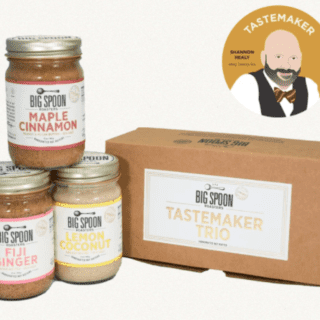 Big Spoon Roasters makes handcrafted nut butters from scratch with ingredients sourced directly from like-minded producers who share a dedication to authentic quality. The first Tastemaker Trio nut butter trio features three nut butter selections from Shannon Healy, master bartender and owner of downtown Durham cocktail bar and restaurant Alley Twenty-Six. These chosen nut butters- Maple Cinnamon, Fiji Ginger, and Lemon Coconut- can be used in drinks, recipes, and even eaten straight from the jar.
The Tupelo Honey Gold Reserve from Savannah Bee Company is the value of true gold for the honey connoisseur. Savannah Bee Company's Gold Reserve Tupelo rare honey is so pure that you can truly taste the Tupelo blossom in every drop. Only 175 cases were produced and there has never been a honey exactly like this one.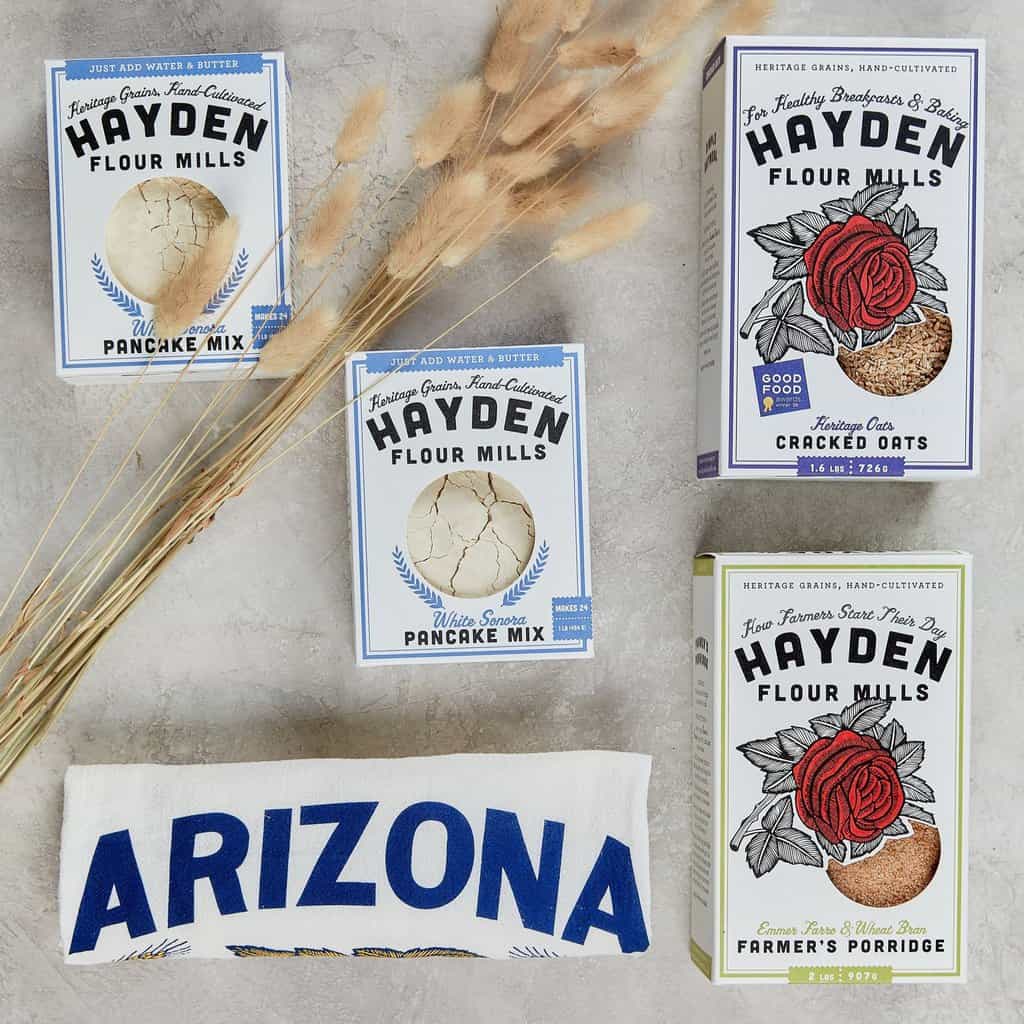 If you know someone who loves cooking with high-quality ingredients to craft new recipes that delight and satisfy the taste buds, get acquainted with Hayden Flour Mills products.
The Rise and Shine Breakfast Gift Set includes the Hayden Flour Mills full collection of breakfast items, including pancake mix, farmer's porridge, and cracked oats.
Bring your maple syrup out of the cabinet for more than just your weekend pancakes. If you're looking for exquisitely flavored maple, look no further than Runamok Maple. Runamok Maple infused barrel aged syrup is the perfect gift for anyone who loves creating new recipes and cocktails or someone who simply loves great maple syrup. The Cheese Pairing Collection includes syrups that pair well with cheeses.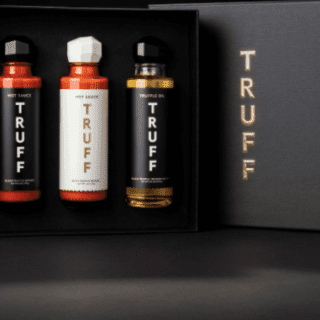 TRUFF has cornered the market in truffle infused products that stimulate the tastebuds. This TRUFF Best Seller Pack includes three top TRUFF products, all made in the USA. The Original, a flavor forward truffle chili blend that packs a punch. White TRUFF Hot Sauce - Landing on new levels of umami, TRUFF White Truffle is sourced for a sophisticated palate: using ripe red chili peppers infused with real white truffles and organic agave nectar from Jalisco, Mexico. Black Truffle Oil - the perfect way to dress up dinner or elevate your favorite snacks. No surprise this is on the list of Oprah's favorite things!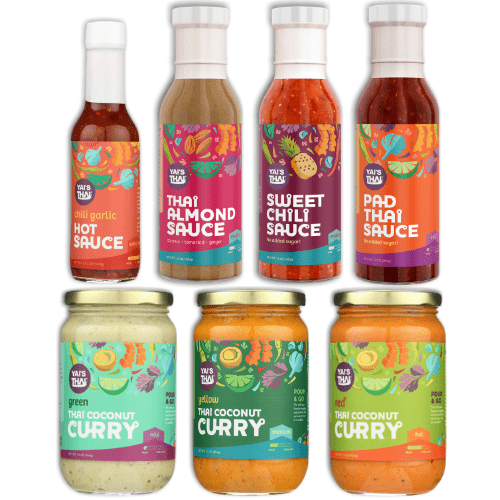 It's never a bland moment with Yai's Thai's Whole30 approved and gluten-free hot sauces and salsas. We love that Yai's Thai uses simple and healthy ingredients without sugar or artificial ingredients. Yai means grandmother in Thai, and this line of Whole30 condiments used traditional Thai ingredients for unique, bold, and zesty flavors that pair well with everything from eggs to fish and beef. The hot salsa packs quite a punch. It's the perfect balance of these simple ingredients, tomatoes, onions, ginger, cilantro, garlic, organic lime juice, sea salt, Thai chilis, and black pepper. I love the ginger, cilantro, lime add to the salsa; it makes for a unique and refreshing salsa, unlike any I've had before.
Take 20% off Yai's Thai with discount code USALOVE. No expiration date. Limit one use per customer.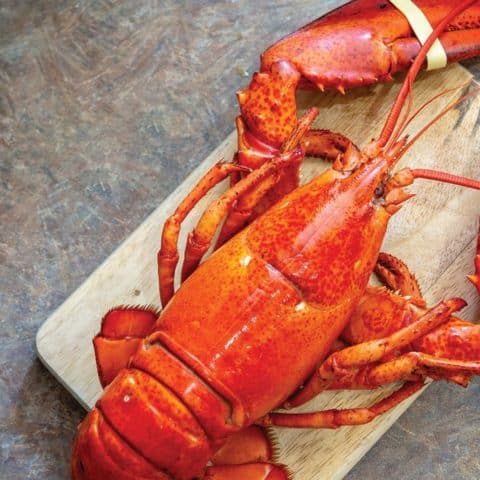 The folks at Get Maine Lobster know their seafood, and they have excellent customer service. Direct from the rocky coast of Portland, Maine, their lobster and seafood is hand-selected and each purchase supports the community of Portland. All you have to do is order it online, and they will ship it. Gift Cards available.
Ghee is butter in its purest form, both dairy-free, lactose-free, and an essential source of daily nutrition. Ahara ghee butter is certified organic, sourced from local, partner dairy farms in the Pacific Northwest. Add it to your oatmeal, blend it in butter-coffee, sear your steak, sauté veggies, or upgrade your French toast. Ahara ghee is perfect for those who love flavor.
Not all pasta is created equally. Sfoglini makes over two dozen pasta varieties, including seasonal favorites. These pastas are the perfect texture and perfect for soaking in the flavors of the sauce you pair with them. Seasonal varieties vary and are infused with saffron, porcini mushrooms, and cocoa powder, to name a few options. Sfoglini is a Brooklyn based producer of small-batch, freshly extruded pastas made from some of the finest organic American grown semolina flour.
 Each month's shipment will include; 1 box of Sfoglini Organic Semolina pasta, 1 box of Sfoglini specialty pasta (think grains, flavors, and limited editions), and recipe cards for scrumptious culinary inspiration.
Give the gift of unique ice cream flavors with a membership to Salt & Straw's Pints Club. With flavors like Goat Cheese Marionberry Habanero and Maple & Bacon Streusel this gift is perfect for the ice cream foodie. Salt & Straw makes its ice cream out of Portland and Los Angeles.
Get organic, non-GMO, Fair Trade tea through Plum Deluxe Tea of the Month Club. Each month Plum Deluxe sends a hand-blend, fresh, special limited-edition tea for tea club members only. One of the brand's signature blends, Oregon Black Breakfast Tea, featured below, is made with black and honeybush tea, orange peels, and hazelnut essence, which offers anti-inflammatory and anti-oxidant benefits. This unique tea blend offers balanced tastes with deep, mellow, citrus, and nutty flavors from the black tea, honeybush, orange peels, and hazelnut essence, respectively.  Plum Deluxe tea blends are blended by hand in Portland, Oregon, and make a perfect American made gift for the tea lover. 
FigBrew is organic, naturally vegan,  gluten-free, coffee-alternative that is loaded with vitamins, magnesium, potassium, iron, and copper. Made from the best-tasting figs in the world, FigBrew products deliver a delicious and healthy alternative to coffee without compromising taste. The Figgee is made with only one ingredient with no sugar, preservatives, or taste enhancers added! Mellow Mix only has two ingredients – Honduran coffee beans &  roasted Mediterranean figs. Besides caring about our health, they care about the environment too! Figbrew chooses fully recyclable packaging and is committed to donating a portion of its profits to support environmentally conscious non-profit organizations.
The smell & taste is wildly similar to coffee, making it the PERFECT coffee alternative. Don't forget that coffee drains your adrenaline system, so if you're experiencing brain fog and constant exhaustion, ditch that caffeine!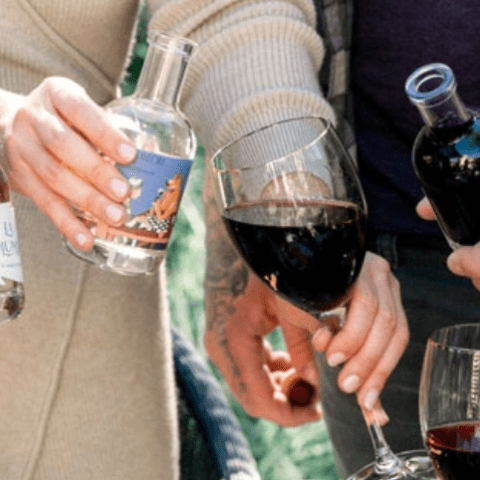 Give a grape journey to California one cost-friendly sip at a time with the California Wine Mixer Collections by In Good Taste. It  will transport their senses to the sun drenched slopes of the west coast as they sample their way through 8 wines ranging from Sauvignon Blanc to Syrah. These single serve bottles are an amazing way to try new varieties and/or have a glass of wine without opening a full bottle! Uncork the magic and broaden your palate with In Good Taste's single serving bottles!
Do you have a made in the USA foodie gift to suggest? Add it in the comments below!
Disclosure: This post is a sponsored post which USA Love List is proud to share with you because, sponsored or not, we only share stuff we love.
Image Credit: Rancho Meladuco
Have you visited our Made in USA Shopping District? It is the place to start your shopping when you want to find the best of American-made.