Confession: I honestly thought it was going to be hard to find enough American made lighting companies to fill a source guide. Wow, was I wrong!
This list is a long one, and I am sure it will get longer as more Made in the USA lighting companies are discovered. Since some components required to make lighting are not sourced in the USA, be aware that most of the lighting on this list is not 100% American made. Lighting needs to be manufactured, handcrafted, or fabricated in the USA to make this source guide.
American Made Lighting
Indoor & Outdoor Lighting By Lanternland
Lanternland artisan copper lanterns and brass indoor & outdoor lights are handcrafted in Arizona. The solid brass and copper construction of every light will never rust or corrode and is guaranteed for life. In fact, all lights are UL listed for wet locations (except the Country Kitchen Pendant Hanging Copper Light and the Portland Copper Lantern Table Lamp). Lights that meet dark sky lighting requirements, and lights that are turtle friendly (yes, people who live on beaches look for this!) are available. Each Lanternland light is hand made to order with a choice of finish and glass. They even take custom requests. Lanternland offers a vast selection of ceiling lights, pendant lighting, wall sconces, wall lights with brackets, barn lights, post lights and more in colonial, Early American style. Take 5% off your Lanterland purchase with code USALOVE at check out. No expiration date.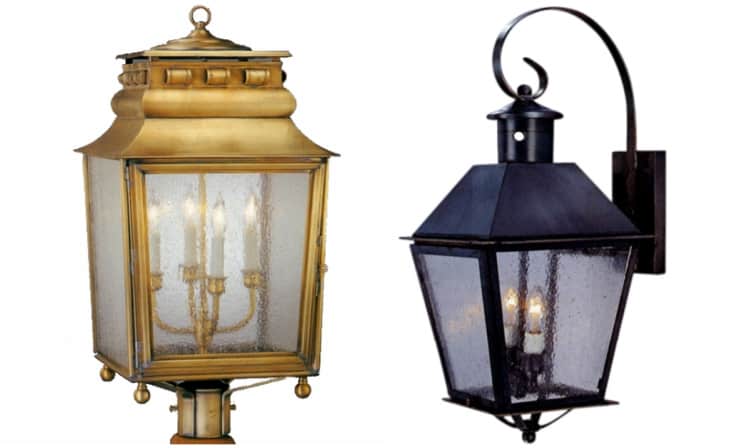 >
American Made Lighting: The Ultimate Source List
This list is constantly being updated, so check back often. Did we miss your favorite made in USA lighting company? Leave us a note in the comments section below.
2nd Ave. Lighting Pendants, chandeliers, wall sconces, ceiling, bath, indoor and outdoor lighting made in New York

A19 Handcrafted ceramic sconces, corner sconces, and pendants, made in California
Alex Marshall Studios Ceramic table lamps, handmade in Northern California
Arroyo Craftsman Outdoor, ceiling and wall lighting, lamps, handcrafted from brass in California
Barn Light Electric Vintage inspired ceiling pendants, wall lighting, commercial lighting, outdoor lighting, lamps, gooseneck lights, LED lighting and more handcrafted in Florida
Bevolo Gas and electric lighting, wall, ceiling, outdoor, handcrafted from copper
Boyd Lighting Luxury lighting- Sconces, pendants, ceiling lighting, made in San Francisco
Cerno Lamps and ceiling lighting manufactured in Southern California

Coast Lamp Beach and nature-inspired lamps and lamp shades made to order in North Carolina

Coe Studios Outdoor brass lighting made in California
Conant Metal & Light Ceiling and wall lighting, lamps, made in Vermont
Dform Design Pendants, wall and table lamps, shades made from die cut wood veneers made in Brooklyn
DEKOR Cree LED outdoor lighting made in North Carolina
Dunes & Duchess Ceiling and wall lighting, lamps, handcrafted
Eastworks Detroit Repurposed sculpture lamps made in Detroit
Esque marry luxury and functionality. Its lighting fixtures, made with hand blown glass, reflect modern innovative design. The Faceted Eggshell Pendant in Opaline and Brassisone of my favorites!
Fine Art Lamps Original ceiling, wall, lamp, and outdoor lighting designs. Note: not all Fine Art Lamps products are American made.
Framburg Metal pendant, chandelier, sconce, bath lighting, made in Illinois
Genie House Indoor and outdoor lighting made in New Jersey and Arizona
Grovemade Maple desk lamps the perfect size for a counter, desk, or nightstand.
Guild Nines Radha lighting lamps made in Michigan
Hammers and Heels Chandeliers, flush mount, sconce, pendant lighting made in Denver, Colorado.
Hammerton Studio Artisan crafted pendant, sconce, ceiling lighting
Hennepin Made Pendant lighting and table lamps made from hand blown glass in Minneapolis.
Herwig Lighting Commercial & residential outdoor wall mount, ceiling mount, pendant mount and post mount lanterns in vintage & antique gothic style, made in Arkansas
House of Troy Picture and piano lighting made in Troy, Vermont
Hubbardton Forge Ceiling lights, wall sconces, pendants, table lamps, floor lamps, exterior lighting, handcrafted in Vermont from forged steel

Jezebel Tiffany-inspired glass and metal pendants, chandeliers, and wall sconces, made in New Mexico
Lanternland Handmade in Arizona, artisan copper and brass lamp posts, wall sconces, wall lights, pier and column lights, pendant, ceiling lighting for indoor and outdoor use Learn more about Lanternland lighting at the top of this post!Take 5% off your Lanterland purchase with code USALOVE at check out. No expiration date.
Lights Up! Elegant and practical ceiling, wall, lamps, and outdoor lighting
Lucent Lightshop Vintage inspired lighting made in Arizona
LUMAX Lighting commercial and industrial lighting is manufactured in the USA.
Matter Made contemporary lighting fixtures are designed and manufactured in the USA.
Meyda Lighting offers an extensive line of indoor and outdoor custom lighting
Misewell Table lamps, floor lamps, wall sconces, made in Milwaukee
Niche Modern Glass pendants custom blown in New York
Noend Designs Floor + table lamps with handmade wood shades
Northeast Lantern Reproduction lighting handmade in New Hampshire
Pentimento Lighting Modern lighting manufactured in Arizona
Porcelain Garden Lithophane night lights and lamps
Roger + Chris Unique, handmade lamps, sconces, and pendants
Roll & Hill High end customized lighting

Rustic Lighting and Fans by Kiva Lighting Chandeliers, wall and vanity lighting, track lighting that are clearly marked when American made
Schoolhouse Wall sconces, pendants, chandeliers, lamps, made in Portland, Oregon
Schonbek A division of Swarovski Lighting; lamps, chandeliers, flush mounts, wall sconces, manufactured in Plattsburgh, New York
Siemon & Salazar Artfully blown glass pendants, and sconces
Solaro Energy Solar powered natural light ceiling fixtures- mounted or recessed
Steel Partners Rustic themed lamps, ceiling, pendant, wall, indoor and outdoor lighting made in Washington
Stiffle Table lamps, floor lamps, and desk lamps, made in New Jersey
Strake Studio pendant lighting is handcrafted in Detroit.
Tracy Glover Table + floor lamps, wall sconces, and pendants made from colorful blown glass in Rhode Island
TreasuredCountryGifts.com Online retailer of American made rustic home decor and gifts. Offers a selection of tin punched lighting pieces.
Ultralights Wall sconce and ceiling lighting, interior and exterior
Union Street Glass Contemporary art glass pendants and lamps, made in California
Disclosure: This is a sponsored post which USA Love List is proud to share with you because, sponsored or not, we only share stuff we love. Cover photo and pinnable image photo courtesy of Lanternland.