My favorite part of the holiday season is creating and honoring family Christmas traditions with my kids. I say, "creating" because though my kiddos are 6 and 8, every year we seem to pick up a new tradition.  Family holiday traditions are important to me because they give some sort of consistency to an otherwise chaotic time of year. My kids know that there are specific things we do together each year and they look forward to them. Also, when we are participating in on of our traditional holiday activities, we have time to slow down while spending quality time with each other. I try to space these activities out over time so we can re-charge together and remember what the holiday season is really means to us.
Below are my favorite family Christmas traditions.  Please share your favorite family holiday traditions in the comments!
Family Christmas Traditions
Picking out the Christmas Tree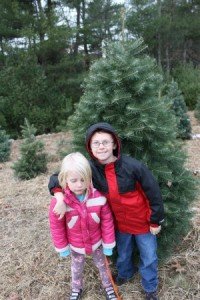 The Christmas season traditionally begins in my household the weekend after Thanksgiving when we visit a local tree farm and pick out our Christmas Tree. We love walking between the trees deciding which one is perfect for us! Not only are we supporting local agriculture when we are purchasing our tree from a local tree farm, but we chat with neighbors and friends also hunting for their tree, saw down our own tree (with help from said neighbors and friends), and enjoy a nice cup of hot cocoa after the tree is wrapped and tied to our vehicle. This was the first year that my hubby was working and couldn't be with us for this tradition (which is why my daughter doesn't look the happiest in the photo!), but we managed as we learned together that it's ok for traditions to be a little different every year! You can find a Christmas tree farm near you at http://www.pickyourownchristmastree.org/
Decorating the house
If it wasn't for my kiddos, my house would not be decorated for Christmas until the week, OK, quite possibly the day before Christmas. Not because I'm a grinch or don't have decorations, but because I have "other things" to do. My kids LOVE helping with the decorating, and the older they get, the more they can do to help out. Our decorating traditions include:
Setting up our Crab Pot Tree in the front yard.  The made in North Carolina Crab Pot Tree is my FAVORITE outdoor decoration! It is so easy to setup, my 8 year old can do it. It's closed flat for easy storage, so I just carry it outside and he can open it up, secure it in place, and attach the extension cord. Easy peasy and it looks beautiful all lit up! Get 30% off and free shipping with code USALOVE
Setting up Nativity sets. My kiddos each have a mini nativity scene that they set up, minus Baby Jesus, who makes his appearance on Christmas morning (if I can remember where I put him, HA!). I am modifying this tradition for next year.  I am investing in one high quality, made in the USA Nativity scene, as the two sets we use know are starting to show their wear.
 Making ornaments
Every year the kiddos and I make a batch of tree ornaments together. We make some to give away as gifts to family, friends, teachers, and we keep some for our own tree. I make sure to date the ornaments so we know which year we made them. Last year we created red, white and blue ornament balls and we share 'how to' in our Holiday Crafting With Kids article.
Wrapping Gifts
As I have mentioned in my video in a previous post, Tips and Tools for Saving Time This Holiday Season, I am NOT a fan of wrapping gifts. Because of this I have had my kiddos involved in wrapping the presents for family and friends as soon at a young age. Their favorite way to wrap gifts is by using American made VZ Wraps. We were sent some VZ Wraps to try out a couple of years ago for a review and the reusable fabric gift bags have become a wrapping necessity for holiday gifts and gifts all year long. They are quick and easy for my kiddos (and me!) to use. Simply pick out the bag that is closest to the gifts size, insert gift, and tie with the provided bow. BAM! Gift is ready to go!
Make sure to watch the following video where my son shares his favorite family holiday traditions, and demonstrate how easy VZ Wraps are to use.
[youtube http://youtu.be/KLnARlASOH4?rel=0&w=560&h=315]
From our family to yours, Merry Christmas!
Disclosure: This post is a sponsored post which USA Love List is proud to share with you because, sponsored or not, we only share stuff we love.
We're making it easy to buy American-made gifts this year. Follow and share our 2016 Holiday Gift Guides and check our previous years' archives from 2015, 2014, 2013 and 2012 for even more ideas.
Have you visited our Made in USA Shopping District? It is the place to start your shopping when you want to find the best of American-made.
Follow USA Love List's board Homemade Gift Ideas on Pinterest.