Confession: I have never juiced before. The opinions and experiences in this post are, as you will see, NOT from a juicing expert, just from a mom who is exploring ways to get her kids to happily consume fruits and vegetables. I was pretty excited to try the only Made in USA juicer we are aware of.
I avoid sugary drinks with added preservatives and colorings as much as possible.  When my kiddos want a drink they know their options are milk (whole or raw),water, tea, or (for breakfast only) 100% US orange juice. Imagine the looks I get from visiting kids when they hear we have NO soda, NO juice boxes, NO flavored "water" and NO "fruit" juices!
A made in the USA juicer, like a Champion Juicer, will make it easier for me to create flavorful, healthy drinks for my family from fresh fruits and vegetables.
Plastaket Mfg. Co. Inc, located in Lodi, California, generously sent me the Champion 2000+ Juicer for review.
My kiddos and I couldn't wait to give it a try!
OUR PLAN:
To turn fruits and veggies we could find around the house into a healthy, yummy juice for our afternoon snack.
OUR INGREDIENTS:
2 cucumbers from the garden, washed and cut to fit through the juicer feeding chamber
2 granny smith apples, washed, cored and cut to fit
1 carrot, washed with skin still on (because my daughter insisted we add a carrot)
a handful of mint from the garden, washed
OUR PROCESS:

After I washed all the pieces to the Champion 2000+ Juicer and let them dry, I was ready to read the operating instruction manual and learn how to put it together.  The instructions are easy to follow and I had it all set for juicing in no time!
I turned the unit on and we were ready to start making some juice. The noise was not as loud as I expected it to be, especially compared to my circa 1990 blender. It sounded like the hum of my hubby's hair clippers.
The feeding chamber is long enough from the cutter that I felt safe letting my daughter add the ingredients.
And as easy as that, we were making juice!
The pulp of the fruits and vegetables came out of the tapered end and was pushed down the feeding chamber again. Oh, the fun my kiddos had watching, and of course commenting about, the pulp coming out!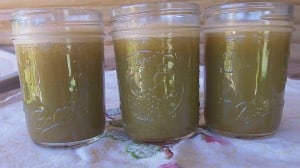 After running all of our ingredients through the feeding chamber, which took very little time, we had the perfect amount of juice for the 3 of us!
OUR VERDICT:
The kiddos had a lot of fun making their juice. The Champion 2000+ Juicer is safe enough for children to use- with supervision, of course! It is easy enough for both kids AND first time juicers to use with no problems.
And the juice?
Have I mentioned before how my kiddos are total opposites when it comes to tastes? If one loves something, the other hates it. Well, that's what happened here. One spit it out, and one wanted more.
And yeah, I wasn't a fan of our mixture either. But remember,  I mentioned at the beginning that this was our first time ever juicing. We will be experimenting and trying new recipes. In fact, we will be picking up some fresh fruit at the farmers' market tomorrow so we can try one of the smoothie or sherbert recipes that was included in the manual.
Oh, and what did we do with the left over pulp?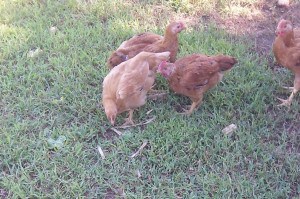 We fed it to the chickens, of course!
Check out my Just Juice It board on Pinterest for some juicing inspiration!
Do you have a favorite juicing combo? Do your kids drink fresh vegetable of fruit juices? Let us know in the comments.
[Disclosure: USA Love List received this product unconditionally. Our opinions are always our own, and we aim to write fair and balanced reviews to promote only the very best of American-made products.]