When you were young, did you play with toy cars? While sitting on your floor pushing around your Hot Wheels, did you ever dream of being behind the wheel of something with such cartoonish proportions? Chevrolet recently released the 2013 Camaro Hot Wheels Edition, and it is your best chance to get behind the wheel of a full size Hot Wheels model. The tremendously good news? It has a soundtrack that you could have never imagined when you were a kid.
Don't miss USA Love List's Made in USA Cars: A Guide to Buying an American Made Car, SUV or Truck!
The American Muscle Car of your dreams
The muscle car, as an entity, couldn't be more American if it was powered by apple pie and had its interior stitched together by Betsy Ross. The concept of a powerful two-door coupe, with a large V8 engine under the hood that can cruise boulevards while winning at the local drag strip is the property of legends. Movies have been made with muscle cars as the main characters. Think of a famous male actor from the sixties and seventies and I'll bet you can connect them to a piece of American muscle (sorry James Dean, you've been excluded from our list).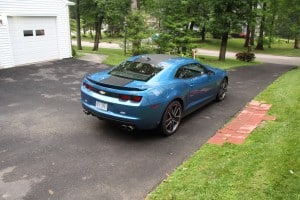 When Chevrolet re-introduced the Camaro in 2010, they managed to build a car that looked both retro and modern. The fifth generation of the Camaro delivers the American muscle car to the 21st century. The Camaro embodied late 60s Camaro styling, contemporary driving characteristics, and a manner that is unmistakable. This year Chevrolet upped the ante, and in partnership with Hot Wheels, created the first ever Hot Wheels branded full size car.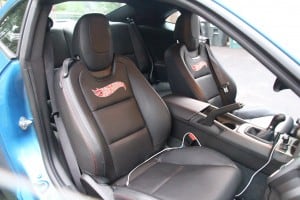 A Hot Wheels Camaro!
The 2013 Chevrolet Camaro Hot Wheels edition is as brash of a car as anything you can buy. It might not be a perfect fit for everyone, but if you're looking to relive your childhood or just have something that would be a lot of fun to take to local car shows.