You've decided to buy a made in USA car, truck, or SUV. First, thank you for investing in America and American workers. But, now comes the hard part: finding one. This guide will help you navigate a complicated category: American Made Cars, SUV's & Trucks.
Manufacturing in the USA has changed a lot since the days of Henry Ford and his famous saying, "Any customer can have a car painted any color that he wants so long as it is black." In the 21st century, you can have any color you want, but there's a good chance it's not made in America. With offshoring, nearshoring, and reshoring factories, trying to learn where a vehicle is made is a lot harder than reading the label.
Made in USA Cars From Ford to Chevy:
Looking Back at When American Made Was Easy
Topping the other finalists, General Motors' former CEO and President Alfred P. Sloan, Jr., IBM's Thomas J. Watson, and Bill Gates, the founder of Microsoft, Henry Ford was named the most successful businessperson of the twentieth century by Fortune Magazine in 1999. He didn't win this prestigious award for his automobile designs, and he wasn't the first to build an efficient vehicle or make a profit selling them. Instead, Ford's success rose from his mass production techniques.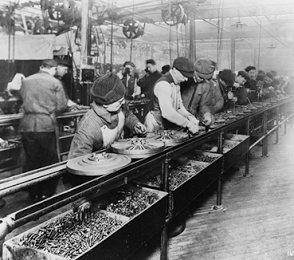 His legacy wasn't as much from the Model-T as you would think. Instead, it came from how quickly and efficiently they went from the assembly line and onto new roads and in front of homes and businesses across the country. Mass production of automobiles created jobs across a wide range of sectors and over the past 100 years became a vital part of the U.S. economy.
What can be said about Ford is a bit ironic: the boost in the economy, use of the assembly line around the world, and significant improvements in long-distance transportation are what lead to the decline in the number of vehicles that were all American. Today, the U.S. doesn't have a single automobile that's entirely made in America with all American-made products.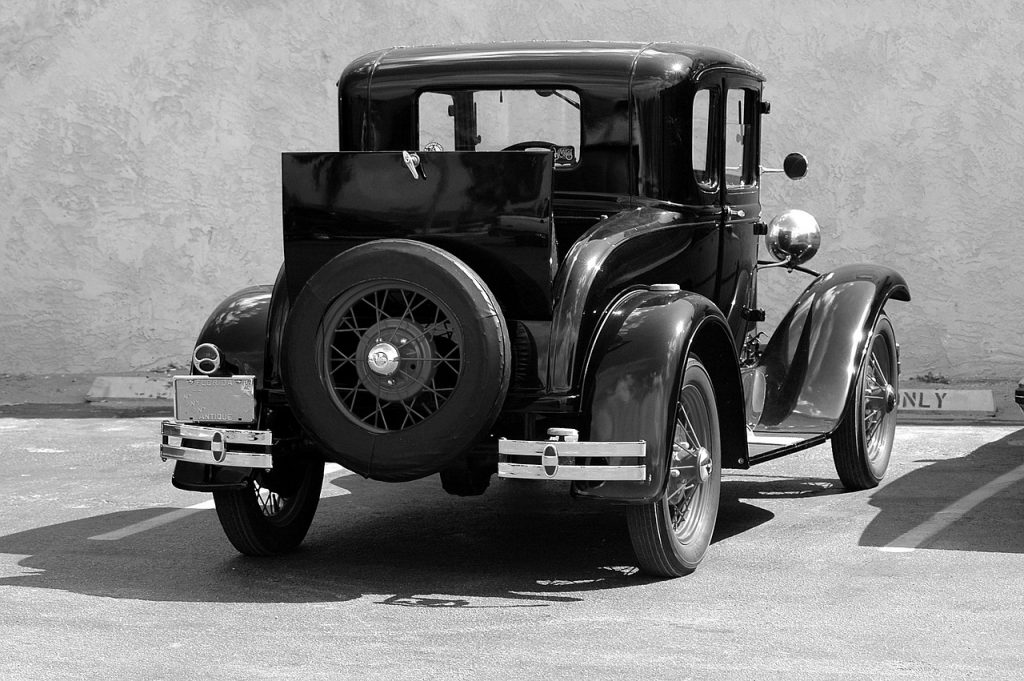 "'When was the last car produced that was 100 percent made in the U.S.A.? It might have been the Model T,'" said Frank DuBois, a supply chain expert, and professor at American University's Kogod School of Business. 'Nothing is 100 percent made in America.'"
When was the last car produced that was 100 percent made in the U.S.A.? It might have been the Model T.
However, even as the number of all American vehicles in the U.S. has decreased significantly since the early days of Ford and General Motors, the industry still directly employs more than 1.5 million American workers and more than 5.5 million indirectly.
There are many reasons for this change in manufacturing in the U.S., and despite efforts of many Americans, American leaders, and businesses to reshore American businesses, there are still several hurdles slowing down America's automakers from reshoring more. For example, some parts necessary for vehicles simply aren't available on a mass production scale in the U.S. Another reason is the automaker's profit margin. According to another supply-chain expert, Eric Fedewa, "You're never going to get a car made 100 percent in one country anymore. What you'll typically see instead is larger components made near the point of sale, to save shipping costs, while small components like electric motors and actuators will be brought in from anywhere."
Made in USA Cars: Made in America by Foreign Companies
Yes, to throw another wrench into the process, there are a few foreign manufacturers working on American soil. BMW, Honda, Hyundai, Mercedes-Benz, and Toyota build their U.S. models here. In fact, Honda was the first of the Japanese automakers to build a plant in the U.S. in 1979. Toyota and Nissan followed, opening their first factories here in the 1980s. Just as American companies shipped factories overseas to sell products exclusively in those regions to save money on transporting goods, tariffs, and taxes, foreign automakers pay less in operating costs on U.S. soil.
Does that make them American made? Sure, they employ Americans, pay U.S. taxes, and purchase supplies made in the U.S. But, at the end of the day, most foreign automakers send the company's profits to their home country.
While they contribute to the U.S. economy, most can't compete with the benefits that an American company building and selling passenger vehicles in the U.S. offers to America's economy.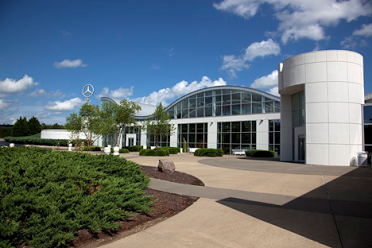 The Kogod School of Business's method limits the number of points that companies with headquarters outside the country can earn on their Made in America Auto Index.
As with many situations, there are exceptions. Toyota and Honda, despite being foreign corporations, have U.S. headquarters. Another exception is Jeep, which is a subsidiary of Fiat Chrysler Automobiles (FCA.) It gets a free pass on the American Made list because Chrysler's global headquarters is still in Michigan. Only the Kogod method adjusts the automaker's score for headquarters to .5 to account for half of the company's global headquarters operating outside the U.S.
Looking at the Label: The American Automobile Labeling Act
In 1994, the American Automobile Labeling Act went into effect. The law makes automakers display a label on all passenger vehicles sold in the U.S.A., and it must be placed in a "prominent location where it can be read from the exterior of the vehicle with the doors closed." It may or may not be a part of the Monroney price information label or the fuel economy label.
These are models that don't transport more than 12 people, and its weight rating can't go over 8,500 pounds. The label includes what percentage of the vehicle is made of U.S. and Canadian parts, the country it was assembled in, and the country that the engine and transmission were made. Final assembly information must include the city, state, and country when applicable. The AALA also requires automakers to report the name of any country supplying more than 15 percent of the vehicle's parts.
Another way to see where it was assembled is the vehicle identification number or VIN. Cars and trucks that came off the assembly line in the U.S. begin with a 1, 4, or 5.
The major issue with the AALA's list is that it combines data from America and Canada. This was done to appease influential auto industry players on both sides of the U.S.'s northern border. However, it doesn't give automakers with operations south of the border the same agreement. All countries other than Canada are considered foreign.
Looking Past the Label: The Kogod School of Business Method
Starting in 2013, the American University's Kogod list uses the AALA figures as a starting point and follows the money to give the consumer more information about passenger vehicles made in the U.S.A. The index is compiled by an expert in global supply chain management, Associate Professor Frank DuBois.
As mentioned briefly earlier, the Kogod Index uses a point system to decide which brands are the most American. The 2017 index lists 419 vehicles that are ranked from 1 to 90. It considers the automaker's profit margin, what country its engines and transmissions are from, and where final assembly takes place.
To expand on the criteria DuBois uses to create the index, there are seven subcategories to which he assigns numerical values. After the headquarters, country of assembly, engine, and transmission, the rest of the vehicle's score comes from research and development (R&D), inventory, capital, and other expenses, and finally the body, chassis, and electrical components.
R&D reviews where the research and development of the car took place. If the design was all American, it got a 6, and if the concept came from a foreign entity, but was still built in the U.S, it received a 3. Inventory, capital, and other expenses are part of the assembly. Models made in America got 11 points, and none were awarded to foreign made vehicles. The remaining 50 percent of the model's score comes from the body, chassis, and electrical components. DuBois calculates this by dividing the AALA's percentage. All of this is information is summed up as the vehicle's total domestic content (TDC.)
Made in USA Cars: The Cars.com American Made Index
The third list comes from the popular auto website, cars.com. The American Made Index (AMI). It factors in the vehicle's total sales along with the AALA and labor. Opponents of this list feel it offers a grading curve to cars and trucks with higher sales. The makers of the AMI explain that they use this figure to decide the labor portion of its index. Each sale supports a specific number of employees both directly and indirectly. Another big difference from the other two lists is Cars.com doesn't include any hybrids. This removes the Honda Accord Hybrid that still features a TDC of 70 percent, an American engine, and transmission, and its assembled entirely in the U.S.
On its own, each listing is imperfect. But, together they paint a picture of what cars, trucks, and SUV's are the most American made in a global economy. These vehicles are assembled in the U.S., and the engines and transmissions are American made.
Here are the top 20 "Most American" vehicles for 2021 according to cars.com and where they are built.
Tesla Model 3 (Fremont, Calif.)
Ford Mustang (Flat Rock, Mich.)
Tesla Model Y (Fremont, Calif.)
Jeep Cherokee (Belvidere, Ill.)
Chevrolet Corvette (Bowling Green, Ky.)
Honda Ridgeline (Lincoln, Ala.)
Honda Odyssey (Lincoln, Ala)
Honda Pilot (Lincoln, Ala.)
Honda Passport (Lincoln, Ala.)
Toyota Tundra (San Antonio, Texas)
Ford Expedition, Expedition Max (Louisville, Ky.)
Acura RDX (East Liberty, Ohio)
Acura TLX (Marysville, Ohio)
Chevrolet Colorado (Wentzville, Mo.)
GMC Canyon (Wentzville, Mo.)
Jeep Grand Cherokee (Detroit, Mich.)
Honda Accord (Marysville, Ohio)
Toyota Avalon (Georgetown, Ky.)
Lexus ES (Georgetown, Ky.)
Lincoln Navigator, Navigator L (Louisville, Ky.)
Made in USA Cars Reviewed
Over the years, we have reviewed many American made vehicles. Read our reviews, especially if you are looking into a pre-owned vehicle.
Are you shopping for a car now? Let us know what you are looking for in the comments!
Christine Dantz is a freelance writer who covers a variety of topics including manufacturing in America, personal finance, technology and science. The graduate of Excelsior College in Albany, NY with a bachelor's degree in liberal studies lives in Upstate New York with her teenage son, husband, and the four cats that adopted her family over the past decade.