As the East Coast is being slammed with (yet another) winter storm, and the kiddos are excited about (yet another) day of cancelled school, I am ready to suffer through enjoy (yet another) day of being snowed in with my family.
I have lost count of the number of snow days we will have to make up this summer. I have forgotten the names of the storms that have visited. But I do know that these American made winter necessities have helped make this cold, white winter more bearable.
Englander wood stove
This is our first winter with this beast of a wood stove and we haven't had to turn the oil heat on once! Love it!  England's Stove Works, Inc. has been making stoves in Virginia since 1975.
 Mohawk utility doormat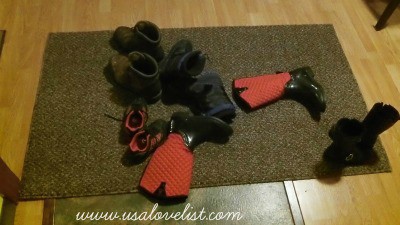 This made in the USA utility doormat from Mohawk is saving floors (which are also American made!) from water marks.  No one is allowed to move from this mat until their shoes and wet clothes are removed!
Lodge Cast iron Dutch oven
Have I ever mentioned how much I use my Lodge cast iron dutch oven?! Every time it snows I feel the need to cook something in it, usually chili. Today the kiddos and I are going to attempt to bake some bread in it- on the wood stove. If it works, stay tuned for the recipe!
UNO
I am starting to have a love/hate relationship with UNO. Everyone in the family has fun playing it (which is AWESOME since the kiddos are not killing each other), yet on snow days we play it ALL. DAY. LONG. (check your labels on games – we're seeing some made in the USA and others imported, even sometimes from the same game! Try to buy the American-made ones.)
Minky Couture soft mink blanket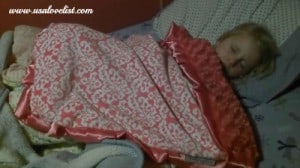 Nothing is more cozy than a soft, warm blanket on a cold winter night! The hubby would absolutely kill me if I posted a picture of  him curled up with the adult size Minky Couture soft minky blanket, which he LOVES, so here is Miss Sophie fast asleep with hers.  These blankets are not only soft, warm and luxurious, but they are also heavy and very comfortable!
Jeep Patriot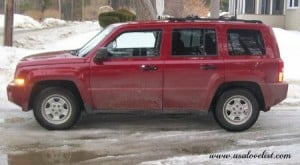 I LOVE driving my Jeep in the snow! Whether it's in 4 wheel drive or not, it handles the winter roads perfectly. And I no longer get stuck at the end of my driveway, like used to always happen with my old sedan. The Jeep Patriot (now discontinued) was made in Belvidere, Illinois.
 What American made items have become your winter necessities? Let us know!
Disclosure: USA Love List received some products in this post unconditionally for review purposes. Our opinions are always our own, and we aim to write fair and balanced reviews to promote only the very best of American-made.