****Update 7/1/15: It's been just over a year since USA Love List worked with Arthur Lauer to promote the high quality teak outdoor furniture the company manufactured. Sadly, it doesn't take long for an American made company to go out of business.  It was impossible for Arthur Lauer to match the prices of lesser quality products made elsewhere and the company has ceased operations. This is why it really is important to invest in 'Made in USA' companies and products!*****
Don't miss our list of American made patio furniture for other made in USA outdoor furniture options!
Outdoor furniture pieces made in America by Arthur Lauer, formerly Wood Classics, are constructed from high quality, water resistant, durable teak wood. Handcrafted in Milford, Ohio, Arthur Lauer teak furniture will bring luxury and style to any outdoor space.
Why Invest In Outdoor Furniture Made With Teak?
Teak wood is valued for its water resistance and durability, which makes it the best wood for outdoor furniture.  Teak is the wood of choice for luxury yacht construction. All Arthur Lauer outdoor furniture is made with sustainably harvested Tectona Grandis, the true teak.
The natural oils and rubbers in teak wood work as natural pest repellants. Fungi, dry rot and parasites that can destroy other types of wooden outdoor furniture are not a problem with Arthur Lauer teak pieces.
Teak is easy to maintain. Unlike outdoor furniture constructed with other types of wood, the natural oils and rubbers of teak protect the wood, so using stain as a waterproofer every year is not necessary. Over time, the natural brown coloring of teak furniture weathers to a grey.
Now that you know the benefits of investing in luxury outdoor furniture made with long lasting teak wood, here is a glimpse of some of the high quality, classic yet stylish, teak outdoor furniture options available only from Arthur Lauer's online store.
Arthur Lauer Teak Patio/Deck Furniture
Turn your outdoor space into an inviting and cozy place to entertain friends with Arthur Lauer teak patio and deck furniture. From side tables to deep seating, Arthur Lauer has classic pieces that will suit your patio or deck.
 Arthur Lauer Teak Garden Furniture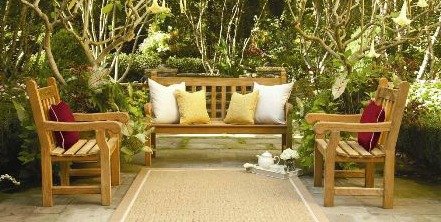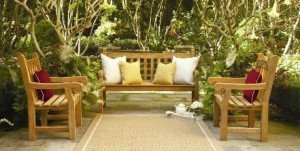 Arthur Lauer offers many styles and sizes of garden seats and benches, as well as accent pillows,  that will transform your garden into an inviting retreat!
 Arthur Lauer Teak Dining Furniture
Whether you are looking for a banquet table to seat dinner party guests comfortably, or a bistro table that's perfect for sharing sweet tea and conversation with a few friends,  Arthur Lauer has the outdoor dining furniture for your needs.
Arthur Lauer Teak Adirondack Chairs
Adirondack chairs are timeless classics and are one of Arthur Lauer's most popular pieces. They are perfect for pool side or lake side lounging,  or just for chilling in your back yard.
Arthur Lauer's pieces are easy to put together and are available in various stages of assembly:
White Glove Delivery  Furniture is sent fully assembled and delivery person will place it exactly where you tell them to. This is a premier service.
Flat Pack Assembly  Furniture is sent partially assembled.  Not all furniture styles are available with Flat Pack Assembly.
Signature Craftsman Kit  Furniture is sent in pieces, carefully packed and with all the hardware included. All that is needed is a screw driver, rubber mallet or hammer and maybe a wrench.  I received a side table this way and it was very easy to assemble following the included directions!
Disclosure: This is a sponsored post which USA Love List is proud to share with you because, sponsored or not, we only share stuff we love.