If you are looking for made in USA clocks you have come to the right spot! This source list contains wall clocks, table clocks, mantel clocks, even grandfather clocks, all American made.
Made in USA Clocks: The Ultimate Source List
Don't see your favorite American made clock company on the list? Leave us a note in the comments and we will be sure to add it to our list! We include assembled in the USA clocks in this list because we value every effort a company makes to keep jobs in the USA!
Photo Credit: www.amanashops.com
Amana makes a wide variety of clocks. Whether you are looking for a floor clock, mantel clock, wall clock or table/desk clock, Amana Shops has something for you. Amana clocks are handcrafted in Iowa.
Bradford Clocks specializes in traditionally styled wall clocks, mantel clocks and brass anniversary clocks. Bradford Clocks wood cases are handcrafted in Pennsylvania.
Photo Credit: www.chelseaclock.com
Chelsea Clock has been manufacturing nautical clocks in the USA since 1897 at the corporate headquarters in Chelsea, Massachusetts.
Photo Credit: www.etsy.com
Unique, modern clocks made from bamboo wood. Looking for an animal themed clock? Decoylab might just have the creature you are looking for in their selection of clocks made in Kansas City, Missouri.
Photo Credit: www.howardmiller.com
The Howard Miller Company calls itself the longest running clock company in America. Founded in 1926, the Howard Miller Company still manufactures clocks in Zeeland, Michigan. Mostly known for its floor clocks, or Grandfather clocks, the Howard Miller Company also makes some of its key wound and quartz movement wall clocks in the USA.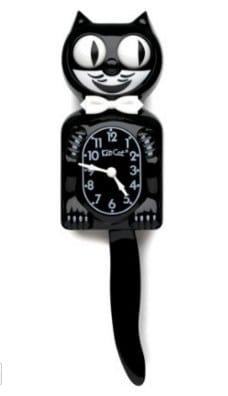 Photo Credit: kit-cat.com
Kit Cat Klock has been made in America since 1932! Kit Cat clock was originally made in Portland, Oregon by the Allied Clock Company. In the 1960′s Allied Clock renamed itself the California Clock Company after moving to Southern California. Kit Cat clock is recognized today as an icon of the 1950′s. Visit the Kit Cat Klock Amazon store.
Photo Credit: www.modernmoose.com
Modern Moose wall clocks are colorful 3D works of art designed by Paul Ocepek  and made in Massachusetts. These playful battery operated clocks are made from locally sourced wood and painted with non-toxic water based paints.   ***Note: Target started selling Modern Moose products but those ARE NOT made in the USA!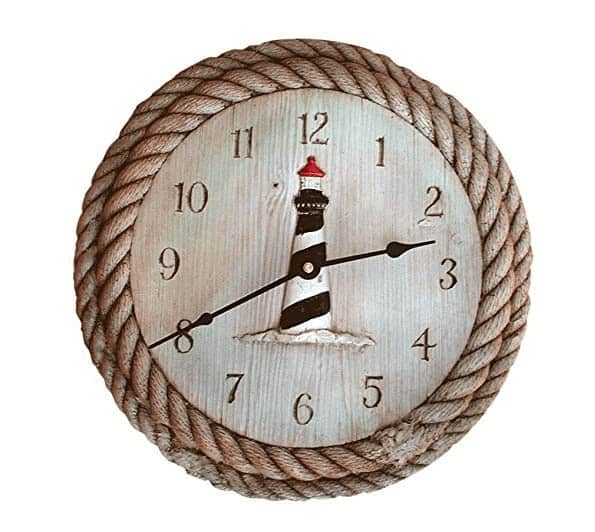 Photo Credit: piazzapisano.com
Piazza Pisano decorative clocks are hand crafted replicas of Al Pisano's original sculptures and carvings. Each clock is hand painted and stained. Piazza Pisano clocks are available at Amazon.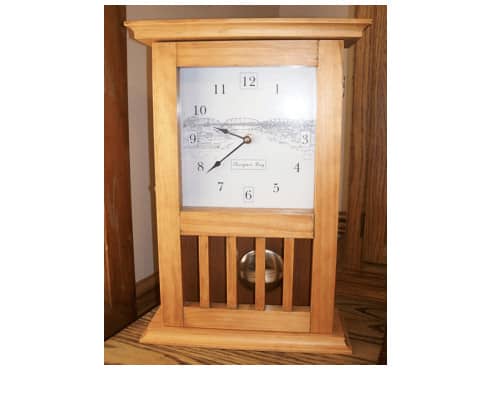 Photo Credit: providenceworkshop.com
Providence Workshop beautiful, handcrafted wood clocks are designed and built in Wisconsin.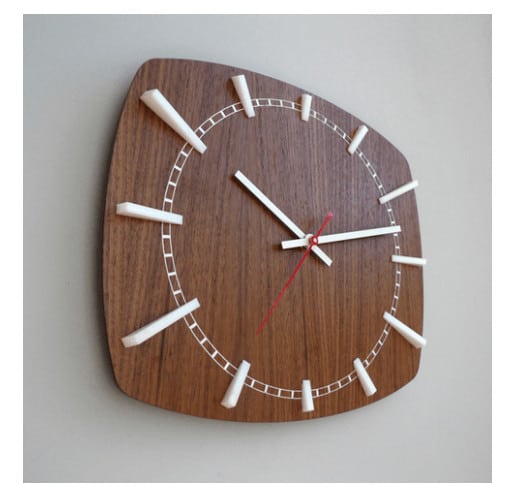 Photo Credit: www.schmittdesign.com
Made in California from environmentally responsible bamboo, Schmitt Design clocks add a  modern touch to any home.
Photo Credit: www.woosterclock.com
Wooster Clock clocks are handcrafted and engraved (can be personalized) in Ohio.
Looking for a wall clock made in the USA?
There is sure to be a USA made wall clock on this list to suit any style. Check the comment section for even more sources submitted by USA Love List's dedicated readers. 
Alarm Clocks Made in The USA- Do They Exist?
USA Love List editors have been on the hunt for alarm clocks made in the USA for years. We have searched high and low for digital alarm clocks, analog alarm clocks, and made in USA wind up alarm clocks. Did we find any? We let you know in this article.
Love this list? We know you will love these lists too!