If you are on the hunt for the best American made polo shirts for work, school, golf, or every day wear, then you have come to the right place. This list contains polos for men, women, and youth. We found shirts in many price ranges, styles, and fabrics.
Did we miss a made in USA polo manufacturer that you love? Let us know in the comments below and we will check them out.
Best American Made Polo Shirts
Photo Credit: www.agavedenim.com
Agave polo shirts for men are sewn from a lux knit material. The yarn is sourced from around the world, and the material is cut, sewn and finished in Los Angeles, California. Available in size S to XXL.
Photo Credit: www.allamericanclothing.com
All American Clothing Co. has polo shirts for men and for women in long sleeve and short sleeve. There are soooo many styles to choose from! There are casual polos, dress polos and sport polos and a large selection of colors and materials, including bamboo, cotton and moisture wicking. Women's sizes range from S- XXL, Men's sizes S-5XL. Prices start at $33.95 making them very affordable.
Photo Credit: www.akwa.com
AKWA polos for men and women come in a variety of styles and fabrics. They offer golf polos, print polos, jersey polos, zip polos, long, short and 3/4 sleeve polos....and so many more options!
The AKWA website is for wholesale orders only and customizing is available so your company or organization's logo can be easily added. They do have an Amazon store that offers select men's and women's styles for individual purchase. Sizes are limited on Amazon, but the price point starts at $30 which makes them our most affordable pick.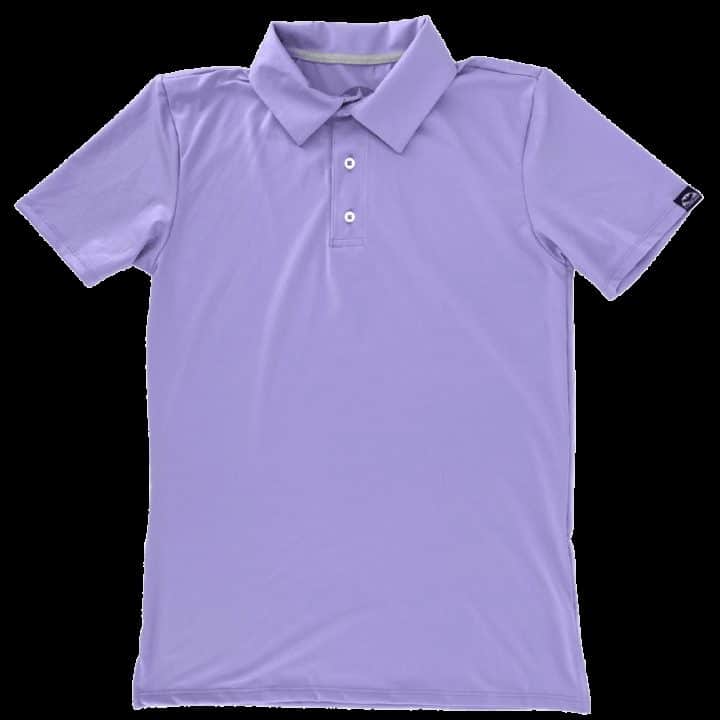 Photo Credit: corbeauxclothing.com
Corbeaux is a manufacturer of performance wear. All of their clothing is cut and sewn in Minnesota. The Lynx Polo Shirt for men is made from a recycled polyester and spandex blend. It is stretchy, light weight, moisture absorbent, quick drying and has a sun protection of 50+ UPF.
Photo Credit: homegrowncotton.com
Homegrown Cotton polo shirts for men are made in the USA all the way through. The cotton is grown at McIntosh Farms in Williamsburg County, South Carolina. The cotton is ginned, spun, knitted, dyed, cut and sewn by local businesses in the Carolinas.
Homegrown Cotton uses natural and environmentally friendly dyes. No bleach or harsh dyes are used. Available in sizes S-XXL. Prices start at $34.99, so this is another affordable choice on our list.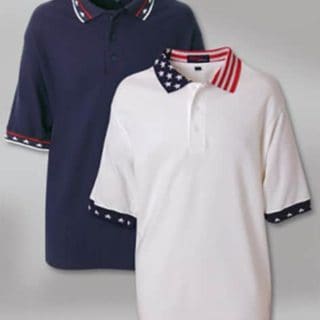 Photo Credit: allusaclothing.com
King Louie polos for men and women are union made in Kansas since 1937. There is a wide selection of styles, materials and colors to choose from. King Louie sells to distributers only.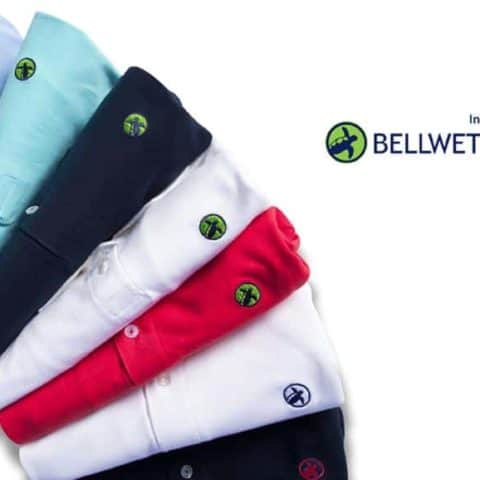 Photo Credit: loggerheadapparel.com
Loggerhead Apparel offers polos for men, women, and youth. All polo shirts are made from 100% American Pima cotton. The yard is spun in Georgia, and dyed, knit, cut and sewn in the Carolinas. Loggerhead Apparel is committed to preserving the Loggerhead sea turtle and donates 10% to local sea turtle conservation organizations.
Photo Credit: savekhaki.com
S.K.U (Save Khaki United) polos for man are American made from soft, Supima cotton. These polo shirts are so soft, that they feel like T-shirts. They are garment dyed and pre-shrunk. Available in sizes XS-XXL.
Todd Shelton has recently added polo shirts for men to his fashion collection. The Pique Polo style is made to order in New Jersey from fabric sourced in Portugal. They are pre-washed. The Breton stripe style is also made to order in New Jersey but with fabric sourced from Japan. Since both styles are made to order, they are available in any size. Todd Shelton has personal fitting services to make sure that your size is just right. All styles are cotton fabrics.
Have you visited our Made in USA Shopping District? It is the place to start your shopping when you want to find the best of American-made.