A change of seasons means it's time to update the wardrobe with cold weather clothing pieces. Now is the perfect time to support American manufacturing and add made in the USA items to your closet. We are going to help you out with this ultimate source list of made in USA women's clothing.
Made in USA Women's Clothing
Zkano Socks: Spice up any outfit!
We love Zkano socks for their fun and colorful patterns. We also love Zkano socks because the story behind the company shows that a product can be American made, high quality, and in demand. Zkano manufactures organic socks in America from start to finish. The organic cotton is grown on US soil, and the socks are manufactured at a second generation family owned mill in Fort Payne Alabama. When other mills in the area were closing because manufacturing was moving overseas, Zkano sock owner Gina Locklear thought outside of the box, and combined her passion for the environment and sock making into a business. Not only are Zkano socks made with organic cotton, but they are also made with low impact dyes in small batches. When you buy Zkano organic fashion socks you are not only adding to you wardrobe, but you are supporting a small American owned business and doing your part to help the environment by keeping your carbon footprint down.  15% off Zkano American made socks with code USALOVE. No expiration date.
Made in USA Women's Clothing: The Ultimate Source List
This list is in alphabetical order and is updated frequently, so check back often. If we have missed your favorite made in the USA women's clothing brand, please leave us a comment below.
American Made Supply Co. manufactures ALL of its casual women's clothing in the USA. That's right, every single piece of American Made Co clothing is milled, cut, sewn, and laundered in Los Angeles, California.
Amma's Umma is an online boutique offering ethical fashion that is made in the USA. From dresses to tops and fashion for kids, women and men, you'll surely find something you love. NOTE: Made in USA items are clearly marked. I love the Magnolia Wrap Dresses for its comfortable fit, versatility. (I suggest buying one size smaller that you're used to, as the dress is forgiving.) At under $50, it could be yours too. 15% off Amma Umma with discount code USALOVE. No expiration, limit one per customer.
Ella Moss casual women's clothing style is sophisticated, yet relaxed. Not all of Ella Moss' clothing is made in the USA, but entering 'made in USA' in the search brings up a large selection of choices.
Eva Varro offers designer quality and looks at not-so-designer prices and above all, her collection it is made with love and passion in the USA. I love this Cap Sleeve Asymemetric Slit Dress. It fits well, flats, and the fabric is light enough to be comfortable, but heavy enough to hide imperfections. Wear it alone in the Summer or through on a black moto jacket during the Fall. It's completely versatile year around. Discount code USALOVE saves you 20% off at Eva Varro.
Flynn Skye  line includes skirts, tops, dresses and is designed in Venice and made in Los Angeles, California.
FUNfash offers affordable clothing for curvy women.
Genetic has been making its jeans in Los Angeles, California since 2006 and immediately became recognized for the signature soft fabrics, flattering silhouettes and incredible fit. We're HUGE fans and love these jeans!
good hYOUman brand aims to inspire with its graphic tees, while creating a community of customers encouraged to share their own story. The brand is dedicated to making all of its clothing in the USA.
Grown & Sewn casual pants and jeans are made in USA.
Gypsy05 is a bohemian inspired, Eco-conscious clothing line based out of Los Angeles, California. Not all of Gypsy05 clothing is American made, but many of the colorfully dyed items, like this maxi dress, are.
Hard Tail Forever makes colorful cotton workout gear for yoga lovers, and performance gear from pre-shrunk synthetic fabrics made for keeping you dry while you workout.
Harvest & Mill clothing is grown, milled and sewn completely in America from 100% USA grown organic cotton. The company has been making its organic clothing in the USA since 2012 in California's San Francisco Bay area.
Helmut Lang is a global fashion company headquartered in New York. Helmut Lang high end casual women's clothing includes cashmere tops and and jeans.
Ibex Outdoor Clothing makes wool clothing. Not all of Ibex clothing is made in the USA, so check labels.
Jean Atelier luxury women's clothing- jeans, tops
JudyP made in USA women's tops are great for business and casual. JudyP fabric is USA made and has a built-in UPF of 50+.  The fabric is thicker, so it lays well to highlight your best features.  JudyP tops are great for layering or as separates to wear with your favorite pants or jeans. I personally love the V-Neck 3/4 Sleeve Tunic because it fits through the hips and is longer than the other tops. 
Karen Kane women's clothing line includes casual and business wear pieces- pants, sweaters, dresses, and more.
Koonies are handmade in Los Angeles, California and are comfortable pants for yoga and lounging. 
LAmade Clothing offers basics to build a casual wardrobe. The line is perfect for stylish weekend wear. Their pieces are basic without being trendy, while not being boring. Items made in the USA are marked.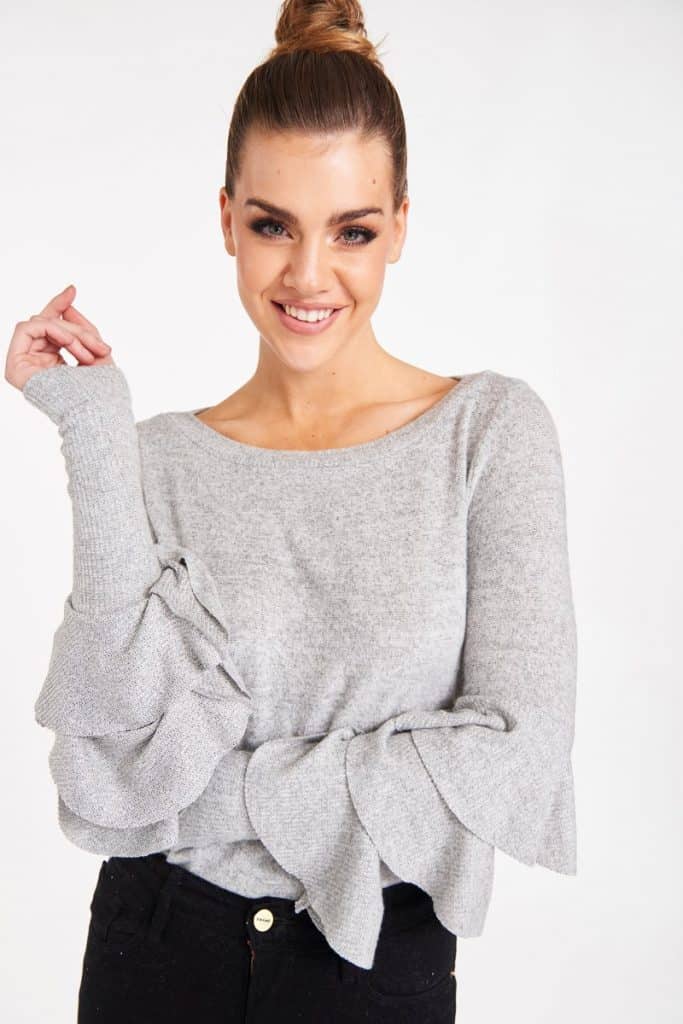 Laura Tanzer offers boutique special occasion and professional work wear.
Lazy Caturday dresses, tops and leggings are affordable and American made.
Leota  makes perfect dresses, made in the USA. Always flattering, never wrinkling. 
Majamas makes its clothing ethically and they are beautifully designed to be whimsical and versatile. Its garments are not only sewn in the United States, but even the elastics and eco-friendly fabrics that are used to make them are made here too.
Mimi Chica, headquartered in Los Angeles, CA, slip dresses made in USA
Nadia Tarr luxury knitwear is made in New York.
National Picnic signature T-shirts, tops, leggings, dresses, all made from soft knit cotton. Learn more about the made in USA women's clothing from National Picnic at the top of this article. Save 15% off with code USALOVE on your National Picnic order.
Nation LTD is a women's brand of soft, relaxed products that inspire confidence and make sexy effortless. The brand manufactures its products in Los Angeles, California.
North Fork Apparel offers women's fashion t-shirts and hoodies, all American made.
Simplicitie affordable tops, bottoms, dresses (plus sizes too), all made in Los Angeles. Everything is $50 or less!Learn more about Simplicitie made in USA women's clothing at the top of this article. Save 20% with free shipping using promo code USALOVE on your Simplicitie order. No expiration date.


Soul Flower is an eco-friendly clothing company. They specialize in boho-inspired, women's clothing printed with positive imagery and whimsical designs. Not all Soul Flower items are made in USA, but those that are are clearly marked.
Three Dots casual women's clothing carries knitwear tops, dresses, and more.
Tough Luv is rocker style fashion, all made in USA.
Zkano organic fashion socks are made in the USA from start to finish. Learn more about Zkano socks at the top of the post. 15% off Zkano American made socks with code USALOVE. No expiration date.

Made in USA Women's Clothing Retailers
Disclosure: This is a sponsored post which USA Love List is proud to share with you because, sponsored or not, we only share stuff we love.
Love This List?
Check Out These Popular Made in USA Source Lists:
SHOES | HANDBAGS | JEWELRY