A change of seasons means it's time to update the wardrobe with warm weather clothing pieces. Now is the perfect time to support American manufacturing and add made in the USA items to your closet. We are going to help you out with this ultimate source list of made in USA women's clothing.
Made in USA Women's Clothing
JudyP: Tops & dresses for women that are both business and casual.
I love that JudyP tops and dresses can be dressed up or down. These basic pieces are perfect for a day in the office (layer with a blazer and/or add a scarf) and for running errands paired with your favorite jeans or leggings.
All JudyP garments are made in the USA from Tactel/Nylon Spandex fabric that is American made. This fabric is moisture wicking, UPF 50+, machine washable and dryable and does not shrink, fade, or pill.
Take 25% off your JudyP order with code USALOVE. One-time use. No expiration. Sale items excluded.
JudyP tops and dresses are made with double-layer fabric in the front for modesty and coverage. They are shaped to fit a women's body and have extra room at the hips so they don't ride up. There are 18 styles and over 30 colors to choose from, so you are bound to find a top and a dress that will match your style- and show off your accessories!
Veronica M: Classic styles with a modern Bohemian twist
If you like colorful, fun patterns than you will LOVE Veronica M! Veronica M clothing for women is inspired by vintage patterns, and the vivid colors, geometrical shapes, and animal and nature prints in the collection is a reflection of that.
Veronica, the fashion designer behind Veronica M, wants her customers to feel confident while wearing her clothing, so each piece is designed with comfort and the flattering of the body in mind. The fabrics Veronica choses for particular pieces stretch or flow in just the right places. Veronica M clothing is classic and timeless, yet has a modern bohemian twist. This is clothing that perfect for work, a walk on the. beach, and a night out on the town.
Take 15% off your entire Veronica M order (masks not included) with code USALOVE. Code must be entered at checkout to redeem. One time use per customer. Code expires on 1/1/2021.
All Veronica M clothing is made in downtown Los Angeles and can be found in over 2,000 boutiques across North American and the Virgin Islands. Veronica M makes face masks too and is featured in our source list for American Made Masks.
Zkano Socks: Spice up any outfit!
We love Zkano socks for their fun and colorful patterns. We also love Zkano socks because the story behind the company shows that a product can be American made, high quality, and in demand.
Zkano manufactures organic fashion socks in America from start to finish. The organic cotton is grown on US soil, and the socks are manufactured at a second generation family owned mill in Fort Payne Alabama. When other mills in the area were closing because manufacturing was moving overseas, Zkano sock owner Gina Locklear thought outside of the box, and combined her passion for the environment and sock making into a business. Not only are Zkano socks made with organic cotton, but they are also made with low impact dyes in small batches.
Take 15% off Zkano American made socks with code USALOVE. No expiration date.
When you buy Zkano organic fashion socks you are not only adding to you wardrobe, but you are supporting a small American owned business and doing your part to help the environment by keeping your carbon footprint down.
THIS NIGHT: Artist-Designed Fashion Socks
The owner and designer of THIS NIGHT, Kate T. Williamson, is an artist (and a lifelong sock enthusiast!) who is inspired by nature and by the colors and patterns of Japan, where she studied art by scholarship for a year. Kate worked with the talented people at her hometown mill in Reading, PA, for more than two years to get the construction of the socks just right: soft, US-grown cotton material in a weight that is substantial yet still thin enough to fit into shoes well, a band that is comfortable and stays up, flat toe seams, and a touch of Lycra to keep that cozy, fresh-pair fit.
THIS NIGHT donates $1 per pair of socks sold online, which is split between two nonprofits that help children. One nonprofit is the Olivet Boys & Girls Club of Reading, PA, which is located in Kate's hometown where the socks were developed and knit until the mill was closed by new corporate owners. The other is the Catawba County Partnership for Children, which helps children in the community in North Carolina where the socks are now knit in a small, wonderful mill.
THIS NIGHT socks are available in two sizes: S/M (which fits women's shoe sizes 4–10½, men's 5–9) and M/L (which fits women's shoe sizes 8½–14, men's 7–13) in Crew Length, Cuffless Ankle Socks, and Knee/Boot Socks.
Made in USA Women's Clothing: The Ultimate Source List
This list is in alphabetical order and is updated frequently, so check back often. If we have missed your favorite made in the USA women's clothing brand, please leave us a comment below.
American Made Supply Co. manufactures ALL of its casual women's clothing in the USA. That's right, every single piece of American Made Co clothing is milled, cut, sewn, and laundered in Los Angeles, California.
Amma's Umma is an online boutique offering ethical fashion that is made in the USA. From dresses to tops and fashion for kids, women, and men, you'll surely find something you love. NOTE: Made in USA items are clearly marked. I love the Magnolia Wrap Dresses for its comfortable fit, versatility. (I suggest buying one size smaller that you're used to, as the dress is forgiving.) At under $50, it could be yours too.
Angelrox clothing items for women are handmade in Maine from bamboo and sustainably based fibers that are soft and comfortable.
Aviator Nation is a 1970's inspired California lifestyle brand. Hand-made and perfectly distressed hoodies and sweatpants are the foundation of what we do. Take your look from bedroom to beach to bar and look casual chic while doing it.
Clara Sunwoo is an ageless lifestyle brand. Every piece they design fits right, so you feel amazing. This brand makes feeling chic and put together easy and affordable. Don't just take my word for it, check out their fashionable styles that are meant to fit all shapes and sizes.
Coin 1804 manufactures most of its casual women's knitwear clothing in the USA (check labels and descriptions, some things are imported).
Cotton Citizen luxury tops and bottoms, made in LA.
Covered Perfectly offers women's tops made to fit and flatter. Take 20% off with code USALOVE on up to two items OR buy two, get one free.
Dearborn Denim made in Chicago from Texas cotton, factory direct fashion jeans
Duckworth is the world's only source-verified, single-origin, Merino wool apparel company making 100% made in USA wool clothing for women. Their wool is sourced from open-range Montana Merino sheep living between 5,000' and 9,500' elevation, resulting in a rare, a soft durable wool fiber with exceptional loft and breathability.
Ella Moss casual women's clothing style is sophisticated, yet relaxed. Note: Not all of Ella Moss' clothing is made in the USA,read descriptions and labels carefully!
Emily Hsu Designs focuses on fashion and function with her entire collection. From luxe fashionable fitness outfits, stylish lounging sets, and tops to wear into the studio, each piece is made with love in the USA.
Eva Varro offers designer quality and looks at not-so-designer prices and above all, her collection is made with love and passion in the USA. I am consistently loving the styles from Eva Varro. Each season there's something new that catches my eye. I'm a huge fan of this beautiful, unique hi-low bouncle tunic. Pair it with a cheetah print or black strappy top for a simple and elegant look any day of the week. 20% with code USALOVE at Eva Varro through January 31, 2021.
Flynn Skye line includes skirts, tops, dresses and is designed in Venice and made in Los Angeles, California.
Frank & Eileen shows us comfort and sophistication can come together with its Lab Tee collection. Please note that its button-up shirts are not made in the USA. Frank & Eileen's intention is for each garment to adorn its owner with confidence, exude a timelessly effortless sophistication, and simplify the day-to-day with low-maintenance wash & wear fabrics for an on-the-go lifestyle.
FUNfash offers affordable clothing for curvy women.
Genetic has been making its jeans in Los Angeles, California since 2006 and immediately became recognized for the signature soft fabrics, flattering silhouettes and incredible fit. We're HUGE fans and love these jeans!
good hYOUman brand aims to inspire with its graphic tees, while creating a community of customers encouraged to share their own story. The brand is dedicated to making all of its clothing in the USA.
Hard Tail Forever makes colorful cotton workout gear for yoga lovers, and performance gear from pre-shrunk synthetic fabrics made for keeping you dry while you workout.
Harvest & Mill clothing is grown, milled, and sewn completely in America from 100% USA grown organic cotton. The company has been making its organic clothing in the USA since 2012 in California's San Francisco Bay area.
Hackwith Design House began with the goal of making long-lasting and versatile clothing that is as unique as its wearer. In September 2013, they launched with just one limited-edition design. To this day, they continue to release a limited edition design every week, with no more than 25 of each made. They've grown to offer additional lines including Core Collection, Swim, Basics, Plus, and Intimates. Everything is made in-house in its Minnesota studio by a talented team of seamstresses. To reduce waste, many of its items are not made until ordered by you. HDH's simple and clean aesthetic, quality fabrics, and impeccable attention to detail have made it a favorite of style-conscious women around the world.
You can see how unique Hackwith Design House items are. Here USA Love List editor Jill Homiak is donning the HDH Basics: Short Sleeve Tie Top and Easy Wide-Leg Pant. Each piece is classic, chic, and timelessness. Linen never goes out of style and is always a fun and cheerful fabric to wear, especially during Spring, Summer, and Fall.
JudyP made in USA women's tops and dresses are great for business and casual. JudyP fabric is USA made and has a built-in UPF of 50+. The fabric is double layered, so it falls well to highlight your best features. JudyP tops are great for layering or as separates to wear with your favorite pants or jeans. Learn more about JudyP American made women's clothing at the top of this post. Save 25% off your JudyP order with code USALOVE. One-time use. No expiration. Sale items excluded.
Karen Kane women's clothing line includes casual and business wear pieces- pants, sweaters, dresses, and more.
Koonies are handmade in Los Angeles, California. These pants are comfortable pants for yoga or lounging. In fact, they're so comfortalbe you´ll forget you're wearing them! Keep it chill and lounge at home or dress these pants up when you head out to run errands or meet up with friends.
LAmade Clothing offers basics to build a casual and on-trend wardrobe regardless of the season. The LAmade women's clothing collection, made in Los Angeles, is perfect for stylish weekend wear that will surely catch the eyes of envious on-lookers. Their pieces are basic without being trendy, while not being boring. The LAmade label is 100% made in the USA.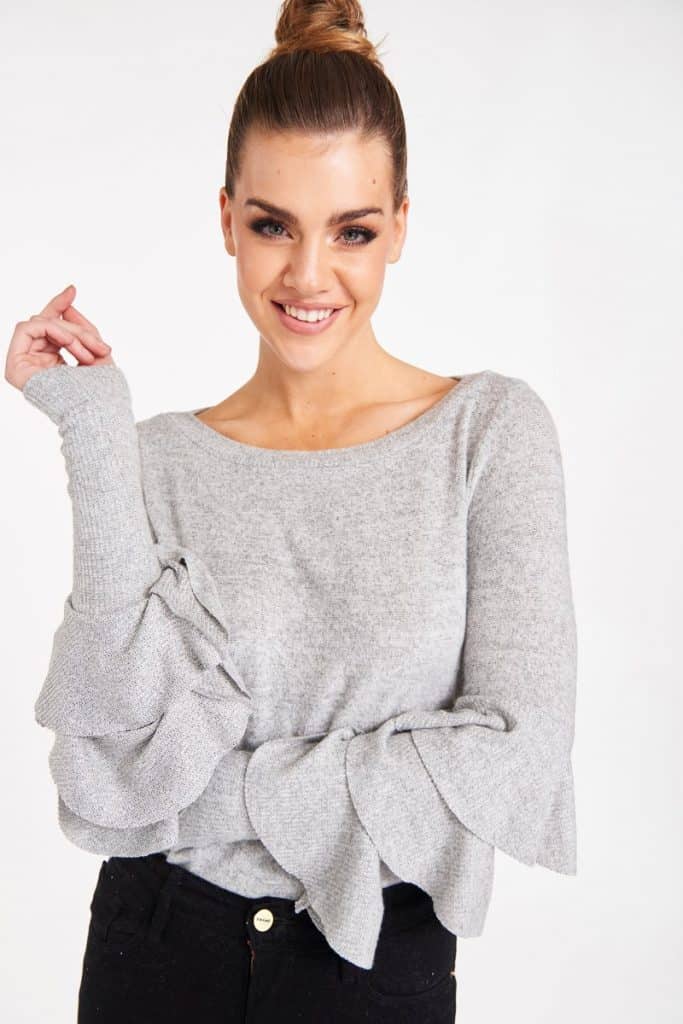 Laura Tanzer offers boutique special occasion and professional work wear.
Majamas makes its clothing ethically and they are beautifully designed to be whimsical and versatile. Its garments are not only sewn in the United States, but even the elastics and eco-friendly fabrics that are used to make them are made here too.
Nadia Tarr luxury knitwear is made in New York.
National Picnic signature T-shirts, tops, leggings, dresses, all made from soft knit cotton. Learn more about the made in USA women's clothing from National Picnic at the top of this article. Save 15% off with code USALOVE on your National Picnic order.
Rachel Pally designer fashion clothing for women is made in Los Angeles- where the fabric is milled too! 15% off Rachel Pally full-priced merchandise with discount code USALOVE. Cannot be combined with other discount codes.
Simplicitie affordable tops, bottoms, dresses (plus sizes too), all made in Los Angeles. Everything is $50 or less! Save 20% with free shipping using promo code USALOVE on your Simplicitie order. No expiration date.
Soul Flower is an eco-friendly clothing company. They specialize in boho-inspired, women's clothing printed with positive imagery and whimsical designs. Note: Not all Soul Flower items are made in USA, so read labels and descriptions carefully!
THIS NIGHT fashion socks are designed by artist Kate T. Williamson, the company owner (and lifelong sock enthusiast!), who is inspired by nature and the colors and patterns of Japan. Learn more about THIS NIGHT socks at the top of this post!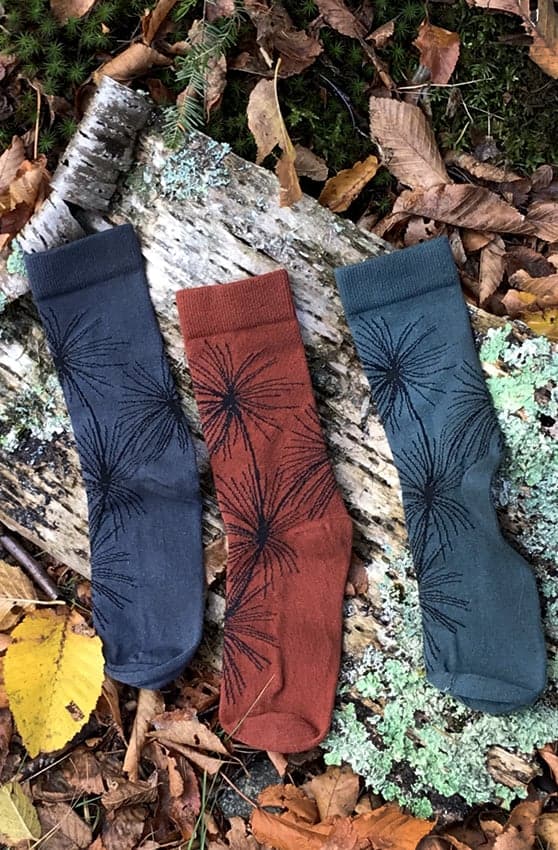 Three Dots casual women's clothing carries knitwear tops, dresses, and more. Note: Not all Three Dot items are made in USA, so read descriptions and labels carefully!
Tough Luv is rocker style fashion, all made in USA.
Veronica M women's clothing designs showcase classic styles, vintage prints and a current trends. If you like vintage prints and bohemian style, than you will love Veronica M's wardrobe essentials and statement pieces! Learn more about Veronica M at the top of this post. Take 15% off your entire Veronica M order (masks not included) with code USALOVE. Code must be entered at checkout to redeem. One time use per customer. Code expires on 1/1/2021.
Zkano organic fashion socks are made in the USA from start to finish. Learn more about Zkano socks at the top of the post. 15% off Zkano American made socks with code USALOVE. No expiration date.
Made in USA Women's Clothing Retailers
Nordstrom continues to be one of our favorite sources for American made women's clothing because they do a good job labeling their products be country of origin. You can easily find all of the made in USA choices offered by Nordstrom.com. We did the search for you. Go ahead and click that link to see what we mean.
Forward by Elyse Walker, online retailer of designer brands, offers a selection of made in the USA luxury women's clothing brands
Plum Pretty Sugar is a women's apparel site that offers loungewear and bridal apparel, offering a large selection of made in the USA items.
Disclosure: This is a sponsored post which USA Love List is proud to share with you because, sponsored or not, we only share stuff we love.
Pin this list so you can check back for updates and share later.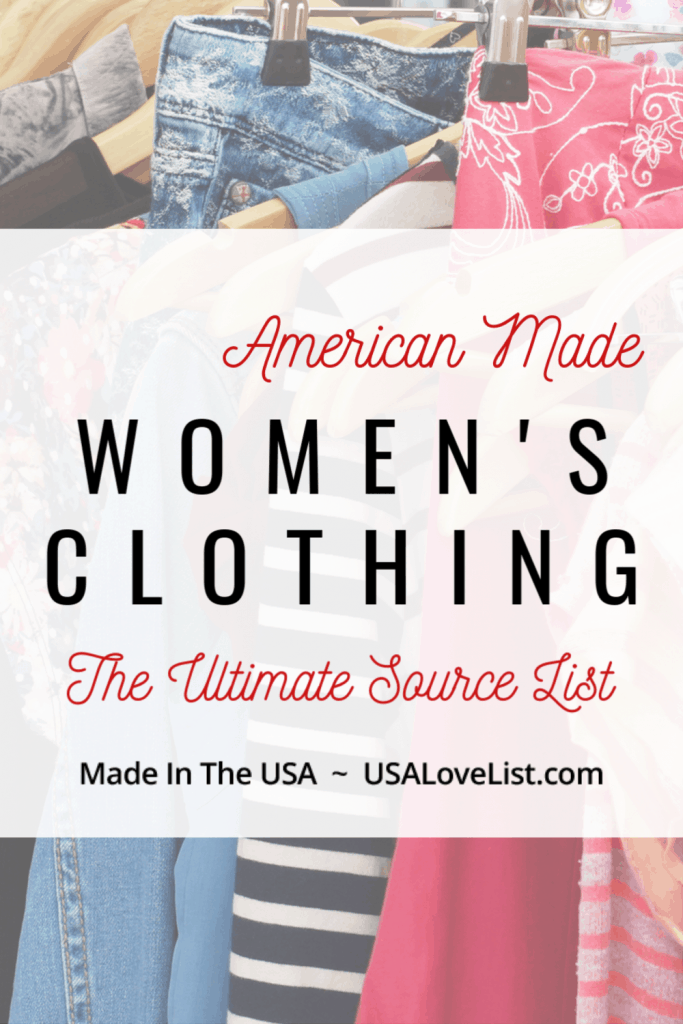 Love This List?
Check Out These Popular Made in USA Source Lists:
SHOES | HANDBAGS | JEWELRY