Just because you have a dairy free lifestyle, it doesn't mean you have to give up on ice cream! There are sooooo many diary free options to choose from in the freezer aisle, so how do you know which flavor or brand to choose?! Well, we have you covered with our list of the best dairy free ice cream flavors made in the USA. We ate lots of ice cream, so you don't have to. You're welcome.
Best Dairy Free Ice Cream Made in USA
Did we miss your favorite dairy free ice cream? Let us know in the comments below!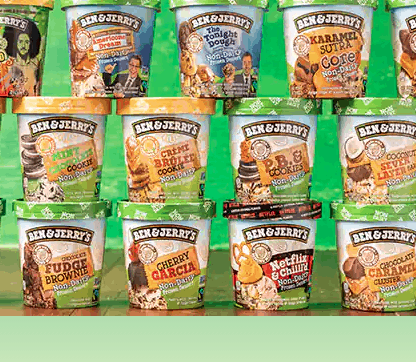 Photo Credit: www.benjerry.com
Ben & Jerry's offer a variety of its best selling ice cream in dairy-free varieties. My favorites include Chocolate Fudge Brownie and Chocolate Cookie Dough. The based of Ben & Jerry's non-dairy ice cream is almond milk. In addition to being vegan, these ice creams are also non-GMO.
Photo Credit: coconutbliss.com
Coconut Bliss has been making dairy-free, organic, vegan ice cream pints, bars, sandwiches, soft serve and mini cups in Eugene, Oregon since 2005. Coconut Bliss non-dairy ice cream epitomizes what a "free-from" dessert should be. All of the company's products are certified organic, dairy-free, soy-free, gluten-free and Non-GMO Project verified. They also feature fair trade dark chocolate and are Kosher Pareve.
Photo Credit: cadoicecream.com
Cado Avocado Simply Lemon Ice Cream is more like a sorbet to me. I love how refreshing it is and appreciate the texture it has too. I love that it's made with clean ingredients including organic avocado puree (water, organic avocado), avocado oil, organic cane sugar, organic tapioca starch, organic lemon juice concentrate, sea salt, organic guar gum, organic gum acacia, and organic lemon oil.
Photo Credit: halotop.com
Believe the hype. I really wasn't sure what to expect when I tried Halo Top for the first time. It's 240 calories, 6 grams of protein, 2 grams of fat and 4g* of sugar…in the ENTIRE pint container. How could it possibly be good, right? I was willing to try it, and boy, was I pleasantly surprised. The flavor and texture of Halo Top… it's like you're eating a mix of pudding and ice cream. (As it states on the container, you have to let it sit out to get to the right consistency, but it's well worth the wait.) The flavors are bright and true. The Sea Salt Caramel is my favorite.
Photo Credit: shop.jenis.com
Jeni's now offers its amazing flavors in dairy-free options including Texas Sheet Cake, Frose Sorbet, Carmamel Pecan Sticky Buns and Cold Brew with Coconut Cream. Coconut cream is the cream replacement making these ice creams vegan. Jeni's is based in Columbus, Ohio and has scoop shops across the country.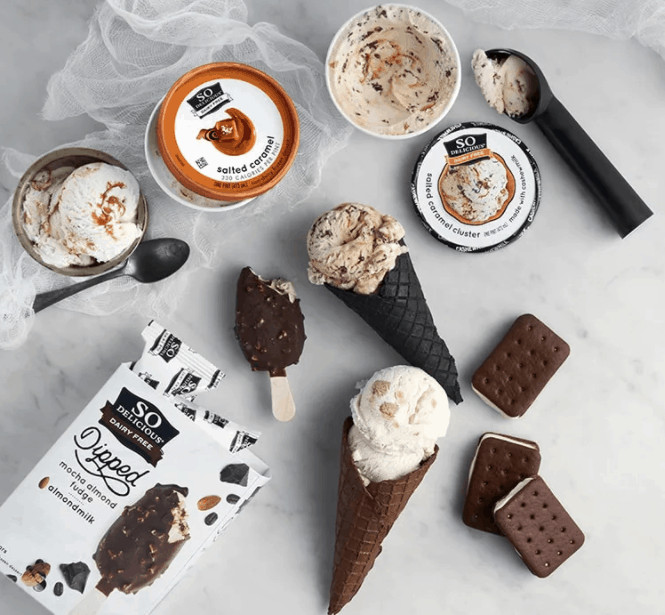 Photo Credit: sodeliciousdairyfree.com
So Delicious offers a variety of dairy-free options include frozen dessert options made from a base of almond milk, cashew milk, coconut milk, oatmilk, or soy milk. I've tried a couple of these items and they do not disappoint! The Salted Caramel Cluster cashew milk frozen dessert and Peanut Butter and Raspberry oatmilk frozen dessert were both phenomenal options. I could not taste the difference between dairy milk and these options! In addition to being vegan, many of these options are also gluten-free.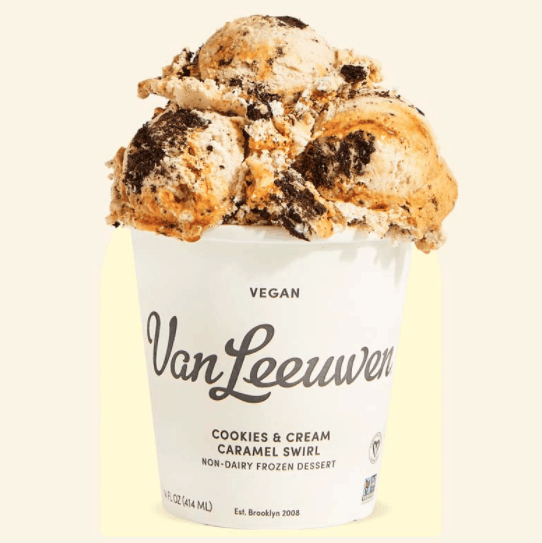 Photo Credit: vanleeuwenicecream.com
Van Leeuwen has the largest selection of vegan ice cream I've ever seen. When they said, "Nothing makes us happier than this Vegan Cookies & Cream Caramel Swirl Ice Cream.", it's pretty true! This ice cream is so incredible ' rich cream-filled dark chocolate cookies are folded into our creamy cashew milk vegan base alongside touch of cold-ground Tahitian vanilla, and swirls of house made caramel. You're sure to love this ice cream, vegan or not.
Photo Credit: www.wonderlabdoozy.com
Wonderlab's Doozy Pots makes its plant based gelato with hemp and oat milk and offers unique flavors include Banana Cinnamon Date Swirl, Coffee & Cookies, and Chocolate Raspberry Swirl. They are an organic and vegan friendly treat for ice cream lovers.
I've never been a fan of milk, so I was grateful when nut milks became so popular. There are now dairy free  products in all of the traditional dairy categories. We've tasted tested these non dairy products and are sharing our favorites. All of these dairy free, nut-based products that are vegan and gluten free too.
Header image credit: Snow Monkey

Pin this list to save it for later!