You don't have to be vegan to enjoy these delicious ice cream options.
Ben & Jerry's offer a variety of its best selling ice cream in dairy-free varieties. My favorites include Chocolate Fudge Brownie and Chocolate Cookie Dough. The based of Ben & Jerry's non-dairy ice cream is almond milk. In addition to being vegan, these ice creams are also non-GMO.
Cado Avocado Simply Lemon Ice Cream is more like a sorbet to me. I love how refreshing it is and appreciate the texture it has too. I love that it's made with clean ingredients including organic avocado puree (water, organic avocado), avocado oil, organic cane sugar, organic tapioca starch, organic lemon juice concentrate, sea salt, organic guar gum, organic gum acacia, and organic lemon oil.
Coolhaus your favorite ice cream flavors and ice cream sandwiches are available in dairy-free options. My favorite is the Dairy-Free Mocha Marcona Almond Fudge. This creamy coffee ice cream is mixed with fudge swirls and marcona almonds. In addition to being vegan, it's also gluten-free.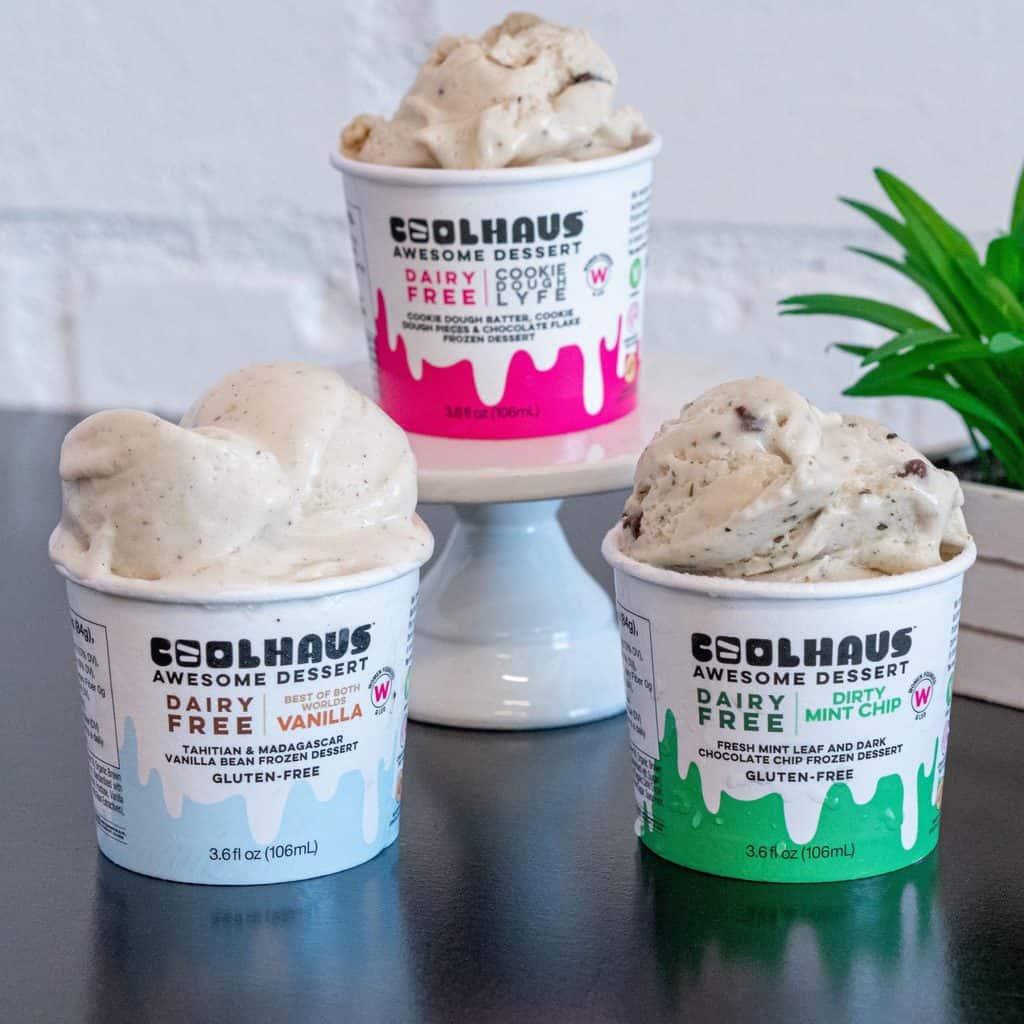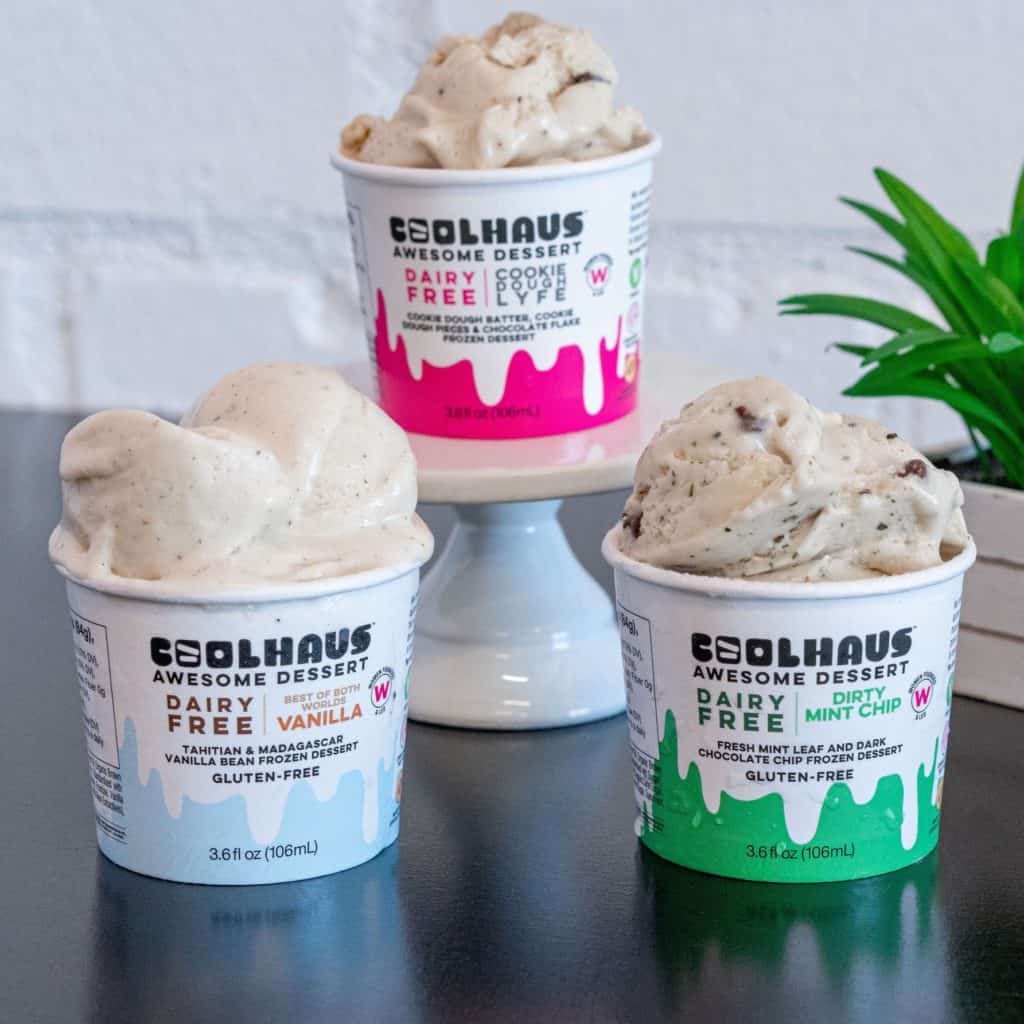 Doozy Pots makes its dairy-free ice cream with hemp and oat milk and offers unique flavors include Banana Cinnamon Date Swirl, Coffee & Cookies, and Chocolate Raspberry Swirl. They are organic and vegan friendly.
Believe the hype. I really wasn't sure what to expect when I tried Halo Top for the first time. It's 240 calories, 6 grams of protein, 2 grams of fat and 4g* of sugar…in the ENTIRE pint container. How could it possibly be good, right? I was willing to try it, and boy, was I pleasantly surprised. The flavor and texture of Halo Top… it's like you're eating a mix of pudding and ice cream. (As it states on the container, you have to let it sit out to get to the right consistency, but it's well worth the wait.) The flavors are bright and true. The Sea Salt Caramel is my favorite.
Jeni's now offers its amazing flavors in dairy-free options including Texas Sheet Cake, Frose Sorbet, Carmamel Pecan Sticky Buns and Cold Brew with Coconut Cream. Coconut cream is the cream replacement making these ice creams vegan.
Luna & Larry's Coconut Bliss has been making dairy-free, organic, vegan ice cream in Eugene, Oregon since 2005. Coconut Bliss non-dairy ice cream epitomizes what a "free-from" dessert should be. If you're searching for unique vegan flavors that won't have you missing your dairy flavors, check out all the options from Coconut Bliss. From Chocolate Chip Cookie Dough, Sea Salt Caramel + Chocolate to Ginger Cookie + Caramel and Chocolate Walnut Brownie, you'll surely find one you love. All of the company's products are certified organic, dairy-free, soy-free, gluten-free and Non-GMO Project verified. They also feature fair trade dark chocolate and are Kosher Pareve
Snow Monkey combines superfoods, fruits, and seeds for a reinvented dairy-free ice cream dessert. It's packed with protein, antioxidants, and fiber. It offers a smooth creamy texture like ice cream with flavors to die for including maple cinnamon, passion fruit, and strawberry. Whether you're fueling or indulging, Snow Monkey's ice cream is energizing, all-natural, and free from major allergens. It's paleo, nut-free, gluten-free, dairy-free, and has 20 grams of plant-based protein with no added sugar.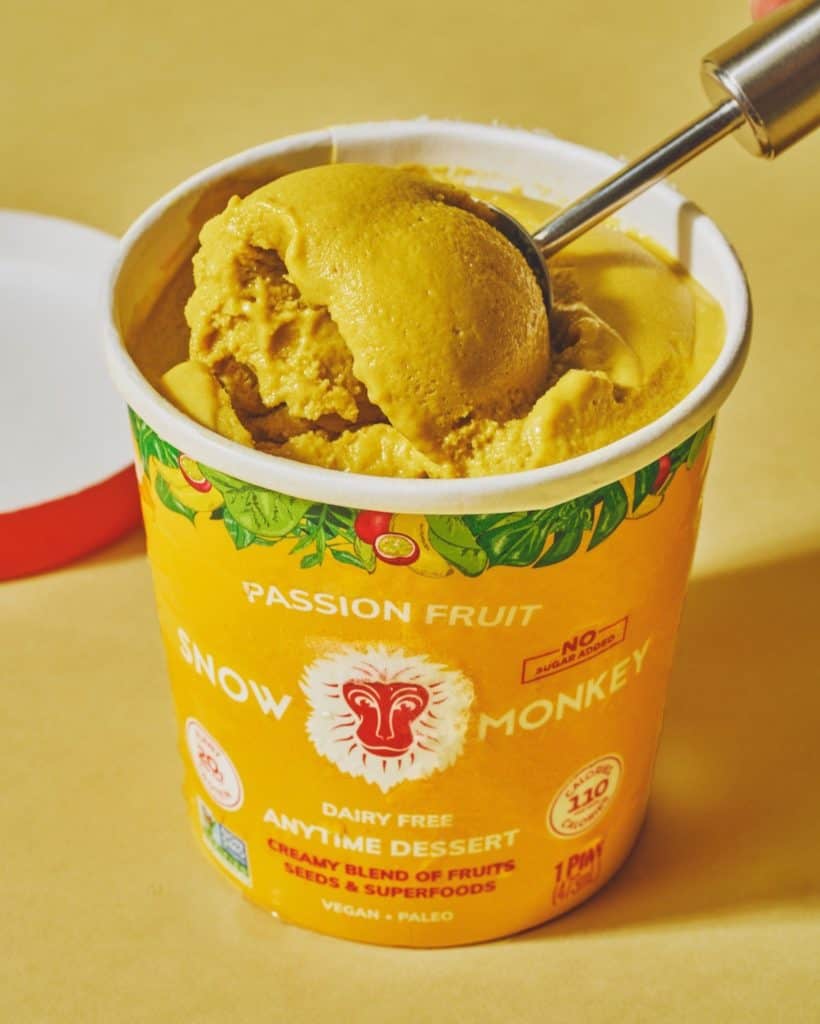 So Delicious offers a variety of dairy-free options include frozen dessert options made from a base of almond milk, cashhew milk, coconut milk, oatmilk, or soy milk. I've tried a couple of these items and they do not disappoint! The Salted Caramel Cluster cashew milk frozen dessert and Peanut Butter and Raspberry oatmilk frozen dessert were both phenomenal options. I could not taste the difference between dairy milk and these options! In addition to being vegan, many of these options are also gluten-free.
Steve's Cold Brew Cinnamon Coffee is one of my favorite ice creams of all time and it simply happens to be dairy-free. Yes, it's true. I rarely, if ever, pick coffee ice cream, but this had me going back for more. Steve's Cold Brew Cinnamon Coffee is a non-dairy flavor made with coconut cream, but you would never know it if I hadn't told you. The texture is amazingly creamy and the flavor is heavenly. Steve's uses Grady's cold brew – another Brooklyn edible delight. They offer an entire line of dairy-free ice cream options.
Van Leeuwen has the largest selection of vegan ice cream I've ever seen. When they said, "Nothing makes us happier than this Vegan Cookies & Cream Caramel Swirl Ice Cream.", it's pretty true! This ice cream is so incredible ' rich cream-filled dark chocolate cookies are folded into our creamy cashew milk vegan base alongside touch of cold-ground Tahitian vanilla, and swirls of housemade caramel. You're sure to love this ice cream, vegan or not.
AMERICAN MADE VEGAN ICE CREAM ESSENTIALS
If you're looking for life altering caramel, look no further than Date Lady Coconut Date Caramel Sauce. It's the best caramel sauce I've ever had. I could eat this sauce with a spoon! It's a divine blend of organic heavy coconut cream and date syrup hand. It's made in small batches and stirred until it culminates into a thick, rich coconut caramel sauce. This date syrup is made from organic coconut cream, organic coconut oil, vanilla extract, and sea salt.
Nordic Ware Ice Cream Cone Pan is an innovative pan that lets you create cone-shaped cakes that beckon a fresh scoop on top. Made of nonstick cast aluminum, the pan features six cone-shaped wells with waffle detailing. Top your baked cones with your favorite ice cream toppings to resemble classic soft-serve cones. Nordic Ware, creators of the original Bundt® pan, is a family-owned company since 1946 and makes American made kitchenware.
Zeroll Ice Cream Scoop is the classic ice cream scoop; I still remember the one my grandmother used. The scoop of choice in American ice-cream parlors since 1935, this handy tool carves out plump round scoops. Its unique handle draws on the natural warmth of your hand to ease molding the frozen treats.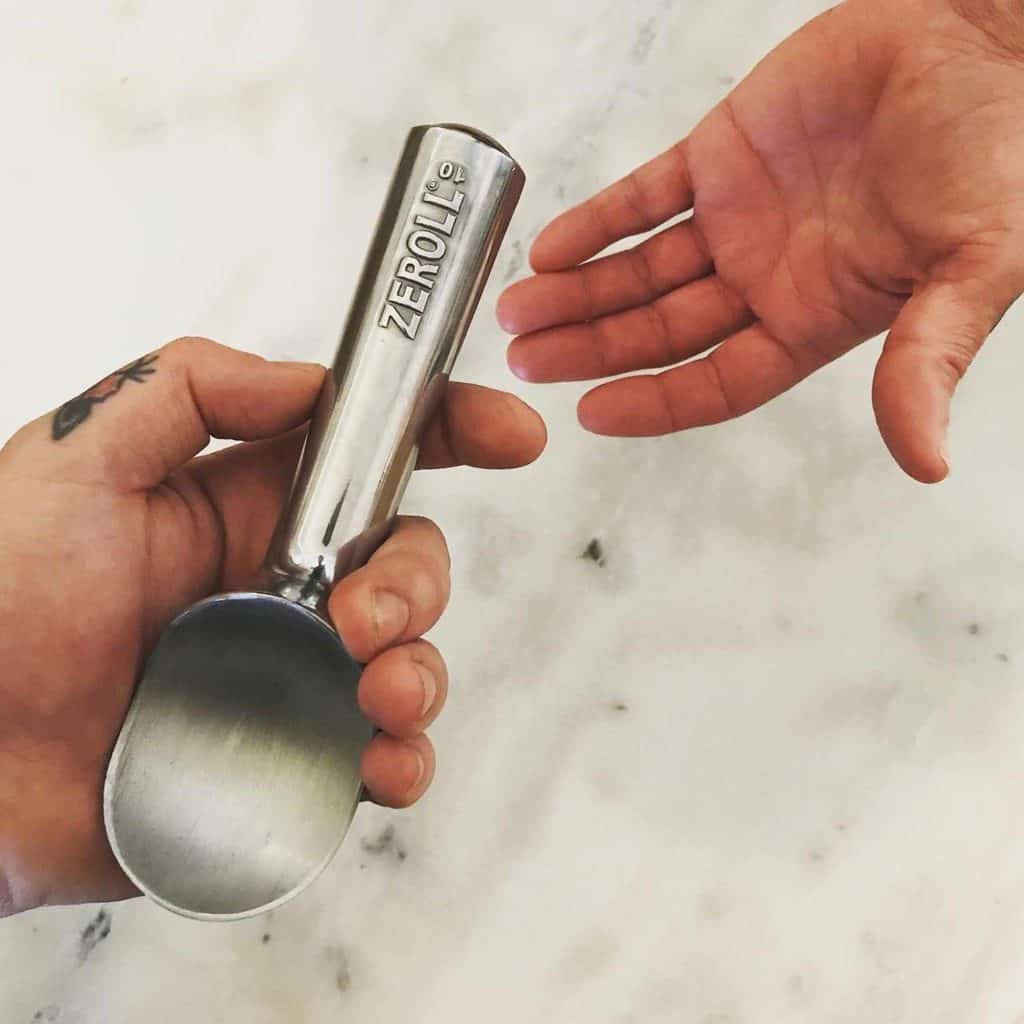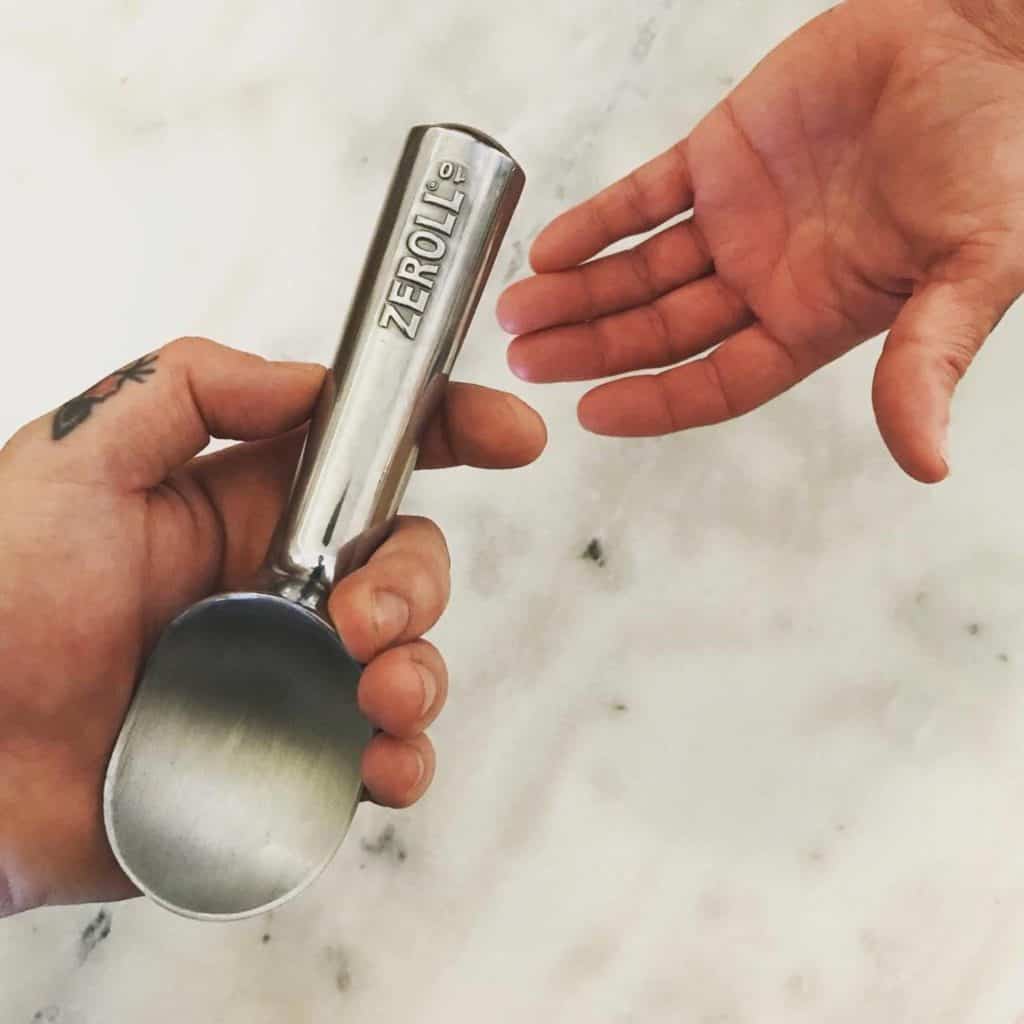 Disclosure: This is a sponsored post which USA Love List is proud to share with you because, sponsored or not, we only share stuff we love.
Header image credit: Snow Monkey